David Spade: What Is the Comedian and Actor's Net Worth?
Like many actors in Hollywood, David Spade has been a longtime fixture in the entertainment industry. Spanning decades his career has included him working as an actor, writer, producer, and comedian. The 55-year-old has appeared in films, TV shows, comedy specials, and more. Ahead, learn about Spade's career and find out just how much money he's made in Hollywood.
He started acting in the late 1980s
According to IMDd, Spade's first credited acting gig came in 1987 when he landed a role in the comedy-meets-action-movie, Police Academy 4: Citizens on Patrol. From there he went to TV. In 1988, Spade played the role of Scott during a one-episode spot on The Facts of Life. The following year he had a brief role on Baywatch. 
David Spade joined the cast of 'Saturday Night Live' in 1990
His career soon began to pick up momentum and Spade found himself cast as a regular on Saturday Night Live (SNL) in 1990. The actor and comedian appeared in more than 60 episodes of the legendary program — often with fellow comedian Chris Farley — before leaving the show in 1996. 
During his time on SNL, Spade didn't just make a name for himself as a comedian but he also garnered attention for his writing skills. In 1990, 1991, and 1993 he received Primetime Emmy nods for writing on SNL. Meanwhile, Spade also appeared in 1993's Coneheads, 1995's Tommy Boy with Farley, and he lent his voice to various characters on Beavis and Butt-Head.
David Spade's net worth is reportedly $60 million
Spade's been steadily working in the entertainment industry since the 1990s and his net worth reflects it. He has a personal fortune worth an estimated $60 million according to reports from Celebrity Net Worth and Wealthy Gorilla.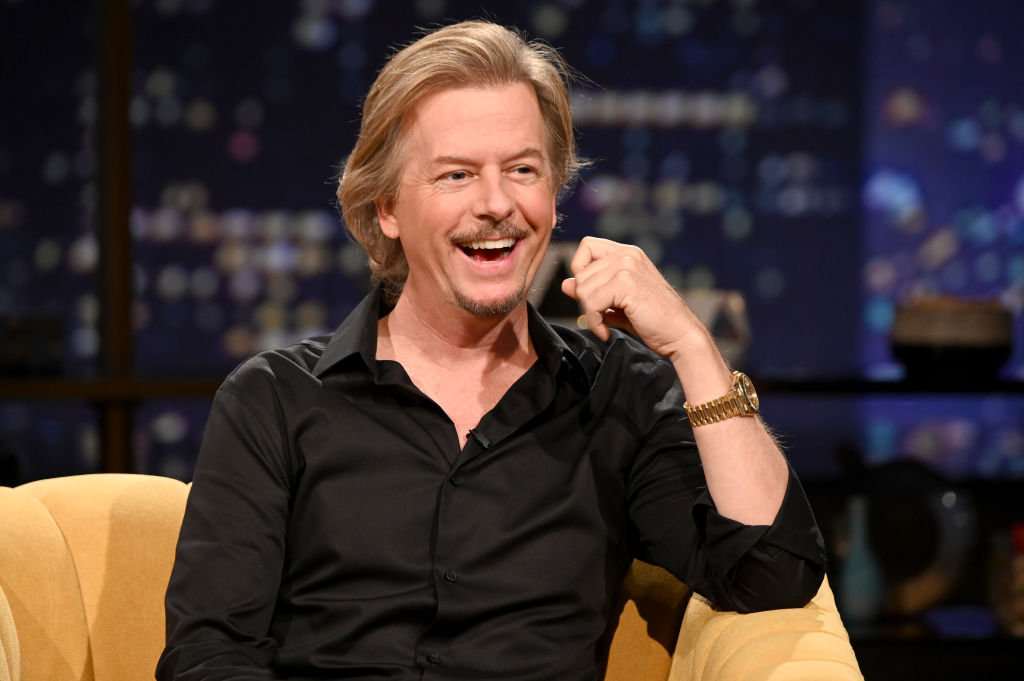 He supposedly earned $150,000 per episode on the CBS comedy series, Rules of Engagement, which ran for seven seasons and 100 episodes from 2007-2013. Had his paycheck on the sitcom held steady at $150,000 for five years, Spade would've earned around $15 million on that one project.  
He's found continued success in film and TV 
After SNL, Spade continued to find success — and add to his net worth — starring in TV shows such as Just Shoot Me, 8 Simple Rules, Carpet Bros., Roadies, The Mayor, and Love. His film credits have produced some of his most memorable roles including those in Joe Dirt, Grandma's Boy, The Benchwarmers, Grown Ups, and Grown Ups 2.  
What is David Spade doing now?  
Released on Netflix in May 2020 and produced by Adam Sandler's production company, Happy Madison Productions, Spade stars in The Wrong Missy, a romantic comedy gone wrong.
Tim (Spade) confuses two women both named Melissa and invites the wrong one to a corporate retreat with him in Hawaii. Tim ends up on the trip with Lauren Lapkus' Melissa instead of the Melissa he went on a successful blind date with played by Molly Sims. Despite The Wrong Missy leaving something to be desired for critics, that hasn't stopped it from taking the top spot on Netflix. 
So, what's next for Spade after The Wrong Melissa? According to his acting credits, he's set to be in a yet-to-be-named HBO series from Diablo Cody.