David Spade Reveals Why Adam Sandler Casts Friends in So Many of His Movies: 'It Was a Good Trick'
David Spade and Adam Sandler have a long history from their Saturday Night Live days and their friendship has landed Spade many roles in Sandler's movies. During the Literally! With Rob Lowe podcast, Spade explained the reason why Sandler casts his friends in his movies.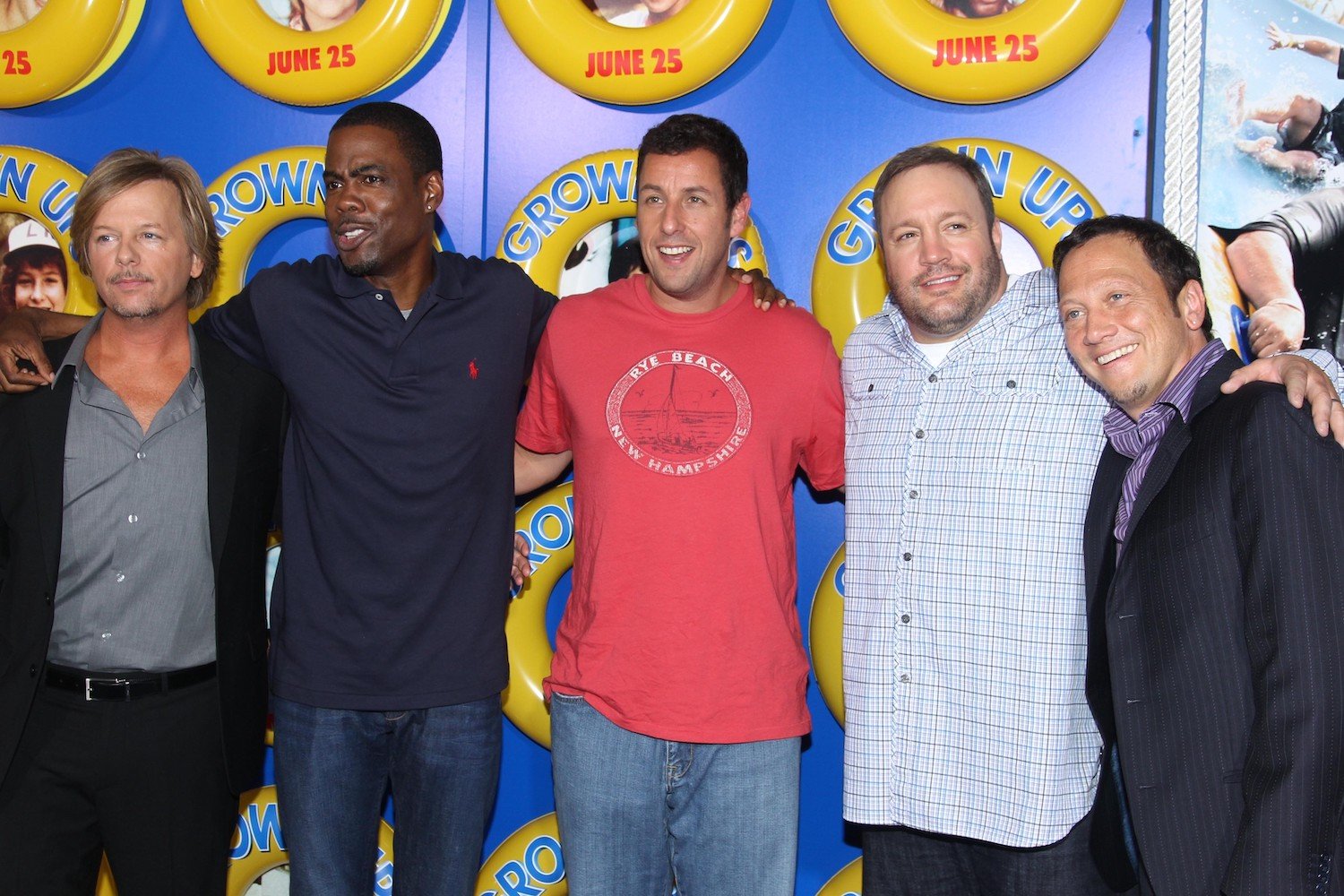 David Spade is in a lot of Adam Sandler movies
Sandler notoriously casts his pals to be in his films — and Spade is in a lot of them. During the August 5 Literally! With Rob Lowe podcast, Spade shared why Sandler often has his friends star in his Happy Madison films.
Spade recalled how Sandler "made a smart move" with the Grown Ups movies, explaining that Sandler's assembled team is like "the Golden State Warriors."
"Get guys that have their own movies and we'll all be in one when there's a lot of competition," Spade explained. "It was a good trick. And when we shot it, he spread out the jokes, so we all got to score."
"We all write jokes for him," the actor added. "That movie was like good, family, not-dirty, funny movie. And the second one, too."
Spade loves working with his friends so much that he would do another Grown Ups movie or one like it.
"I've probably only been in about 40," Spade joked of how many Sandler movies he's been in, adding, "I mean, I sort of come in the fine print, you know what I mean?"
David Spade shared an Adam Sandler wardrobe secret
Sandler's also well known for being dressed down at all times — and that includes his wardrobe for Grown Ups 2, Spade dished.
"The funny thing is, Sandler is wearing a striped t-shirt," Spade shared of working on the movie and being in Sandler's trailer. "We have a striped t-shirt on the bed for his wardrobe for the day, then there's a rack of t-shirts and big shorts."
Though the wardrobe person had Sandler's outfits laid out, the star opted to just wear the clothes he had on that day… for the whole movie.
Chris Farley and David Spade got in a fight while filming 'Tommy Boy'
During the podcast, Spade also talked about working with Lowe on the movie Tommy Boy. Spade and his co-star Chris Farley actually got in a fight during filming — and it was over Lowe.
Spade shared the story of how he and Farley clashed when he and Lowe got a drink and didn't invite Farley because he was sick.
"We don't tell Farley, of course we don't! We see him every goddamn f*cking day," Spade explained. When he saw Farley the next day, he was upset, "biting his lip, which is about to have a fight. That's his tell," the actor recalled.
Spade continued, "And he looks at me, and he goes, 'How was your night?… How's Rob Lowe?… Where's your f*cking precious Rob Lowe?'"
Spade didn't think it was a big deal, but Farley asked, "How was drinks last night?" Spade recalled telling him, "Oh, is that what we're getting at? It was alright."
Farley even followed Spade outside at lunch where he was eating a tuna sandwich and Farley again asked about Lowe, which Spade ignored. That prompted Farley to step on his hand and sandwich, "with his big f*cking boots, with all his thousands of pounds," the actor recalled. Spade threw his drink on Farley and the two got in a brawl, with Farley pushing Spade down a few stairs.
"I stand up and say, 'Are we in a fight?'" He thought maybe production would be shut down but the two smoothed things over.