'Dawson's Creek' Creator Explains Why He Refused to Omit 1 Risky Storyline From the Show
Over 20 years ago, Dawson's Creek introduced a cast of characters nearly every teen could relate to in some way or another. The show underwent many bold storylines from TV's first passionate gay kiss to the death of Dawson's father in just six seasons. The drama proved to be a revolutionary voice for the generation. There's one story some of the team, and viewers, could've done without. Here's why creator, Kevin Williamson, stood his ground.
Joshua Jackson had palpable chemistry with a major 'Dawson's Creek' star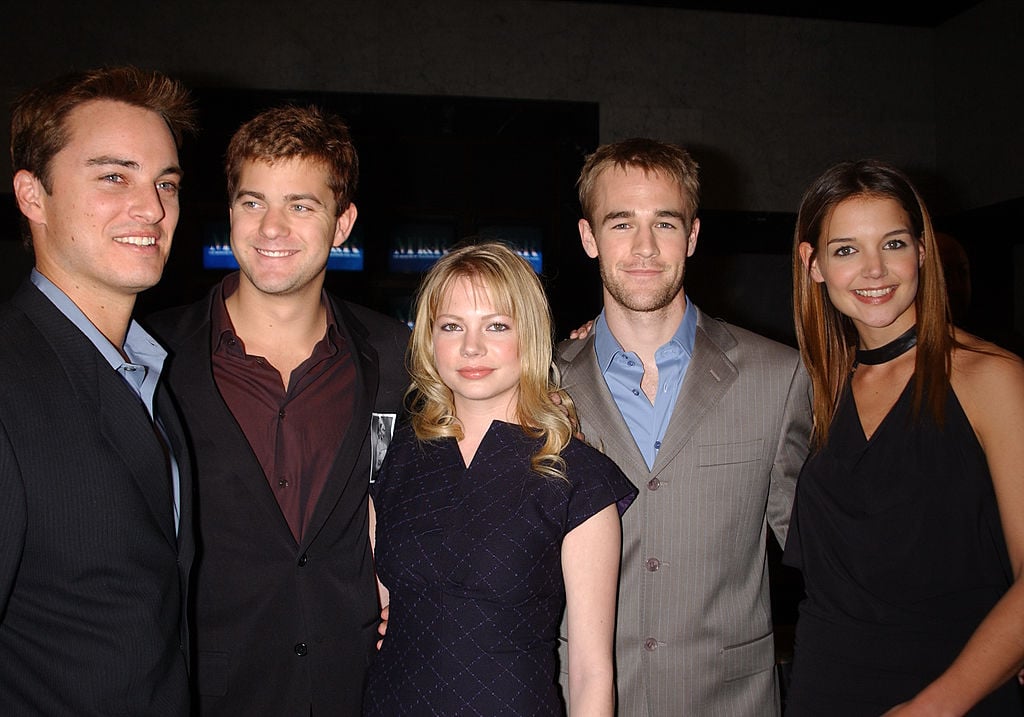 Around the time of Dawson's Creek's 20th anniversary, creator, Kevin Williamson, told The Hollywood Reporter that, despite knowing they wanted Dawson (James Van Der Beek) to end up with Joey (Katie Holmes), they found unexpected chemistry between Holmes and Joshua Jackson (who plays Pacey).
"Joey and Pacey were paired to do the science project and they had to go and collect samples. They got wet and had to take their clothes off in the truck and there was that very uncomfortable moment where you could just see how she peeked at him and he peeked at her," Williamson said.
"They were so nervous with each other. They had instant chemistry. We all saw that and we were like, 'OK, uh, do we pair them up in season three? Season two?!'" he added.
Williamson explained that putting Pacey and Joey together in future seasons — breaking up Dawson and Joey — added another layer by also ruining the friendship between Dawson and Pacey.
Although Williamson is very much Team Dawson, he still believes Dawson and Joey were soul mates.
"Soul mates are not always your romantic love. The way that I see it, Dawson and Joey ended up together. They're soul mates forever. And they have that deep bond of friendship that will never, ever go away," he said.
"But her romantic love for Pacey was who she wanted to be with and share her life with. And in a weird way, they're all soul mates. Dawson and Pacey were always going to be best friends."
Will there ever be a re-boot?
Longtime fans of the series may wonder if Dawson's Creek would even work in today's world. Williamson said they'd have to "design the show for the moment or create something that is not out there and it will become the moment."
He added, "You can't do Dawson's Creek today; you'd have to revamp it, reboot it or come up with something else and why would you do that? Just write a show about four teenagers and speak to the moment."
That said, is a Dawson's Creek reboot in the works or is it something Williamson has been pondering?
"One of the reasons we did the finale five years in the future was to put a button on it. What would a reunion be? What would that look like? Why would you? I don't see it and I don't feel it," Williamson said.
"The finale was such a beautiful moment in time and the show was always meant to be a nostalgia piece. Let it stay there and live in its nostalgia and its nostalgic universe."
He added that he doesn't want to tackle a massive undertaking such as a re-boot but he's all for someone else doing it.
"I'd love it. All for it. Absolutely. It's so rewarding to see it live on in some form or another," he said.
The storyline Williamson regrets, and another he doesn't
Of all the storylines Dawson's Creek covered, there's one prominent arc the [then] president of The WB Network, Jamie Kellner, didn't love: Pacey sleeping with his teacher, Mrs. Jacobs.
"He didn't say we couldn't do it but he was the father figure who would come in and ask, 'How long is this storyline going to last?' We told him six episodes and he responded: 'OK, that'd be a good thing,'" Williamson said.
The writer/producer admitted he received some criticism. But, he wouldn't change any part of it saying, "it served its purpose and it was based on a storyline from my own childhood." However, he also wouldn't write the same story today.
As far as things he wishes he could change, Williamson "wasn't a big fan" of season 3 star Brittany Daniels' storyline as Eve, or the way Andie (Meredith Monroe) left with fans "hating" her character.
"I didn't think the audience needed to turn against her the way they did," he said.
It's hard to say how a version of Dawson's Creek would hold up today. With all the other reboots, it's likely a safe bet to say modernized storytelling with relatable characters never goes out of style.