'Days of Our Lives' Comings and Goings: Eileen Davidson Returns, But Who's Leaving?
This week's Days of Our Lives comings and goings focuses on two soap opera veterans. These two beloved actors have very different fates on upcoming episodes. But who's staying in Salem, and who's going? Let's take a look.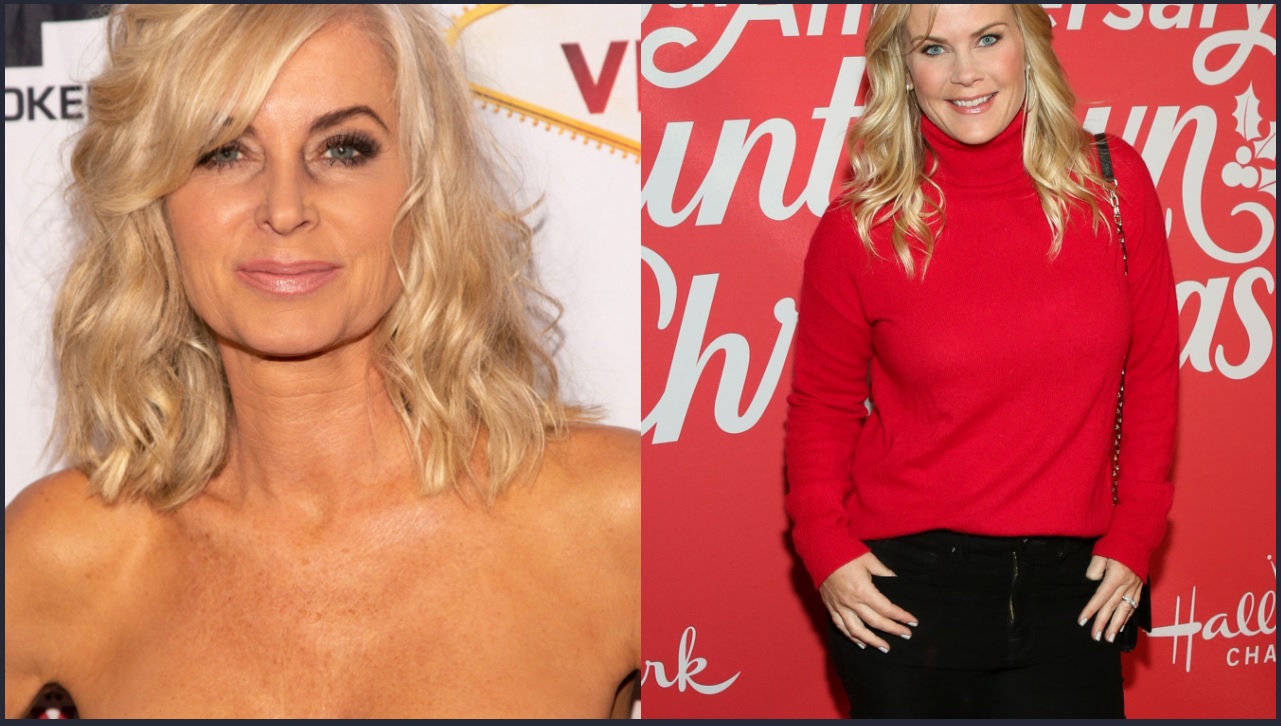 Eileen Davidson is returning in the 'Days of Our Lives' spinoff, 'Beyond Salem'
Soaps @ SheKnows confirms that one of the most notable Days of Our Lives comings and goings is Eileen Davidson. Although she won't be returning to the flagship show, she will be appearing in the Beyond Salem spinoff.
The question on everyone's mind is, "who will she play?" DOOL fans know Davidson as Kristen DiMera, a role she originated in 1993. In 2017, Stacy Haiduk took over the role. But Davidson also played Kristen's doppelganger, Susan Banks. She also played Sister Mary Moira Banks, Thomas Banks, and Penelope Kent during her legendary stint on the show.
Lisa Rinna — who will be reprising the Billie Reed role in Beyond Salem — confirmed Davidson's return on her social media pages when she posted a photo of the two of them behind the scenes. And Davidson confirmed on her Twitter page that fans will have to "tune in and find out" who she's playing when she returns to Salem.
Rumors about Alison Sweeney's fate persist
Some Days of Our Lives spoilers suggest that EJ will be kicking Sami out of the DiMera mansion in the coming week.
This, too, has raised the question of whether Alison Sweeney — the actor who plays Sami — will be leaving the show. As fans already know, Sweeney originally left Days in 2014, but returned in 2017 and has since played Sami on and off.
Neither Sweeney nor anyone on DOOL's production team has commented about it. But it remains to be seen whether Sami will be on a future list of Days of Our Lives comings and goings.
Production will soon resume on 'Days'
According to Deadline, Days of Our Lives shut down production in March 2020. They, in this regard, were no different than any other soap opera. Many productions shut down due to the COVID-19 pandemic. And the soap world was no exception.
However, Days had enough episodes to air through October 1. That meant that fans could enjoy the show without any interruptions or hiatuses. That, of course, is excluding the two-week hiatus they experienced for the Tokyo Olympics.
But Deadline reports that if all goes well, DOOL will resume production in September. It will remain interesting to see who stays, and who leaves, after production resumes.