'Days of our Lives': Justin and Kayla Are a Terrible Match and Fans Want It to End
Days of Our Lives is one of the most popular soap operas in television history. The soap started in 1965 and has run for 55 consecutive seasons, which has resulted in a remarkable 12,000 plus episodes, making it one of the longest-running shows of all-time. The show follows the lives of many unique characters, and the drama, shocking reveals, and love entanglements that they experience.
Two of the most prominently featured characters on the show are Justin Kiriakis (Wally Kurth) and Kayla Brady (Mary Beth Evans). Both characters have long histories on the popular soap opera and recently began a romantic relationship. This newly formed love connection received a lukewarm reception from fans, most of whom believe that both Justin and Kayla should be with someone else on the show.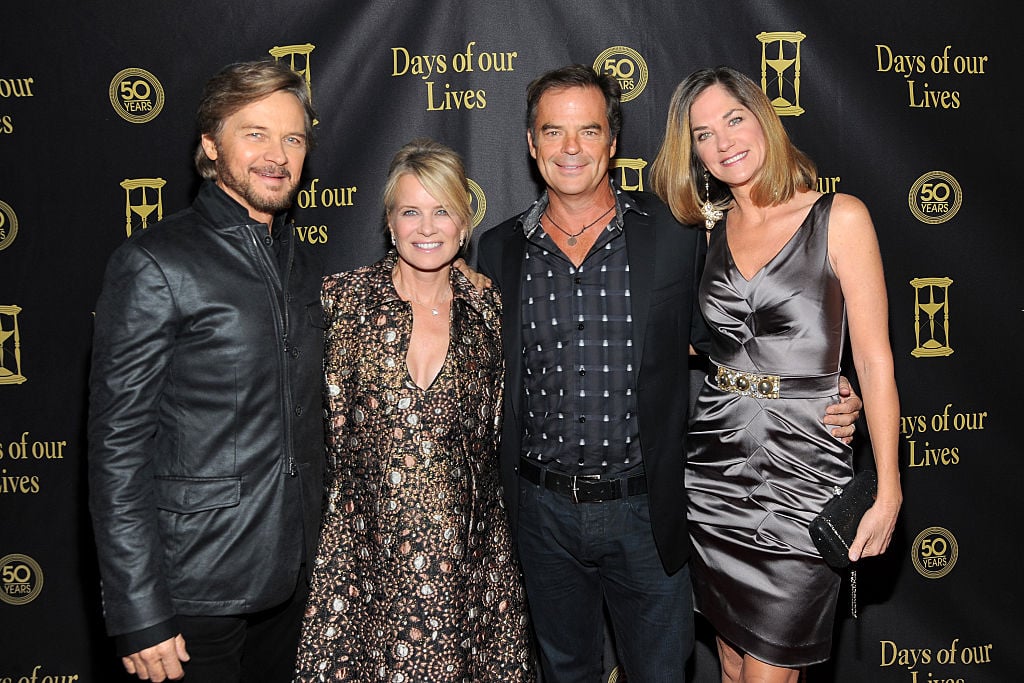 Who are Justin and Kayla on 'Days of Our Lives?' 
On Days of Our Lives, Justin is the nephew of one of the soap's longest-running characters, Victor Kiriakis (John Aniston). For the majority of his time on the show, Justin has been married to Adrienne Johnson Kiriakis (Judi Evans), and the two have had multiple children together. As a member of the Brady family, Kayla has been a fixture of the show for many years. Like Justin, Kayla also has a long-standing relationship with the Johnson family, as she has been romantically linked with Adrienne's brother, Steve Johnson (Stephen Nichols). Kayla and Steve, nickname Patch, is one of the most beloved relationships in the show's 50 plus year history, but as of now, the two are not together. Instead, Kayla is involved with Justin, which many consider a strange and passionless pairing. 
Justin and Kayla's relationship
Justin and Kayla's relationship is a newer development in the show. The two have had a history together and intersected in previous seasons, but their relationship was not romantic until recently. As is the case in most soap operas, characters have extremely complicated and twisted relationships, especially when it comes to love. Characters are married, then divorce, and remarried all the time. They also fall for the family members of their current love interest, causing enjoyable drama to watch for the show's audience.
This is the case for Justin and Kayla, as Justin was previously married to Hope Williams Brady (Kristian Alfonso) who was married to Kayla's half-brother Bo Brady (Peter Reckell). To further complicate the relationship, Bo is the son of Victor, making him and Justin related. This twisted web might be enough to prevent Justin and Kayla from being together, but their love has prevailed in the face of these unique challenges. 
Fan reactions to Justin and Kayla's engagement 
The explosive romance between Justin and Kayla is not a fan favorite. The main reason for fan pushback against the couple is the hope that Kayla rekindles her romantic relationship with Steve. The Steve and Kayla saga has been a major part of the show for many years, which has seen the two marry, divorce and remarry. Kayla and Steve also have two children together, Stephanie (Shelley Henning) and Joey Johnson (James Lastovic). The super couple has also survived several harrowing ordeals in their long history together, including and poisoning, kidnappings, and multiple murder attempts, and Kayla temporarily losing her hearing. Still, these ordeals could not stop their love until Steve's apparent death. This death did not last, and Steve returned to the show as Nick, who had amnesia and no memory of his previous life and love. Kayla and Justin do not have this same intense connection, and thus do not mean the same thing to fans as Kayla and Steve do. Soap opera storylines change all the time, so it is very possible that fans receive their wish for Justin and Kayla to separate, and for Kayla to reunite with her one true love Steve.