'Days of Our Lives' Spoilers: Allie and Claire Get Grilled, EJ Kicks Sami Out
Now that 'Days of Our Lives' is coming back on the air, fans will have a lot of drama to catch up on. What's going on in Salem this week?
After a two-week hiatus, fans are returning to Salem. The latest Days of Our Lives spoilers tease that the drama is out of control for all our favorite families. Where, even, do we begin?
[Spoiler Alert: Potential spoilers for upcoming episodes of Days of Our Lives are ahead.]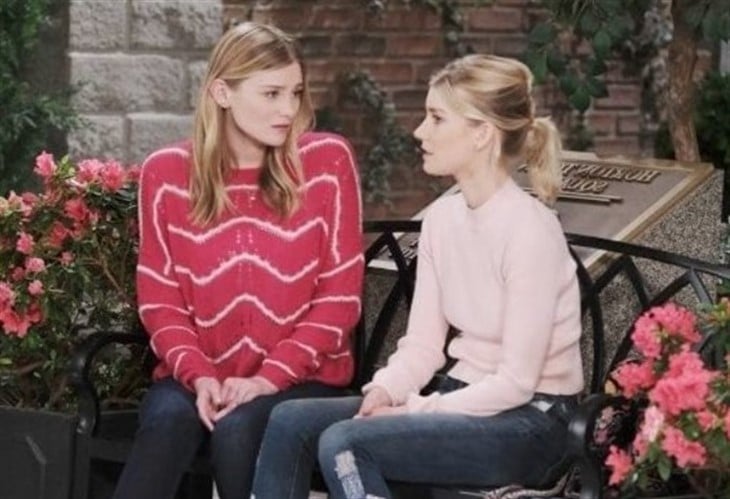 On the latest 'Days of Our Lives' spoilers, Allie and Claire get interrogated
According to SoapHub, their latest Days of Our Lives spoilers tease that Allie and Claire are about to get interrogated. They did, after all, assist with the "kidnapping" of Ciara. (Legally, that's what they did, even if they had the best of intentions.)
Belle and Eli want to know where Ben took his "hostage," but according to the outlet, Allie and Claire aren't too quick to crack under the pressure. Belle and Eli, however, have their ways of getting what they want. And it just might be that things will get a little extreme — but if it gets them to confess, it just might be a good thing, in a manner of speaking.
Meanwhile, though, Ben is desperate to get Ciara to remember all the good times. On Monday, expect Ben to take Ciara to a "special place" to help jog her memory. Will the police be hot on his tail before she remembers?
EJ kicks Sami out
While Ben and Ciara are trying to rekindle their love, EJ is looking to get rid of his latest love.
According to Soaps @ SheKnows, the official Days of Our Lives spoilers from the network suggest that on August 12, EJ will have had enough of Sami's nonsense and finally kick her out of the DiMera mansion. (Thanks, Kristen, for that letter.) But that eviction won't be before Lucas and EJ duke it out over their shared love of Sami.
And if all that isn't enough, Sami is going to duke it out with Nicole. Sami and Nicole just have an old rivalry, and nothing is driving them but their pure hatred for each other. But this time, Nicole stabbed Sami in the back, and Sami is getting even.
Meanwhile, elsewhere in Salem
Other drama brewing in Salem involves Ava, Nicole, and Rafe.
Days of Our Lives spoilers for this week tease that Rafe will prove to be quite the comfort for Nicole as she cries in his arms. As it turns out, too, Rafe has "strong feelings" for Nicole, but swears she's just a friend.
It's quite likely that Ava is really going to be in her feelings about this "friendship." But given who Nicole is, she's not going to care much about how Ava feels. If it's Rafe she wants, then it's Rafe she's going to get.