'Days of Our Lives': What is Actress Deidre Hall's Net Worth?
Loyal viewers of 'Days of Our Lives' are breathing a sigh of relief now that it's been confirmed the soap is renewed for another season. In early November, news hit that cast members would not have their contracts renewed, and it seemed like the fate of the show was up in the air. Now that NBC has greenlit the 56th season, both fans and the cast can rejoice.
That means audiences will continue to see Deidre Hall, a.k.a. Dr. Marlena Evans, survive life or death situations, live out her love story with John, and maintain her position as one of the matriarchs in Salem. Hall has been on the show since the '70s, but what's her backstory and how much is her net worth?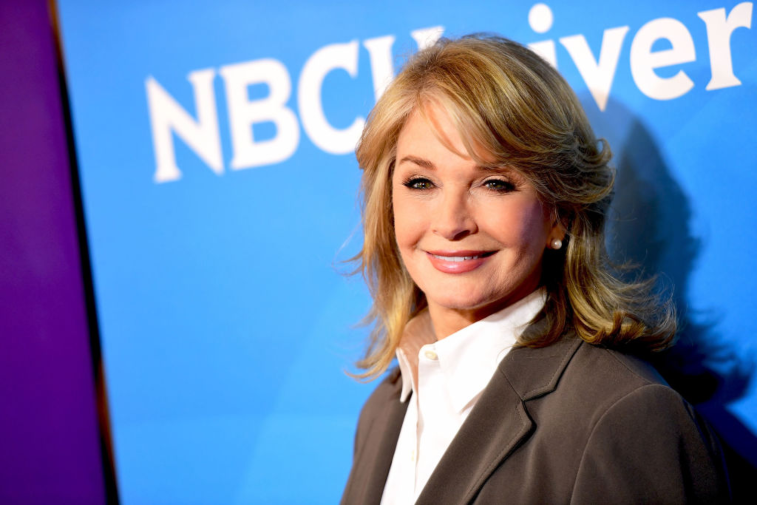 Hall didn't want to be an actress when she was young
Once you realize that Days of Our Lives have been on the air for five decades, you think about all the cast members who've graced your screens during that time. Hall joined the show in 1976 to play Marlena, but she didn't always have her sights set on acting.
When she was younger, she wanted to be a hairdresser but changed her mind once out of high school. She originally hoped to graduate with a psychology degree but jumped into acting to earn some extra money while in school. Early in her career, she did some modeling and took on a number of television roles in shows such as Emergency!, Electra Woman and Dyna Girl, and The Young and the Restless.
Her stint on Y&R led to her interest in daytime soaps and the stars aligned for an opportunity on Days of Our Lives. She almost didn't take it. Hall told Closer Weekly she was offered the part but hesitated:
"I was so convinced that with all these recognizable faces that I had seen at the audition, they would have not chosen me. But in my logical mind I said, 'They must've gone through 10 actors who turned it down, there must be something wrong with it.' So I turned it down also and then she called me back two weeks later and said, 'What's wrong with this part?' I said 'I love this part. I just thought I wasn't somebody they especially thought of first.' She said, 'You were their first choice.' So I took it and it's been over 40 years."
She's a fan favorite on and off screen
Hall has been playing Marlene for 43 years and in that time, she's been possessed, died fake deaths, fallen in love with her soulmates, been kidnapped, and played the ultimate psychiatrist. The role has endeared her to fans so much that when they believed her character had been killed off, they overwhelmed the studio with phone calls, letters, and a protest. It was just a faux storyline, but the fan campaign proved how much she's loved.
Even after she took a break from Days to play Jesse Witherspoon on Our House for five years, she returned to the soap and received a warm reception. Per Hall's website bio, she's starred in NBC movies and produced her own TV special, Never Say Never:  The Deidre Hall Story, where she highlighted her fertility struggles and becoming a mother through surrogacy.
Hall has always been a relatable and approachable actress, and an interview with Soap Opera Digest revealed moments where she's done phone calls with fans and sometimes given advice. One time, she helped a teenage girl seek help from a rape crisis center and the girl was able to have her abuser removed from the home. Hall is also known for interacting directly with fans on social media, calling some of them friends.
Hall does other work outside of 'Days of Our Lives'
Although she's shuttered her beauty business, Hall released two books: Deidre Hall's Kitchen Closeup and Deidre Hall's How Does She Do It? A Beauty Book. One shares recipes and the other highlights beauty and fashion secrets and tips for every woman.
In addition to these projects, Hall is very involved with charity work. She's been an advocate for the Special Olympics, as she grew up with an older brother who had Down syndrome, and she's also been a vocal supporter for vision awareness. Her mother was diagnosed with wet AMD, a form of macular degeneration that causes blindness. She's given her money and time to these causes and more over the past few decades.
Hall's earnings from 'Days of Our Lives' keep climbing
For the record, the 72-year-old Hall has no plans to retire from her role as Marlena anytime soon. She told Closer Weekly:
"I love what I do. We work 50 weeks a year and I work with people that I just adore and respect. I get to see them on days when I get to go to work to catch up on their lives and their adventures and their heartbreaks. I wouldn't change that for the world. This time in my life is the best time ever — until the next time! I'm so sublimely happy and my kids are in good shape, my family's in good shape, I'm healthy, I do a job that I love, I have people that I adore. So it doesn't get any better and I am beyond grateful."
As a result of her work in entertainment, Hall's net worth is estimated to be $12 million per Celebrity Net Worth. Keep watching her on Days of Our Lives on NBC each weekday at 1 p.m. EST.