'Dead to Me': Who Has the Higher Net Worth, Christina Applegate, or Linda Cardellini?
Christina Applegate and Linda Cardellini sizzle with on-camera chemistry in Netflix's Dead to Me. Both stars were household names before landing roles in the series, but which one has the higher net worth?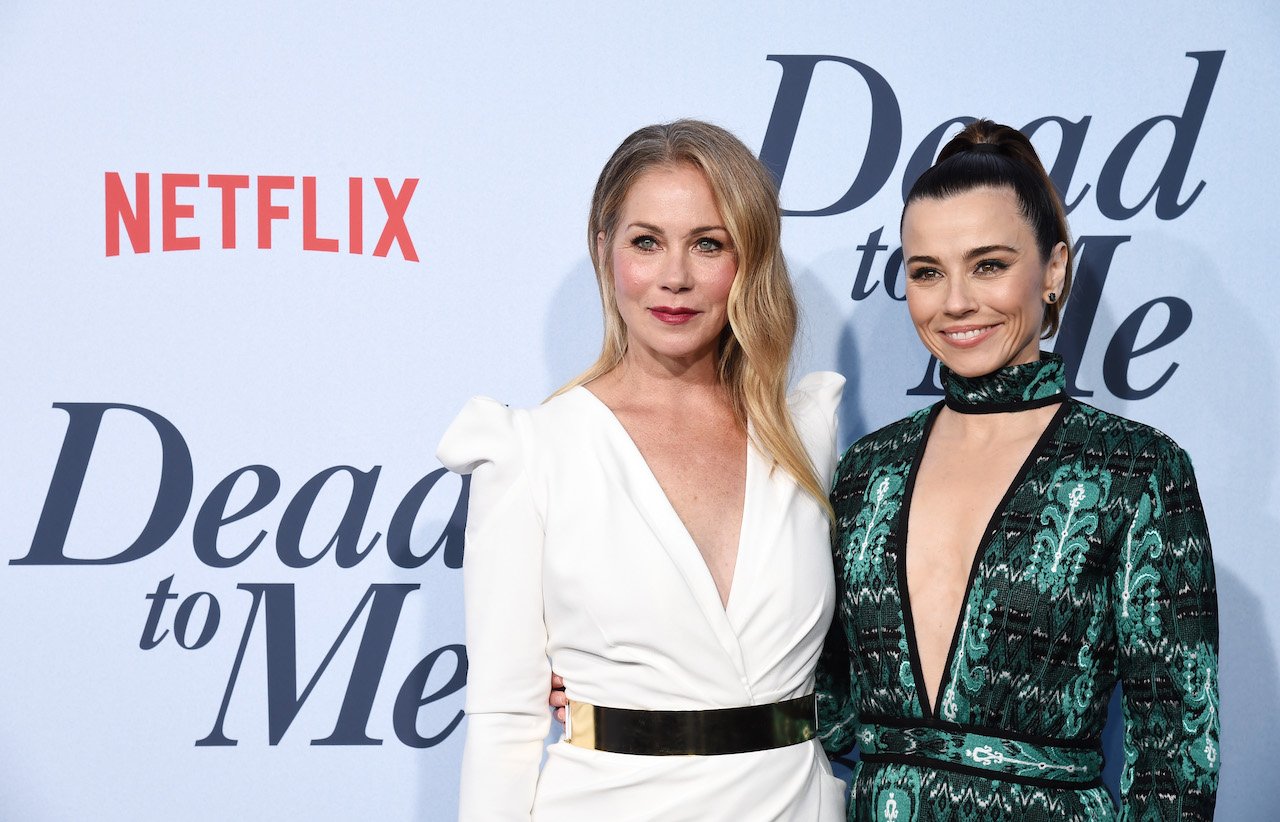 'Dead to Me' is an offbeat dramedy
Dead to Me is an addictive series led by the amazingly charismatic duo, Applegate and Cardellini. The offbeat dramedy revolves around Jen, played by Applegate, and Judy, portrayed by Cardellini, who strike up an unlikely friendship at a grief support group. Complicated backstories and toxic secrets make for an addictive story that fans relish.
Christina Applegate as 'Jen Harding'
RELATED: 'Married With Children': Which 'Bundy' Has the Highest Net Worth Today?
Applegate gives an electrifying performance as the recently widowed Jen on Dead to Me. But before that, she appeared in a string of high-profile projects stretching back almost three decades. Applegate's breakout role was in one of Fox network's first series, Married… With Children. On the show, which aired for a whopping 11 seasons, she portrayed Kelly Bundy, the eldest child of Al and Peggy, and sister to Bud.
Aside from her hilarious work on the sitcom, Applegate is known for her big-screen work. Fans may remember her from movies such as Don't Tell Mom the Babysitter's Dead, Anchorman: The Legend of Ron Burgundy, and Bad Moms.
Linda Cardellini as 'Judy Hale'
RELATED: 'Buffy the Vampire Slayer': Which Cast Member Has the Highest Net Worth?
On Dead to Me, Cardellini brings life to her character, Judy, who is a free spirit with dark secrets. Prior to landing the part of Judy, Cardellini had already appeared in nearly 70 television and film projects.
TV enthusiasts may recognize Cardellini from her six-year stint on ER. She also has an impressive list of big-screen credits, including Legally Blonde, Scooby-Doo, Avengers: Age of Ultron, and The Curse of la Llorona.
Which 'Dead to Me' star boasts the bigger bank account?
RELATED: 'Better Call Saul': Who Has the Higher Net Worth, Bob Odenkirk, or Giancarlo Esposito?
Applegate and Cardellini are showbiz veterans with a combined total of nearly 150 acting credits in genres ranging from comedy to drama to horror. With considerable experience under their belts and more projects on the horizon, the actresses have amassed large fortunes. Celebrity Net Worth estimates that Cardellini is worth a cool $8 million. And according to the outlet, Applegate tops her co-star with an estimated $20 million in total wealth.
Is 'Dead to Me' renewed for season 3?
A renewal on their current steady gig would give Applegate and Cardellini a chance to build their net worth even more, but it remains to be seen if Netflix will order a third season of Dead to Me. If fans have it their way, Applegate and Cardellini will be back as Jen and Judy with more juicy drama and biting wit.
"Dead to Me, please say there's a season 3!!!!! OMG. You can't leave me on that cliffhanger!!! Absolutely love the show! Do many more seasons! Can't get enough of them two," tweeted a fan. That sentiment echoes throughout the Twitterverse, with viewers wanting to see more of the Applegate and Cardellini-led romp.
RELATED: Which 'Growing Pains' Former Child Star Has the Highest Net Worth Today?