What Dean Unglert and Caelynn Miller-Keyes Got Each Other for Christmas
The holiday season may be over, but Caelynn Miller-Keyes and Dean Unglert held onto their Christmas spirit well into the new year. After Unglert's ski accident, the two waited to open Christmas presents until Jan. 13. Miller-Keyes posted a vlog of their belated Christmas on YouTube, revealing what the two got each other for Christmas.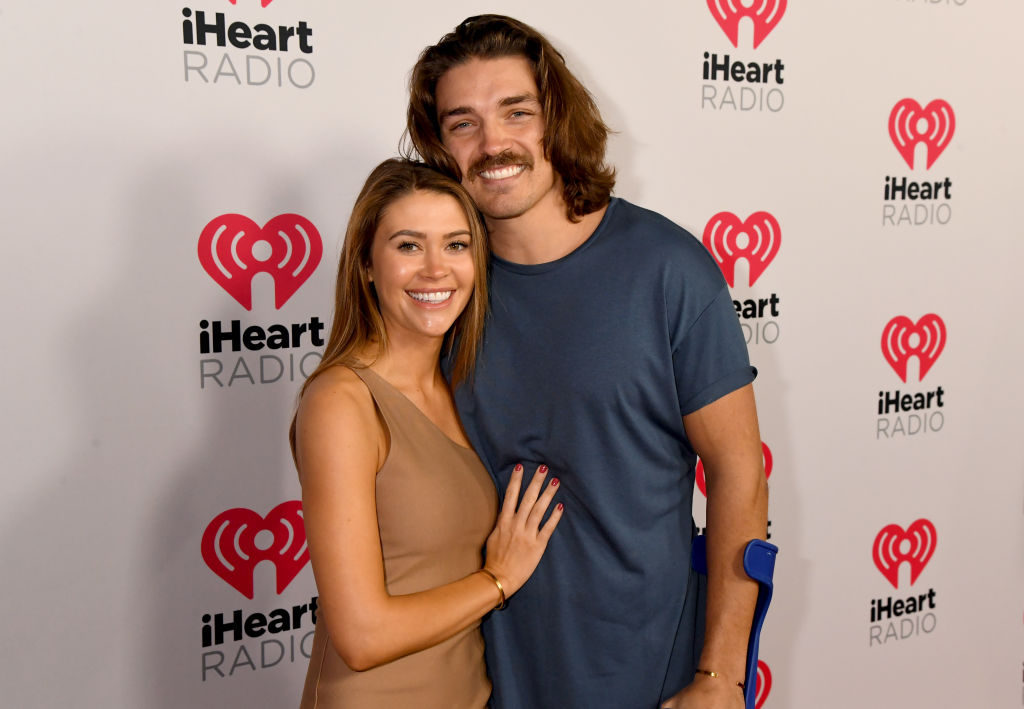 Dean Unglert and Caelynn Miller-Keyes celebrated Christmas late
On Jan. 18, Miller-Keyes uploaded a vlog to YouTube titled "CHRISTMAS IN JANUARY VLOG – We exchanged our Christmas presents a little late…" The couple spent the latter part of December 2019 traveling back to Los Angeles.
Miller-Keyes opened a gift from Unglert first. In a thoughtful gesture, Unglert got her a bracelet with the coordinates of the beach from Bachelor in Paradise where they met. Unglert then revealed that he got a bracelet of his own to match.
He also got Miller-Keyes a camera, lens adapter, tee shirt, and an XQD card. Miller-Keyes got Unglert a Dunder Mifflin hat, a jacket, a yoga mat, AirPods, and various traveling gear. At the end of the vlog, Miller-Keyes revealed the bracelet was her favorite gift and Unglert said his favorite gift was the Dunder Miffln hat.
They currently have a foster dog
Earlier in January 2020, Miller-Keyes and Unglert shared the news that they are fostering a senior dog named Pappy. The two have compared their adorable foster dog to Baby Yoda from The Mandalorian. Unglert recently detailed how they decided to adopt Pappy in an Instagram post.
"when we first mentioned we wanted to foster a pup we received so many fantastic recommendations on where to go. the first day we went to the west LA animal shelter and met a lot of amazing dogs but none that would be good for me given the state of my leg," Unglert wrote on Instagram.
He continued, "we actually saw pappy there too but couldn't see him for some unknown reason. the next day we paid a visit to @wagsandwalks and, lo and behold, pappy was there! we took it as a sign and took him home as fast as we could."
Both Unglert and Miller-Keyes have asserted they will not be adopting Pappy and are just fostering him until he finds his forever home.
Unglert wrote on Instagram, "this is my first time fostering and i already know it'll be so hard to give him up so, in the meantime, we're gonna give him all the love we can. if you're thinking about getting a pup, please consider adopting or fostering. there are so many pups that have so much love to give, all they need is a chance!"
Caelynn Miller-Keyes and Dean Unglert took Pappy on a van trip
Recently, Miller-Keyes and Unglert took Pappy out in the van for the first time. Based on the couple's social media posts, the three of them had a great time.
"we backed the van up to the water, slept with the back doors open and got to listen to the waves all night. and we woke up to dolphins!" Unglert wrote on his Instagram story.
Miller-Keyes posted photos of her and Pappy on Instagram and wrote: "Pappy's first van trip."