'Dear Evan Hansen': Jordan Fisher Opens up About Being the First Black Actor to Play the Titular Character
Jordan Fisher is the first Black actor to play Evan Hansen in Broadway's 'Dear Evan Hansen.' Learn more about his thoughts on making history.
Former Hamilton cast member, Jordan Fisher, had only been playing the titular role in Dear Evan Hansen for a few weeks when Broadway went dark due to COVID-19 in March 2020. In December 2021, the Tony Award-winning musical about adolescent anxiety and depression in the age of social media resumed showings. And with this reopening, Fisher donned Evan Hansen's signature polo shirt once again. Keep reading to learn more about the show, the pandemic-related shutdowns, and what Jordan Fisher has to say about being the first Black actor to play the lead in Dear Evan Hansen.
In 'Dear Evan Hansen' a troubled teen creates a fictional friendship
"Dear Evan Hansen, today is going to be an amazing day," Hansen begins as he types himself a pep talk assigned by his therapist. The child of a single mother and absent father, he suffers from depression and social anxiety until a chance encounter with another unpopular student at his high school changes everything. 
Connor Murphy, the brother of Hansen's crush, finds the letter left on a school printer, confronts Hansen with it, then refuses to give it back. Sadly, after Murphy dies by suicide, his parents find the letter among his belongings and assume Murphy wrote it to his only friend. To please them and satisfy curious classmates, Hansen fabricates the details of their "friendship," and he soon finds himself caught up in a lie gone viral.
As seen in Playbill, the musical stage play originally featured Ben Platt in the lead role when it debuted on Broadway in 2016. Platt also plays Hansen in the film adaptation that was released in the United States in September 2021, according to IMDb.
In January 2020, Andrew Barth Feldman handed the role over to Fisher, who at 25 still looked young enough to be in high school. "The beautiful thing about a razor blade and some good shaving cream, at least for me," he told PIX11 News, "is that it takes off a lot of years."
Jordan Fisher said he's honored to be the first Black actor to play the titular role in 'Dear Evan Hansen'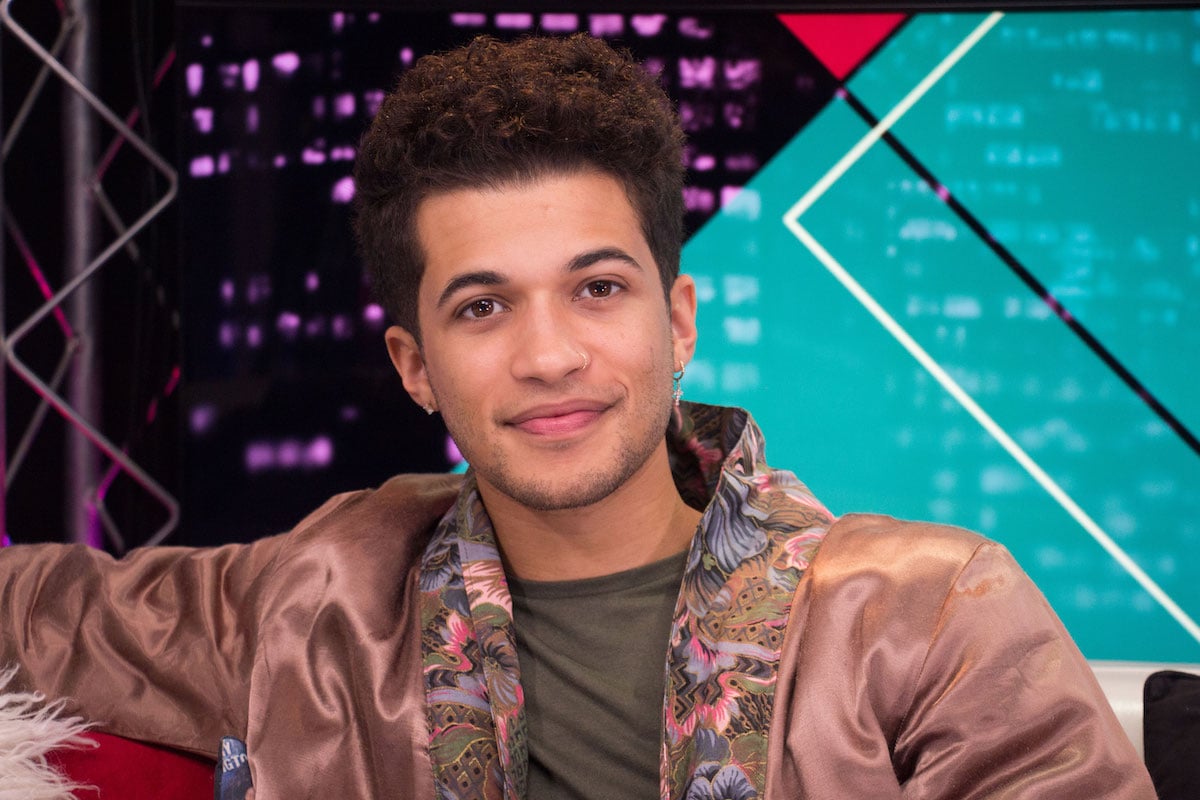 Fisher recently spoke to People about his experience as the first Black actor to star in Dear Evan Hansen. "My favorite thing about playing Evan honestly is just frankly being Black and being able to play this character," he said. "As a Black man that has a relationship with anxiety and depression myself, it's such an honor."
Fisher first saw the play with fellow actor Vanessa Hudgens and was overwhelmed with emotion.
"Oh my God. When act one ended, I was buckled over in my seat, in the middle of the theater and in the fourth row, and Vanessa's just rubbing my back and trying to hide my face. I couldn't contain myself," he said. "I never ever knew that I would eventually wear that polo and that cast and wave through those windows as well. But man, I'm so grateful that I am."
Fisher said he sees the role as an opportunity to show young people like him that they aren't alone.
"It's such a topic of conversation that just isn't had amongst the Black community. I'm surrounded by a bunch of friends here in New York and in LA as well, Black brothers of mine. We all deal with it, have therapists, and whatnot. And being able to talk to one another about it is such an important thing," he said. "… That's what gets me the most excited to get out of bed every morning is working on stuff that's going to make somebody feel less lonely.
'Dear Evan Hansen' was among Broadway shows recently canceled due to the Omicron variant
Despite the long-time theater tradition that declares, "the show must go on," several Broadway productions have announced COVID-19 related cancelations and closures since theaters reopened in September.
On Dec. 20, Dear Evan Hansen announced on Twitter that the show would close until Dec. 27 due to "an abundance of caution."
As of Dec. 21, 10 shows canceled performances during the normally busy holiday week, The Hollywood Reporter reported, including: Ain't Too Proud, Aladdin, Hadestown, Hamilton, Lion King, Moulin Rouge!, and SIX. Some cited breakthrough cases among cast members.
Though most shows were slated to reopen on or before Dec. 27, Yahoo! News recently announced that Ain't Too Proud, the story of the musical group The Temptations, will perform for the last time on Jan. 16. Alanis Morrisette's, Jagged Little Pill, as well as Thoughts of a Colored Man, and Waitress have also announced permanent closures. 
The good news is that Broadway is not shutting down like it did in 2020.
"We have absolutely no plans to shut down," Broadway League President Charlotte St. Martin told The Hollywood Reporter. "We are paying serious attention to the protocols. The other 20 to 30 shows continue to perform because we're following the protocols that we set up, and it shows they're working."
Check the Broadway League's website, Broadway.org for the latest performance times and cancellation updates as the lingering threat from the rapidly spreading Omicron variant evolves.
How to get help: In the U.S., call the National Suicide Prevention Lifeline at 1-800-273-8255. Or text HOME to 741-741 to speak with a trained crisis counselor at the free Crisis Text Line.