'BIP': Demi Burnett Was 'Irritated' That Kristian Haggerty Proposed; 'I Was Being a Bit*h About It.'
Demi Burnett and Kristian Haggerty certainly made a splash on the last season of Bachelor in Paradise prior to their inevitable split. When Burnett was looking for love on the beach in Mexico, she couldn't get Haggerty out of her brain. Things got so intense that Chris Harrison actually flew Haggerty down to Mexico for the pair to spend some quality time together. Whilst there, the women fell deeper in love and on the last day in paradise, Burnett proposed to Haggerty.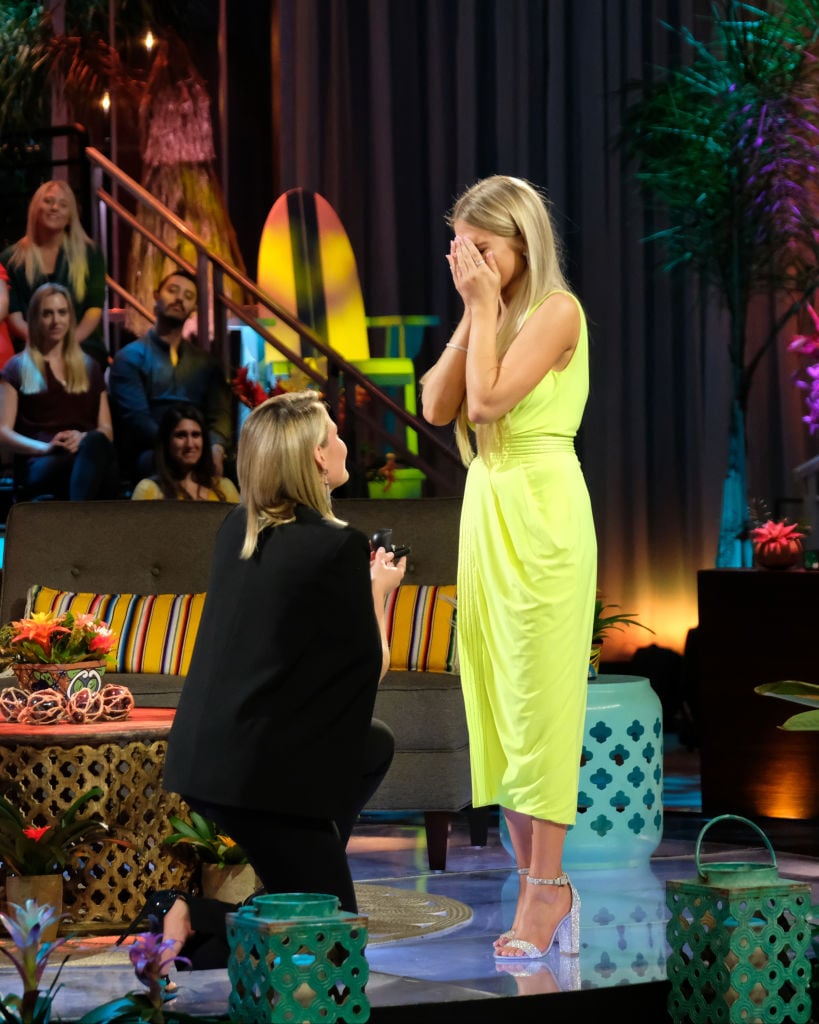 But, Burnett's proposal wasn't the only one during their brief engagement. During the Bachelor in Paradise reunion special, Haggerty surprised her then-fiancée by returning the favor. Much to Burnett's surprise, and the audience's delight, Haggerty got down on one knee after professing her love.
Kristian Haggerty and Demi Burnett has a unique journey on 'Bachelor in Paradise'
"Demi, when I met you, I was instantly captivated by you. I love your laugh. I love when you wake up throughout the night and whisper 'I love you' and then roll over, and…I love you. And you say 'forever'. And I'm so grateful that you went to Paradise and it gave us the opportunity to grow our love for each other. I know that last day in Paradise, that was the best day of my life, and I wouldn't want to do this life with anyone else but you. So Demi, will you marry me?' Haggerty asked of Burnett who accepted.
The second proposal was certainly considered to be swoon-worthy amongst Bachelor Nation. People found Haggerty's gesture to be particularly sweet and terribly romantic. But, it seems as if Burnett did not share that sentiment at all. In fact, she was actually irritated by the whole display. The reality TV star was recently interviewed for the Almost Famous podcast and she got candid about her true feelings about the moment.
Burnett was irritated by the proposal
"That made me irritated because … I'm a selfish person sometimes and that was my thing…I was like, 'I proposed to you,' you know? And then I was like, 'Why'd you do it? That makes no sense. People don't propose to each other like that normally.' I don't know. I was being a bi*ch about it, essentially. … I'm such a brat," Burnett recalled about the moment.
The reality TV star didn't like her engagement ring
Burnett also shared that she was far from enthused about her engagement ring also. She then expressed that she did feel a bit of remorse about how she reacted to Haggerty's proposal. "I didn't like the ring at all… I feel really, really bad about that too because it was a really nice, sweet gesture and I made her probably feel like she shouldn't have done it or made her feel bad about it. That's so not fair," the Bachelor in Paradise alum shared.
Burnett has a new boyfriend and Haggerty has a new girlfriend
If this isn't a testament to how fake reality tv can sometimes be, we don't know what is. Looking back at the clip of the second proposal, Burnett appears to be overjoyed and moved to tears. But, perhaps her tears weren't ones of joy, but rather anger and frustration. Fortunately, both women seem to have found partners who are more suitable for them. But, we doubt Haggerty or Burnett will rush into another engagement anytime soon.