Demi Burnett and Nick Viall Clap Back to Critics Calling Her 'Too Skinny'
Ever since Demi Burnett began her tenure on the popular dating show, The Bachelor, she has been met with criticism. Now she's clapping back to body shamers.
Ever since Demi Burnett began her tenure on the popular dating show, The Bachelor, she has been met with criticism. As one of the season's "villains", Burnett was often criticized for her devil-may-care attitude and occasionally breaking the "rules" of the show. Since then, Burnett has gotten a lot of criticism about who she is dating.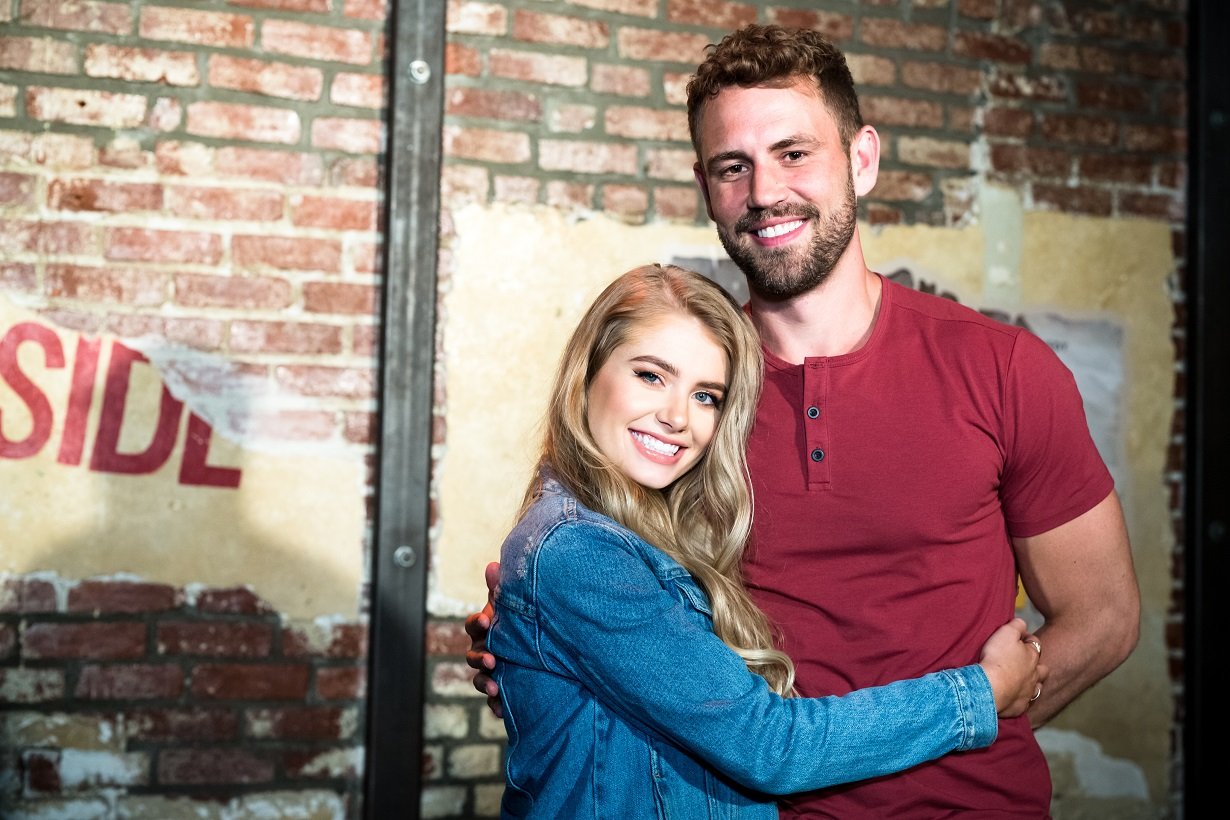 Following Burnett's stint on The Bachelor, she joined another dating show in the franchise: Bachelor in Paradise. On the beaches of Mexico, Burnett connected with Derek Peth and the two seemed to be a strong couple in the eyes of the rest of the cast. But, Burnett was unable to fully commit to Peth because she couldn't get her mind off of Kristian Haggerty, who she was dating prior to joining the cast of Bachelor in Paradise.
Demi Burnett was accused of only dating Kristian Haggerty for publicity
When Chris Harrison invited Haggerty to stay on the beach and pursue a relationship with Burnett, the 25-year-old received even more criticism. As Haggerty and Burnett were the first same-sex couple in Bachelor history, they were met with plenty of backlash in addition to support. When the pair split after a very brief engagement, some critics accused the women of faking their relationship for the publicity.
Since Burnett has stopped appearing on the show, her criticism has slowed down, but it hasn't stopped altogether. Burnett's stint on reality television has helped her rack up over 1.3 million followers on Instagram alone. But, with greater popularity also comes greater criticism. The podcast host is often criticized for her friendship with Nick Viall, what she posts on her social media pages, and her most recent relationship with Slater Davis. Now, the Bachelor alum is also dealing with body shaming.
'The Bachelor' alum posts new pictures to Instagram
On July 11, 2020, Burnett took to her Instagram page to post some classic mirror selfies. In the photos, which have racked up over 131,000 likes, Burnett wears combat boots, jean shorts, and a crop top. "My docs make me feel tough. Like I could knock someone out with a roundhouse kick to the face at any moment….. if I needed to," the caption of her photo reads.
Unfortunately, Burnett's simple photos elicited a ton of body shaming on the post. Critics accused the Los Angeles resident of being "too thin" and began giving her unsolicited advice for what food she should eat. "Too skinny," one person penned commenting on Burnett's weight. The 25-year-old was quick to fire back that she didn't ask for opinions about her physical appearance. "Nobody asked you????" Burnett declared.
Critics make negative statements about Burnett's body
"Girl! You need some fried chicken and cheesecake! 😘" another Instagram user chimed in with their opinion."I eat fried chicken at least once a week!" Burnett responded. "Please eat something," another person penned making assumptions about Burnett's diet. "I just ate a bowl of pasta and bread silly goose," Burnett fired back. "U look 11!" one person declared rudely. "Ya caught me, 11-inch penis," Burnett clapped back in response.
Things escalated from there with one critic declaring that Burnett's appearance was somehow setting a bad example for young girls. The comment was so egregious that Viall chose to step in and defend his friend. "If you're a medical professional, I'm concerned. Also, Demi ate all my pasta tonight, which makes your starving herself comment personally annoying for me since I want more pasta atm," Viall fired back. "@nickviall I'm hungry let's go get a snickers ice cream bar," Burnett wrote in response.
Nick Viall shouldn't have to defend his friend
It's great that Burnett and Viall feel comfortable clapping back against those who feel the need to comment on her weight. But, truly, it isn't anyone's business. Burnett should be able to post pictures of herself without having to contend with incessant body shaming. Hopefully, we'll someday get to a place where people don't feel the need to police others (women especially) for their bodies.