Demi Lovato and Max Ehrich's Relationship Had 1 Thing In Common With Selena Gomez and Justin Bieber's
Demi Lovato recently shocked fans when she split with her fiancé, actor Max Ehrich. The couple had a short engagement that eventually ended in a messy, public breakup.
While fans are still trying to figure out exactly what happened with Lovato and Ehrich, it's also interesting to note that their relationship had something in common with the one between Demi's old friend Selena Gomez and singer Justin Bieber. Read on below to find out what commonality these two pairs shared.
Demi Lovato and Max Ehrich were together for several months in 2020
Lovato and Ehrich went public with their relationship in March while they were quarantining together.
The couple quickly got engaged in July. Lovato shared the news on Instagram, writing, "I knew I loved you the moment I met you… I've never felt so unconditionally loved by someone in my life (other than my parents) flaws and all."
While Lovato and Ehrich looked to be very in love, they broke up just two months later. In later September, it was announced the couple had gone their separate ways.
Since then, Ehrich had gone on to claim he was blindsided by the news of the breakup and was even seen crying at the beach where he proposed to Lovato. Meanwhile, Lovato wrote a song allegedly about the breakup, and sources claim she has been trying to cut off contact with Ehrich.
Selena Gomez and Justin Bieber were on-and-off for many years
Long before Lovato and Ehrich got together, Gomez and Bieber were one of Hollywood's hottest couples. Called "Jelena," Gomez and Bieber were on-and-off for many years.
Gomez and Bieber went public in 2011, though they took a break a year later in 2012. Then, they got back together for a short period of time before calling it quits again in early 2013. This pattern would continue for five more years until Gomez and Bieber broke up for good in March 2018.
What did these 2 couples have in common?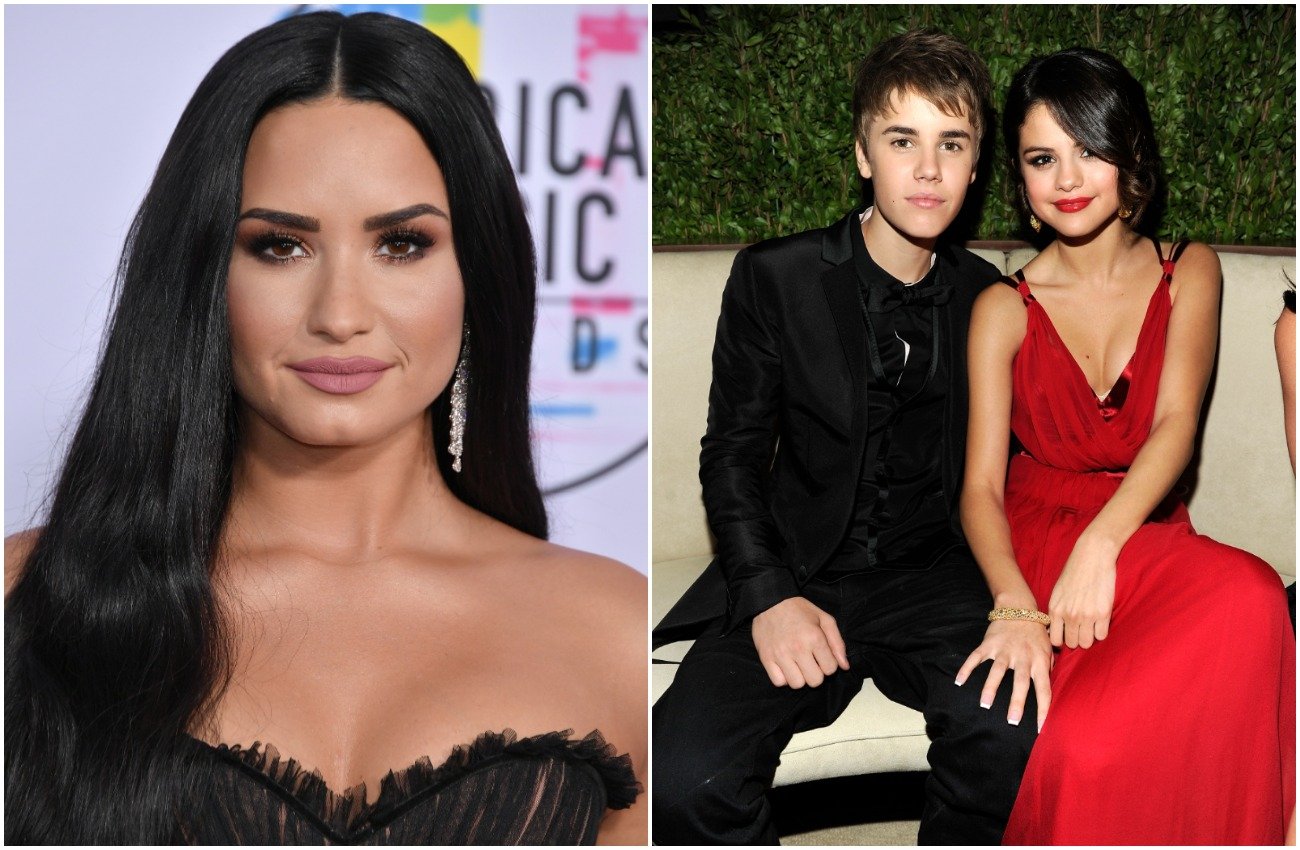 While it's clear both couples seemed to be in love before their breakups, one thing they had in common is that both Demi's and Selena's friends and family did not fully support their relationships.
A week before Lovato and Ehrich broke up, a source told E! News that Lovato's loved ones were "worried" and "hesitant" about her engagement. This came after Ehrich's past tweets profession his love for Selena Gomez surfaced, and many people started questioning his intentions with Lovato.
Meanwhile, in March 2018, after it was announced that Gomez and Bieber had broken up, a source told Entertainment Tonight that Gomez had friends who never really warmed up to Bieber.
"There's a big crew of people [in Selena's circle] who really don't like Justin and they especially don't like him with Selena," the insider alleged. "They think he's a bad influence on her and she becomes really dependent on him. She's so generous and loyal and puts 100% of herself into everything, including her relationships, which isn't always the healthiest."
While breakups can be very tough, it seems Lovato's and Gomez's close friends and family might be relieved to see the two stars trying to distance themselves from their former beaus.