Did Demi Lovato's Boyfriend Max Ehrich Delete His Tweets About Selena Gomez?
As if there wasn't enough drama between these two former Disney Channel stars, the internet is now abuzz discussing the relationship between Demi Lovato, her new beau Max Ehrich, and her ex-friend Selena Gomez.
While Gomez has reached out to Lovato in 2020, the "I Love Me" singer has made her feelings clear about the "Boyfriend" artist. So how is Ehrich involved? As it turns out, he's spoken about Gomez a lot in the past.
There's evidence that Ehrich is a fan of Lovato's ex-friend, Selena Gomez
Ehrich's comments about Gomez date back nearly a decade. In Nov. 2010, after he first made headlines for his roles in High School Musical 3 and iCarly, he told Popstar! Magazine that he wanted to work with Gomez. Ehrich called her "so funny" and "so talented," praising her "fantastic" comedic timing and musical ability.
Years later, it appears Ehrich was still a fan. After her October 2018 hospitalization, he reached out. "Though and prayers are with @selenagomez," he wrote on Twitter. "God loves you and you are loved by millions around the world. Stay strong," he finished.
Did he once say he wanted to marry Gomez?
It's one thing to be a fan of another artist. It's another thing to be in love with them. Ehrich's feelings may have gone to another level at times, but much of that evidence has been deleted. Of course, screenshots are forever. outmyheadnow, a Gomez fan account, captured an August 12, 2018, tweet from Ehrich, in which he wrote, "I'm going to marry @selenagomez."
A couple of days later, Ehrich posted the above photo on Instagram. It should be noted that he tagged himself in New Mexico, which corroborates the tweet. In the comments, a follower wrote, "Do you love Selena Gomez?" Ehrich replied with the heart-eyes emoji. A few days after that, he posted a photo of a new tattoo — which appears to be an "S."
Ehrich has deleted the most obvious posts about Gomez
While Ehrich has deleted many of the most incriminating posts regarding his affection for Gomez, a few still remain. In addition to the seemingly suspicious comments and "S" tattoo, the latter he explained stands for "Surrender," there's the timing of the above Instagram image that can't be ignored.
As you can see, the image simply reads, "One day, I'll marry you." Ehrich tagged Instagram in it — again, this doesn't point to Gomez. But this was posted one day before the news broke of Gomez's aforementioned hospitalization. The black heart in the caption (and his previous comments) seemed to indicate to Selenators that he was talking about her.
He also deletes things about Lovato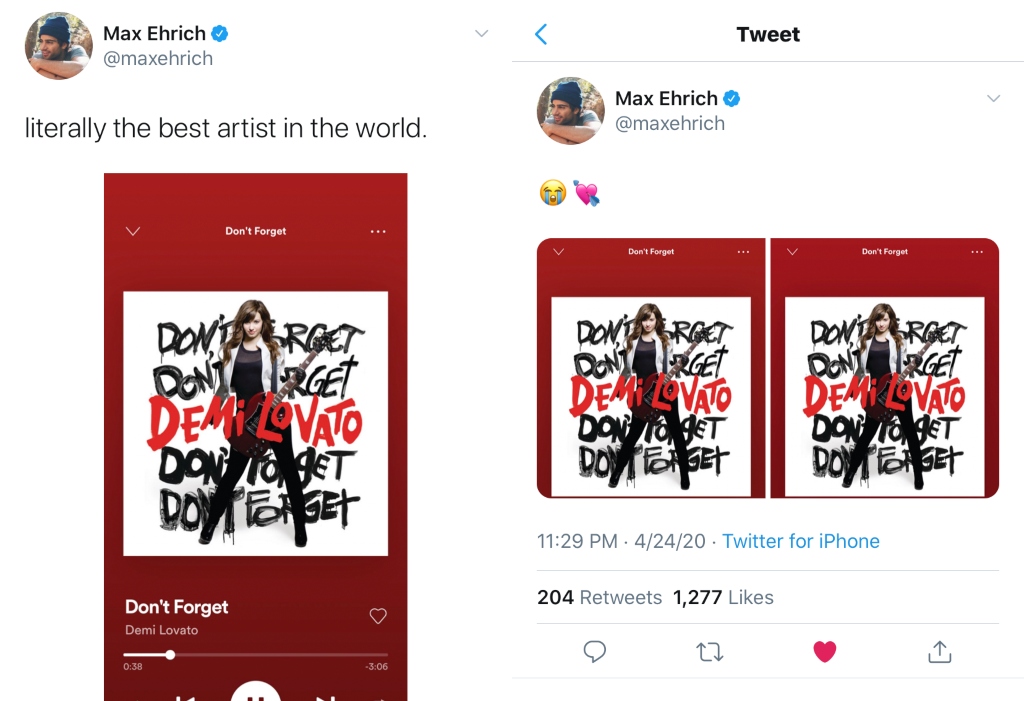 Do Ehrich's posts about Gomez — both the ones he's deleted and those that remain — mean anything? It's hard to say. After all, he posts a lot, and he doesn't always reveal who he's talking about. When he does, he's known to go back and delete.
Case in point: On April 24, 2020, Ehrich tweeted screenshots indicating that he was listening to Lovato's debut album Don't Forget. In one tweet, in which he's listening to the title song, he wrote, "literally the best artist in the world." For whatever he reason, he deleted them soon after. So whether this has to do with Gomez or if he's just trying to be more secretive about Lovato, we'll likely never know.