Demi Lovato Calls Ariana Grande A 'Good Friend' — How Long Have They Been Close?
As young performers in Hollywood, Demi Lovato and Ariana Grande have a lot in common. Their friendship has become more public since Lovato hired Grande's manager, Scooter Braun, but it dates back much further than that. Here's how long the two celebrities have been close.
Ariana Grande and Demi Lovato both started off as actors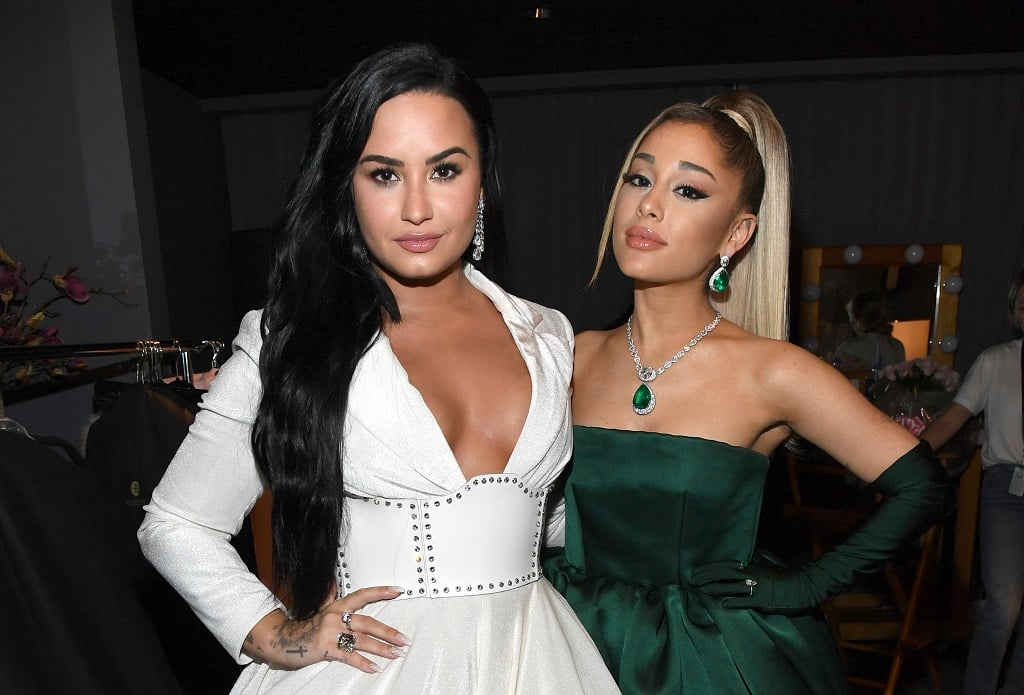 Both Lovato and Grande got started in show business when they were very young. Lovato's first role on Barney & Friends (alongside former pal Selena Gomez) led to her tenure as a Disney Channel star, appearing in films like Camp Rock and as the lead in the sitcom Sunny With A Chance.
Meanwhile, Grande, who began her career in theater, was one of the young stars of the series Victorious on Nickelodeon. From there, she, like Lovato, focused on her music, though she has continued to act occasionally over the years.
Their internet friendship dates back almost a decade
Back in the days before Instagram became a thing, Lovato and Grande communicated on another popular social media platform: Twitter. Their first recorded conversation on there was when Lovato returned after an absence March 2011, writing, "Guess who's baaaaaaaack…!!!!!!!"
Grande responded in kind, simply saying, "Welcome back @ddlovato :)." The timing of this exchange comes shortly after Lovato completed her first stint in rehab. Grande was on Victorious at the time, and her debut album was still a couple years away from release.
They've hung out in public — and in private
Lovato and Grande haven't been spotted together many times, despite attending many of the same events over the years. Aside from the 2020 Grammy Awards, the only photographic proof we have of their friendship is from the 2015 American Music Awards. But they've found other ways to show us they're close.
In 2016, Grande tweeted about a "lit" Friday night in which she and some unnamed friends hiked to Cielo Drive in Los Angeles, where the home known as the "Manson murder house" once stood. As it turns out, Lovato was with her. The two tweeted about the "terrifying" experience, to the delight of fans.
Grande was there for Lovato at a rough time
Two years later, in July 2018, Lovato, who had recently come clean about relapsing, suffered an overdose. Grande was among those who took to social media to support the singer in her time of need, tweeting "i love u @ddlovato."
But not everyone believed Grande's sincerity, apparently In 2019, a Twitter user called her support for Lovato into question. Grande responded that she talks to Lovato "everyday," adding, "so much happens off the internet and it's all so much love too ! you'd all be so happy to know that."
Lovato calls Grande 'a good friend'
Also in 2019, Lovato celebrated her 27th birthday in London with Grande and Braun. She posted videos from the day, including the above in which Lovato and Grande hug and another where Lovato blows out the candles on her cake.
Lovato spoke about this day when she appeared on The Ellen DeGeneres Show in March 2020, calling Grande "one of [her] good friends." She added, "We just had the best birthday" and praised Braun for being someone that "supported [her] journey." We hope to see more of these two stars together in the future.