How Did Demi Lovato and Elton John Become Friends?
Demi Lovato has plenty of friends in show business, from singer Ariana Grande to actor Matthew Scott Montgomery. But among the many participants in her latest YouTube documentary is a surprising face: Elton John. How did Lovato and John first meet and become close?
Demi Lovato first went to rehab in 2010
Lovato rose to prominence while starring in Disney Channel projects like the Camp Rock films and the series Sonny with a Chance in the late '00s. As she became a bigger and bigger star, the pressures of life in Hollywood began to build. In late 2010, she entered rehab for drug and alcohol use, among other things.
From there, Lovato became the poster child for recovery. However, it hasn't been a straightforward path. Following her 2018 overdose, she took some time off, finally opening up with her 2021 docuseries Dancing with the Devil and its accompanying album Dancing with the Devil… The Art of Starting Over.
She performed with Elton John in 2016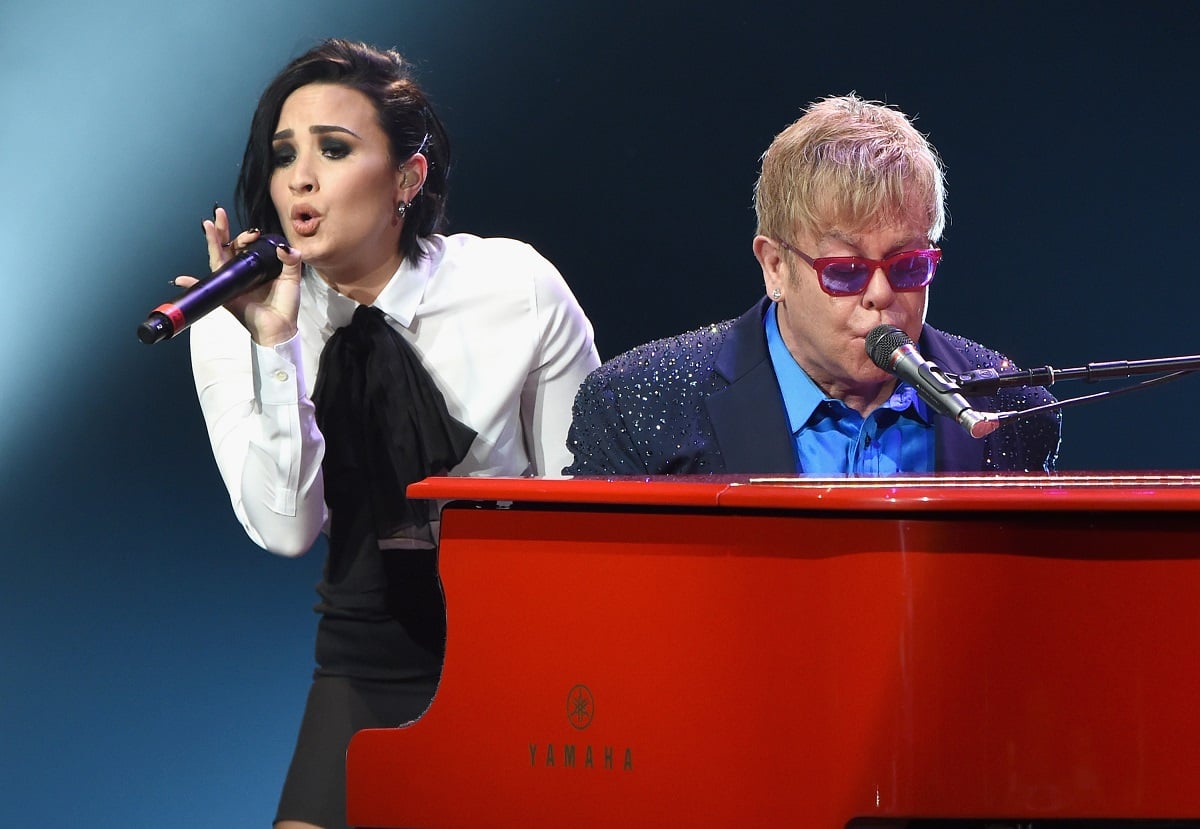 Lovato's worked with many famous artists, from ex-friend Selena Gomez to Christina Aguilera. But one musical fan of hers isn't part of her usual circle: Elton John. "I first heard Demi Lovato's music quite a while ago," he said in the docuseries, adding, "I loved her voice."
"I asked her to come and duet with me on 'Don't Go Breaking My Heart' [in 2016]," he explained, noting, "I loved her so much." He noted the pedestal she was placed on, saying, "When you're young, and you're famous, my god, it's tough." John continued to praise Lovato, saying, "She's human, and she's adorable, and she's brave."
John disagrees with Lovato's California sobriety approach
In the docuseries, Lovato discusses her new approach to substances, deemed being "California sober." "I had had it drilled into my head for so many years that one drink was equivalent to a crack pipe," she says. "I've been hesitant to share until now that I've been smoking weed and drinking in moderation."
John, who's been sober for decades following his own highly publicized hard drug overdose, disagrees with this. "Moderation doesn't work — sorry," he states. "If you drink, you're going to drink more. If you take a pill, you're going to take another one. You either do it, or you don't."
He agrees with her openness, though
While John and Lovato may disagree about her methods, he thinks she's right in speaking about it. "The great thing about Demi is that she has opened up about her addictions and her problems," he says. "And the stress and the pressure of fame at such an early age. A lot of people are afraid to open up about it."
John continues. "It doesn't mean to say you're cured because you never will be. Addiction is a lifelong thing. But you can have the most fantastic life. I've been sober [for] 30 years. I've had the most incredible things happen to me. And I'm hoping that she does too because she's such a great girl," he finished of Lovato.