Demi Lovato's Grammys Performance: Did She Ignore Selena Gomez's Congratulations?
One of the most memorable performances from the 2020 Grammy Awards was Demi Lovato's. Selena Gomez, though not at the ceremony, was among those to praise her online in the aftermath. Did Lovato acknowledge her congratulatory remarks? Let's find out.
Demi Lovato and Selena Gomez grew up together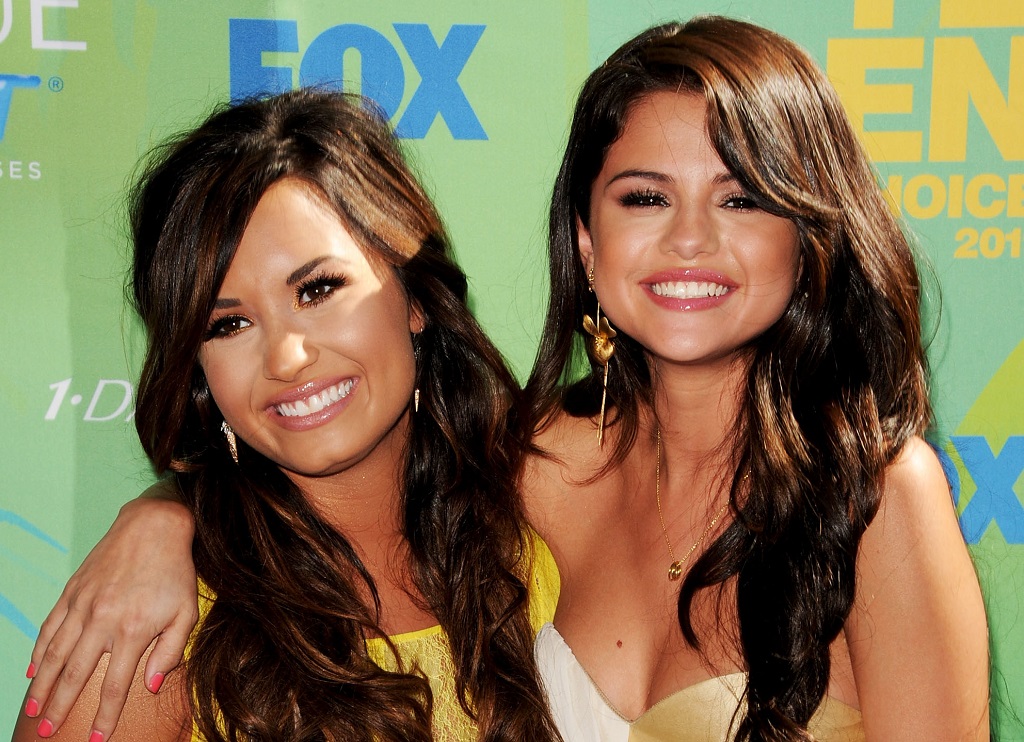 Few celebrity friendships have origins like this one. Gomez and Lovato first met on the set of Barney & Friends, where they were both young cast members. They appeared in multiple episodes together, before moving on to the Disney Channel around the same time.
While at the House of Mouse, Gomez landed her own series, Wizards of Waverly Place. Lovato starred in the Camp Rock films before getting her own show, Sonny With A Chance. Gomez appeared on the latter as herself for an episode, and the two also made a movie together: The Princess Protection Program.
The Disney stars had a falling out (or two)
Even when you have such a solid foundation, friendships experience ups and downs. Lovato and Gomez began to grow apart around the time they both left the Disney Channel for other things. This was also when Lovato first went to rehab, and there were rumors that Gomez wasn't there for her long-time friend.
But they managed to mend fences on a few occasions. The above photo, taken in 2013, is clearly targeted at the media outlets that reported on their wavering friendship. It hasn't always been smooth sailing, but another reunion in 2017 seemed to indicate things were good. Of course, 2020 has been another story…
Lovato sang at the 2020 Grammy Awards
Lovato spent some time out of the limelight after her 2018 overdose. She then began to return to acting, appearing on Will & Grace and teasing her upcoming film, Eurovision. But what fans really wanted was music. And Lovato delivered — in a big way.
At the 2020 Grammy Awards, the artist made an incredible return to the stage. She performed a new song, "Anyone," which she wrote just before her overdose. It's a truly revealing song about her mental state at the time, and Lovato delivered a haunting performance.
Gomez congratulated her
In addition to the thunderous applause and standing ovation she got at the Grammys, Lovato also received plenty of praise online. Among those remarking on her performance? Her old pal, Gomez, who has been busy promoting her own new music as of late.
In her Instagram Story, Gomez revealed that she was watching Lovato at the Grammys. She wrote, "I wish there were words to describe how beautiful, inspirational and DESERVED this moment was. Demi I'm so happy for you. Thank you for your courage and bravery." Stans of the two must have been elated.
Why didn't Lovato thank Gomez?
But oddly enough, the sentiment wasn't returned. In the hours that followed, Lovato shared the praise of many others on her own Instagram Story, including Christina Aguilera, Sam Smith, and Schitt's Creek star Emily Hampshire. Gomez's comments were noticeably absent.
Did Lovato purposefully skip over acknowledging her former BFF due to her current allegiance to Scooter Braun and, by proxy, Justin Bieber? Or did she simply miss Gomez's remarks — after all, the Rare singer didn't tag her in the post. We may never know.