Why Demi Lovato Calls Hailey Bieber Her 'Guardian Angel'
Pop star Demi Lovato is having a moment right now. Her new single, "I Love Me," is a hit, and she appears to be in a very good place following a few difficult years. Recently, she revealed that a surprising person, Hailey Bieber, has helped her in tough times. Here's why Lovato is acknowledging the model.
Demi Lovato is managed by Scooter Braun
After her 2018 overdose, Lovato took some time to recover. She stayed off of social media until later in the year. But she got Lovatics exited in 2019 when she revealed posted the above image with her new manager, Scooter Braun, proving that she was getting back to work.
You may recognize Braun's name from the recent controversy surrounding Taylor Swift's master recordings. He is a big deal in the music industry. In addition to Lovato, he also manages such singers as Ariana Grande and Justin Bieber.
She interviewed Justin Bieber on 'The Ellen DeGeneres Show'
Braun is all about having his clients promote one another. Lovato made waves when she posted a video to her Instagram Story of her singing Bieber's first single off his new album, "Yummy." This is because Bieber previously dated Selena Gomez, with whom Lovato grew up and was once very close.
The first week of March 2020 was "Justin Bieber Week" on The Ellen DeGeneres Show. The musician appeared on the program multiple times that week, and Lovato was also there. In fact, the Friday, March 6 show was hosted by Lovato, and who did she interview? Bieber himself.
Lovato called Hailey Bieber her 'little guardian angel'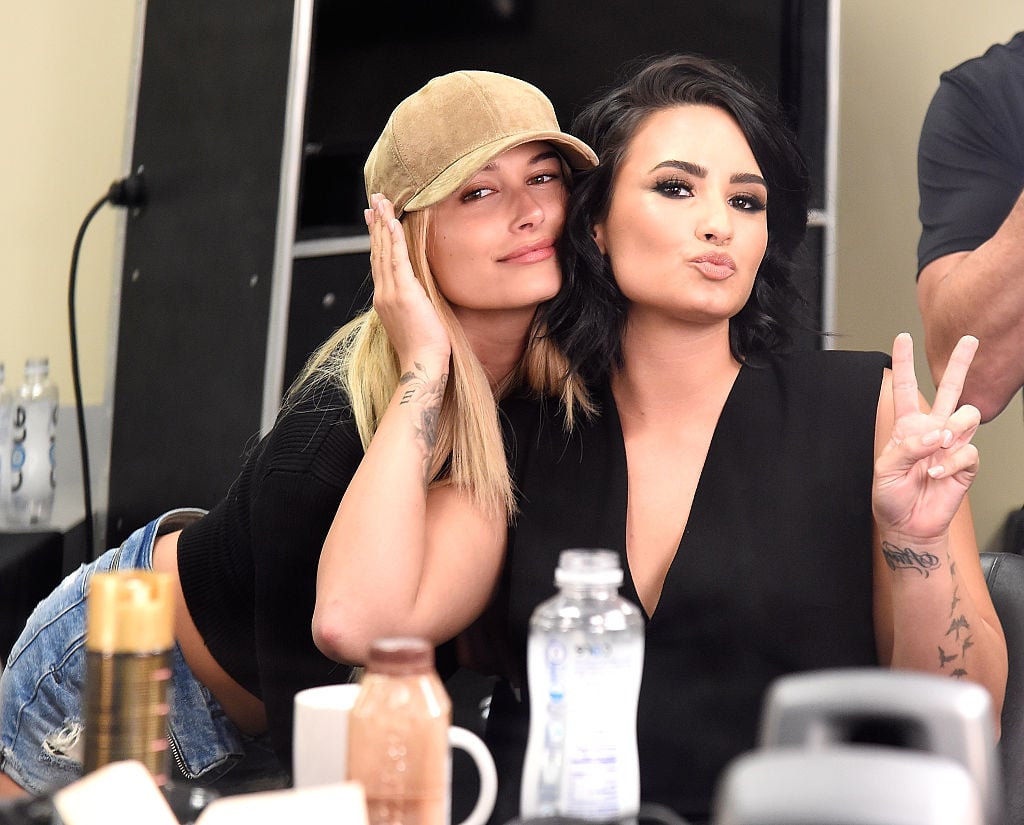 Lovato and Bieber had a lot to talk about, from their struggles with addiction to growing up in the spotlight. While talking about going on tour, Bieber mentioned he would be spending time with his wife, Hailey Bieber, who Lovato couldn't say enough kind things about.
"I like to joke around with Scooter that she's my little guardian angel," said Lovato. "Anytime I'm having a bad night, she just appears and makes it better. She's that type of girl. At the Met Gala, I had a horrible experience, and then, she waited at the top of the stairs with me for 45 minutes. It was just the sweetest thing."
She acknowledged this difficult time in her 'I Love Me' music video
The Met Gala that Lovato is referring to was in 2016. After it, she posted a since-deleted photo of her and Bieber. She later spoke about how rough the night was for her, but clearly, she and Bieber remained friendly, as the model posed with her backstage before a 2018 concert (see the photo above).
This relates to Lovato's most recent release: the video for "I Love Me." If you hit play above, you'll see her looking at a woman on the street, dressed in an outfit similar to the one Lovato wore at that very concert. It's nice to see her nod to this period, as well as her acknowledge her friendship with Bieber.