Demi Lovato Calls Kelly Clarkson Her 'Idol': How Did They Meet?
Demi Lovato and Kelly Clarkson are both pop singers. Clarkson became famous as the very first winner of the reality music competition American Idol back in 2002. She has also inspired a generation of artists, like Lovato.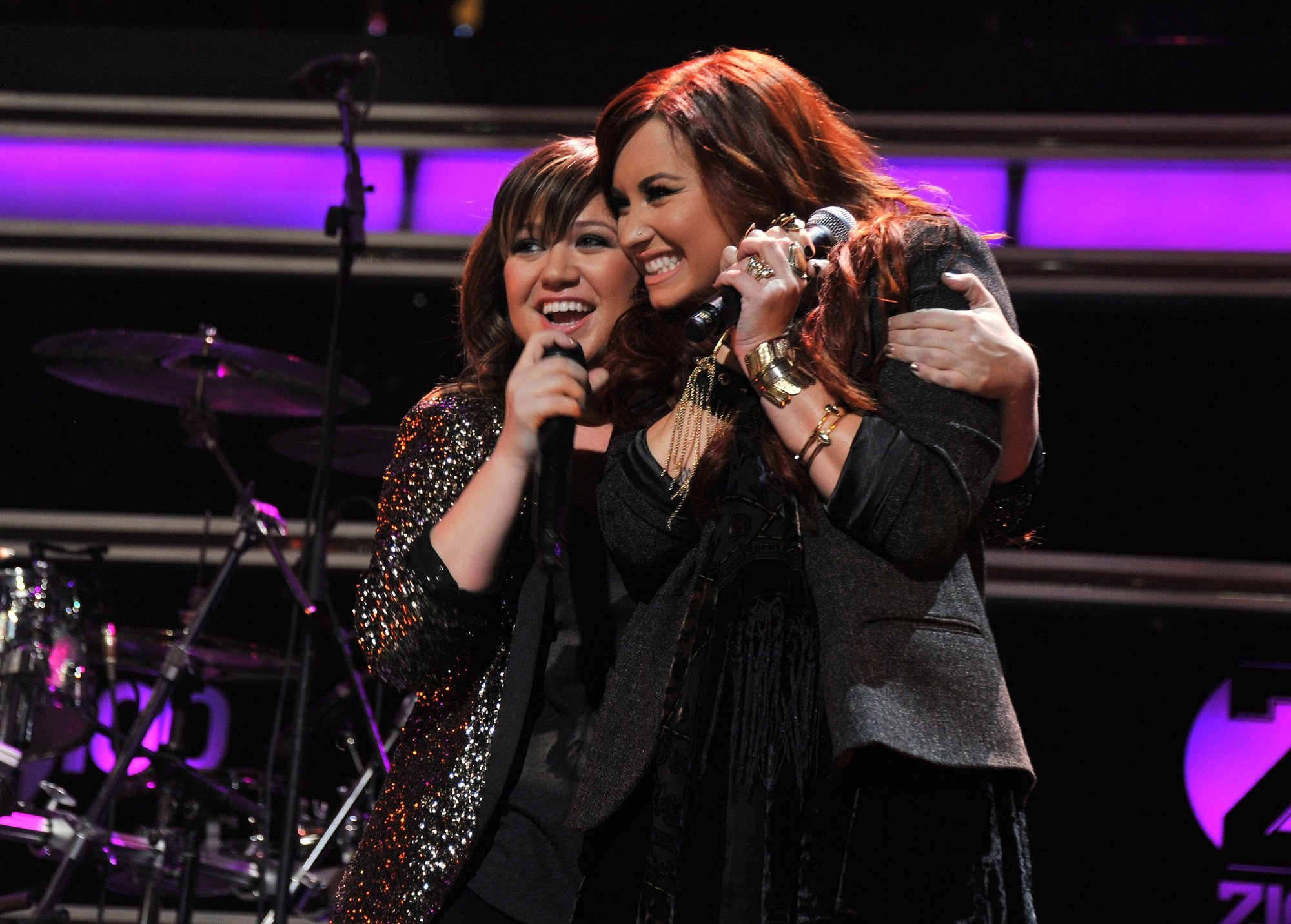 Lovato began her career as an actor but has primarily focused on music for most of her career. She and Clarkson have covered one another's songs and even sang together back in 2011 (above). But how did their friendship begin? Here's what we know.
They each have spoken about mental health
Aside from their chosen professions, Lovato and Clarkson have both used their platforms to be vocal about their own mental health. Clarkson said she has dealt with depression. Lovato, meanwhile, revealed her bipolar diagnosis years ago.
"I went into treatment, and I was able to work with incredible doctors who helped me figure out that I was, in fact, bipolar," Lovato told Women's Health in 2015. "It was a great feeling to find out that there wasn't anything wrong with me. I just had a mental illness."
Lovato on how Clarkson inspired her
In a June 2020 interview on The Kelly Clarkson Show, Clarkson praised Lovato for being honest on this subject, and Lovato explained that the host was partially responsible.
"You were like the first idol that I ever had," said Lovato. "I wouldn't be the artist or even the person that I am with being so outspoken and vulnerable and fearless if I hadn't had you to look up to."
"I looked at you as my idol growing up," Lovato continued. "When I was younger, I always thought to myself, 'If I ever make it, I wanna be like her. Because she's real and she's genuine.'"
Both have addressed media focus on their weight
Another thing Lovato and Clarkson have in common? Both have faced criticism from the media in regards to their weight. Clarkson has opened up about her body image and autoimmune disorder, while Lovato has addressed having an eating disorder.
Lovato told Clarkson why she chose to post unedited bikini photos on social media. She said, "The judgments people were placing on my body, I got to take the power back," adding, "nothing that you say is going to affect the strength and the love that I have for myself."
How did Lovato and Clarkson meet?
It's unclear exactly when the two met, but we do know that it was more than a decade ago, during Lovato's Disney days. She appeared on the U.K. radio show Live From Studio Five in January 2010 (as transcribed by Digital Spy), where she said that their first encounter was a hug-filled one.
Lovato's sentiments about the musician at the time were the same as today's, regarding her as her "idol." "I never looked up to Kelly Clarkson because of her being perfect. I looked up to her because no matter what she went through, she had class, and I feel like she stayed talented."