Are Demi Lovato and Lucy Hale Friends? The Singer is 'Late to the Game' Watching 'Pretty Little Liars'
While some celebrity friendships are easy to track due to how often they work or hang out together, others are a bit more hidden. This is the case for singer Demi Lovato and Pretty Little Liars star Lucy Hale, who have known each other for a long time, but only their biggest fans are privy to their relationship. Learn more here.
Demi Lovato told Lucy Hale she was watching 'Pretty Little Liars'
Here's what happened. On July 19, 2020, Lovato shared a photo of Hale in PLL to her Instagram Story, noting that she was watching the show. She wrote, "Wow.. can't believe I'm so late to the game but I'm HOOKED!!!" She added, "[heart] you @lucyhale."
Hale replied in her own Instagram Story, "Enjoy the confusing ride! miss you!" Lovato responded with laugh-crying emojis, adding, "miss you too!" A fan captured the experience, writing on Twitter, "Lucy Hale misses Demi Lovato I REPEAT Lucy Hale misses Demi Lovato !!"
More examples of their interactions
This is far from the first time they've interacted on social media. According to a Twitter fan compilation, Hale and Lovato have wished each other "Happy Birthday" on several occasions. Hale has praised Lovato's music, celebrating the release of her 2013 album Demi and her 2015 follow-up, Confident.
They've also interacted in person. Lovato shared the above Facebook image during her 2014 Neon Lights Tour. While their work keeps them busy, they've made time to see one another over the years. So where's the connection?
Both stars spent time on the Disney Channel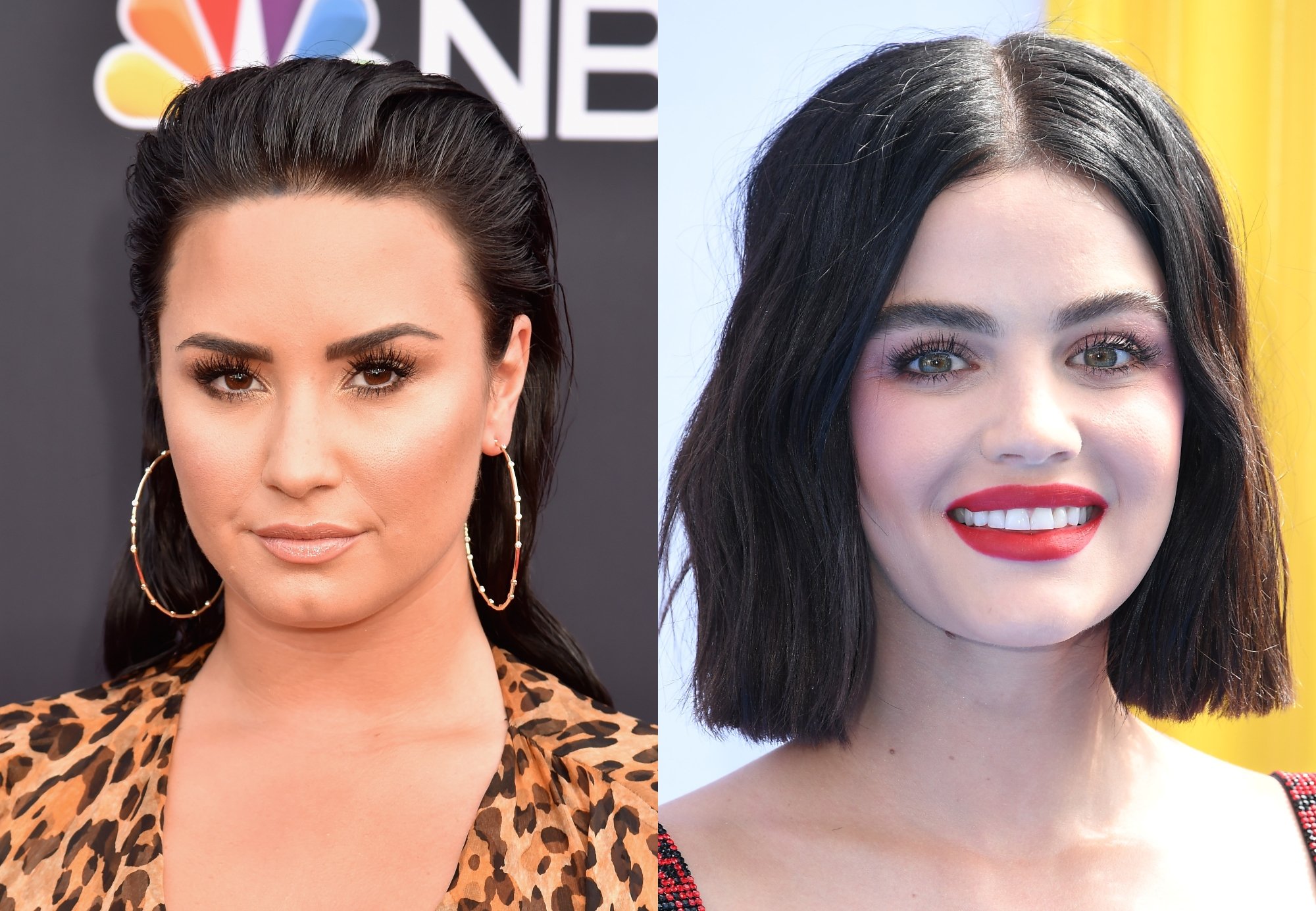 Hale and Lovato have a lot in common. Both are singers and actors, though while Lovato is known more for her music, Hale is better thought of for her time on screen. And in the days before PLL and Lovato's latest film, Eurovision Song Contest: The Story of Fire Saga, they both worked on the Disney Channel.
Lovato is known for starring in the Camp Rock films and shows like As the Bell Rings and Sonny with a Chance. Hale, meanwhile, put in time on both Disney and its rival network, Nickelodeon. She appeared in a couple of episodes of Wizards of Waverly Place opposite Lovato's then-friend Selena Gomez.
Hale praised Lovato for her 2017 documentary
Their friendship goes a bit beyond the usual pleasantries. In 2018, Hale tweeted about Lovato's 2017 tell-all. "Just finished @ddlovato Simply Complicated documentary and wow. I have so much respect for people who break down barriers & allow people into the darkest places of who they are. Those dark places can help others know they aren't alone. Bravo lady. You are such a class act."
In the doc, Lovato revealed a lot about her past, including her struggles an eating disorder. Hale has also said she faced these kinds of issues, telling Cosmopolitan (via Digital Spy) in 2012, "I would go days without eating. Or maybe I'd have some fruit and then go to the gym for three hours."
Even more Lovato-Hale content
So not only are these two friends, but they're big fans of another. In a February 2020 Instagram Live chat, Hale answered a fan who asked if she's listened to Lovato's song "Anyone." "Yes, I have," Hale said. "She's incredible. She's amazing."
On July 20, 2020, the day after Lovato and Hale's PLL Instagram Story conversation, the latter tagged the former in a new story. Hale celebrated her birthday of her friend Jansen with a series of photos from past adventures. In there, she included a video of the two dancing at another concert of Lovato's.