What Demi Lovato and Miley Cyrus' Boyfriends Max Ehrich and Cody Simpson Have in Common
Friends and Disney Channel alums Miley Cyrus and Demi Lovato are both in healthy relationships. Learn how their significant others are alike.
Former Disney Channel stars Demi Lovato and Miley Cyrus have both been through a lot over the years. A decade after saying goodbye to the roles that made them famous, they're doing new things and enjoying their lives with their significant others. Here's how Lovato and Cyrus' respective boyfriends have shown up for the stars in similar ways.
Demi Lovato and Miley Cyrus have known each other for many years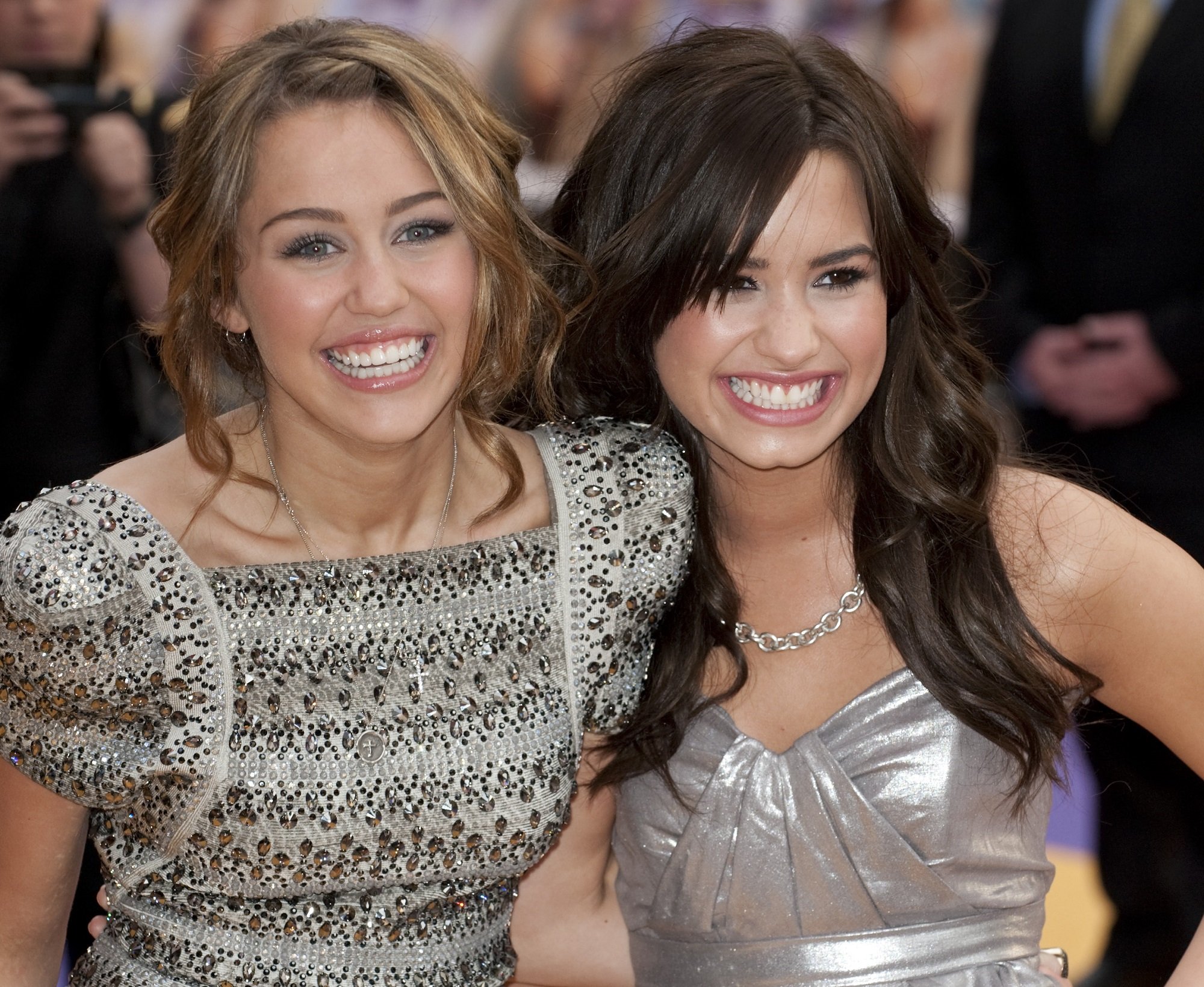 Lovato and Cyrus became acquainted during their years on the Disney Channel, attending many of the same events (see above). They worked together (along with Selena Gomez and the Jonas Brothers) on the song "Send It On" for Disney's Friends For Change in 2009.
Both said goodbye to the network in 2010 (though Lovato's music is still released in part through Hollywood Records). However, they've remained in touch, spotted by the paparazzi hanging out on occasion. In 2018, they both attended the Women's March in D.C., solidifying their friendship as adults.
Both have come out as members of the LGBTQ community
In addition to their time on the same network, Lovato and Cyrus have something else in common. Both came out after leaving Disney. Over the past few years, Cyrus has called herself queer (previously using identifiers like pansexual and gender-fluid), while Lovato has described herself as sexually fluid.
When chatting on Cyrus' Bright Minded Instagram Live talk show in 2020, they addressed this. When discussing how they've stayed close since connecting so long ago, Lovato said, "Maybe we just saw something in each other." Cyrus responded, "Or maybe we're just gay as f*ck."
Cyrus is dating singer Cody Simpson
For the better part of 10 years, Cyrus was in a relationship with (and briefly married to) actor Liam Hemsworth. However, she's been involved with a few other celebrities, including fellow Disney star Nick Jonas, model Stella Maxwell, and actor Patrick Schwarzenegger.
As of October 2019, Cyrus has been in a relationship with musician Cody Simpson. The couple got together amid her divorce from Hemsworth. Cyrus then underwent multiple surgeries and began her Instagram Live show during the coronavirus (COVID-19) pandemic, all with Simpson at her side.
Lovato is in a relationship with actor Max Ehrich
Lovato also had a long-term relationship with a famous actor. She and Wilmer Valderrama of That 70s Show dated on and off from 2010-2016. She has also been linked to a Jonas Brother, Joe Jonas, as well as MMA fighters Luke Rockhold and Guilherme "Bomba" Vasconcelos.
Following her split from model Austin Wilson, she began dating Max Ehrich. The two tried to keep their relationship quiet for months while sheltering in place. They confirmed they're together with an appearance in Ariana Grande and Justin Bieber's "Stuck with U" music video.
Here's what Ehrich and Simpson have in common
At present, both Lovato and Cyrus are sober. And Ehrich and Simpson are supportive of this. Following Cyrus' June 2020 interview in which she spoke about staying sober for the past six months, a source told People, "She is very happy to be dating Cody. He is very much into clean, healthy living and supports her sobriety."
Meanwhile, Lovato, who has been to rehab for drug use and overdosed in 2018 following a relapse, has Ehrich on her side. E! News reported that Ehrich "supports her sobriety and is very understanding" and that her family feels "the relationship is healthy for Demi's sobriety and lifestyle."