Demi Lovato Notably Left Taylor Swift and Selena Gomez Off Her 'I Love Me' Playlist
Is it a celebrity feud, or just an oversight? This could be the case for many supposed "snub" in the entertainment industry. Demi Lovato's "I Love Me" playlist contains hits from the hottest pop stars of 2020 — but Taylor Swift and Selena Gomez are nowhere to be found. Was this a petty choice, or something less nefarious? Here's what we know.
Demi Lovato and Selena Gomez have a lot history
The story of Gomez and Lovato's friendship is a long one. The two met when they starred in the '90s children's show Barney & Friends together. The two rising stars then joined the Disney Channel around the same time, starring in their own shows and even working together on a couple of occasions.
But they've had their falling outs over the years. Both have spoken about growing apart, but at least part of their feud is thought to be about Gomez growing close with Swift. The two former Disney darlings were last seen making amends in 2017. In the years since, there's been mostly silence.
Lovato and Swift were thought to be feuding
Lovato and Swift's rumored beef dates back to — you guessed it — a guy. Swift dated Joe Jonas in 2008, and he went on to date his Camp Rock co-star, Lovato, in 2010. So with all that distance, why would they dislike one another? Some believe that Lovato was interested in Jonas long before they were official.
These days, there's another man between Lovato and Swift. Lovato signed with Scooter Braun in May 2019, just shortly before news broke that he and Swift were feuding over the rights to her master recordings. Lovato stood up for Braun during that time, but later went on to praise Swift's album Lover.
'I Love Me' playlist
Lovato's music career has been put back on track in 2020 with the release of her singles "Anyone" and "I Love Me." The latter earned a fun music video and has done very well for her. In celebration of it, the end of Women's History Month (March), and spreading positivity, she released a playlist of song sung by women with a powerful feminist message.
Included on the Spotify playlist (above) are icons like Beyoncé, Shania Twain, and Lady Gaga, as well as recent rising stars like Dua Lipa, Megan Thee Stallion, and Billie Eilish. Additionally, Miley Cyrus and Ariana Grande, both of whom Lovato has called friends recently, made the cut with their songs "God is a Woman" and "Mother's Daughter."
Which songs of Gomez and Swift's should have been on it?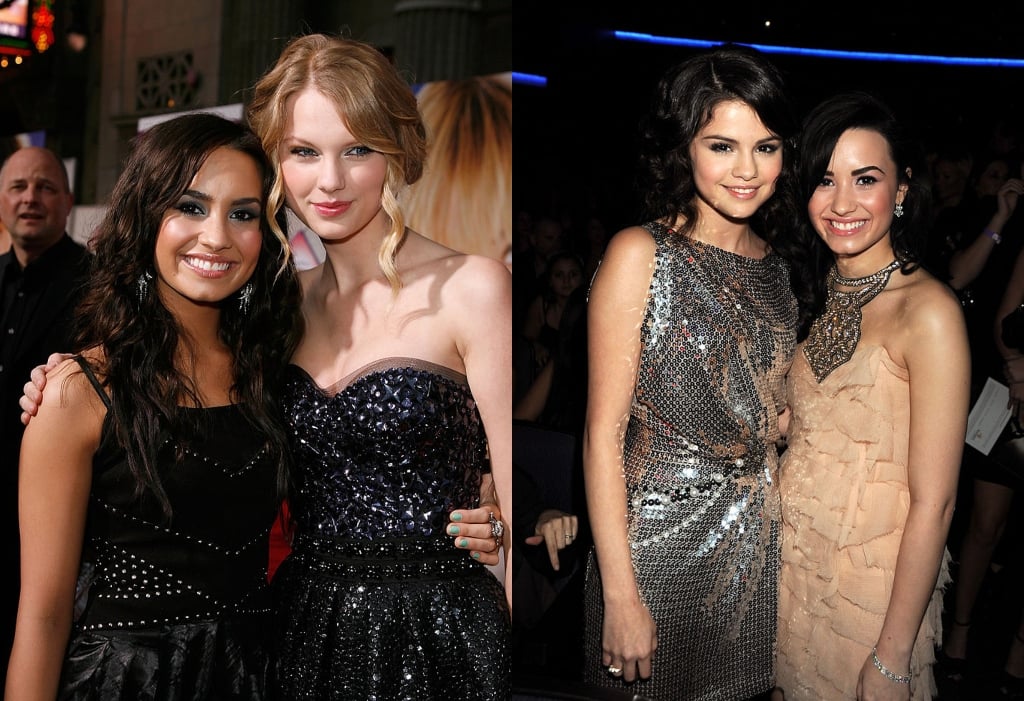 There were so many incredible women and powerful anthems to choose from. But both Gomez and Swift have recent singles that would have been perfect for that playlist. The title track off Gomez's 2020 album Rare would be a good choice, though "Look At Her Now" might have made more sense. As for Swift, the message of her latest single "The Man" lines up nicely, though perhaps its similarity to Jojo's "Man," kept it off.
So did Lovato choose not to include them because of their pasts? Or could Braun's influence have played a part? Whatever the case, we're sad to see those two pop musicians left off, but have to admit that the playlist is still amazing.