Demi Lovato's Most Popular Songs About Jonas Brothers Joe and Nick Jonas
Demi Lovato and the Jonas Brothers have been linked since the beginning of all of their careers. They starred together in the Disney Channel Camp Rock movies, which led to them touring and working alongside one another for many years. But of the three siblings, Lovato was closest to two: Joe and Nick.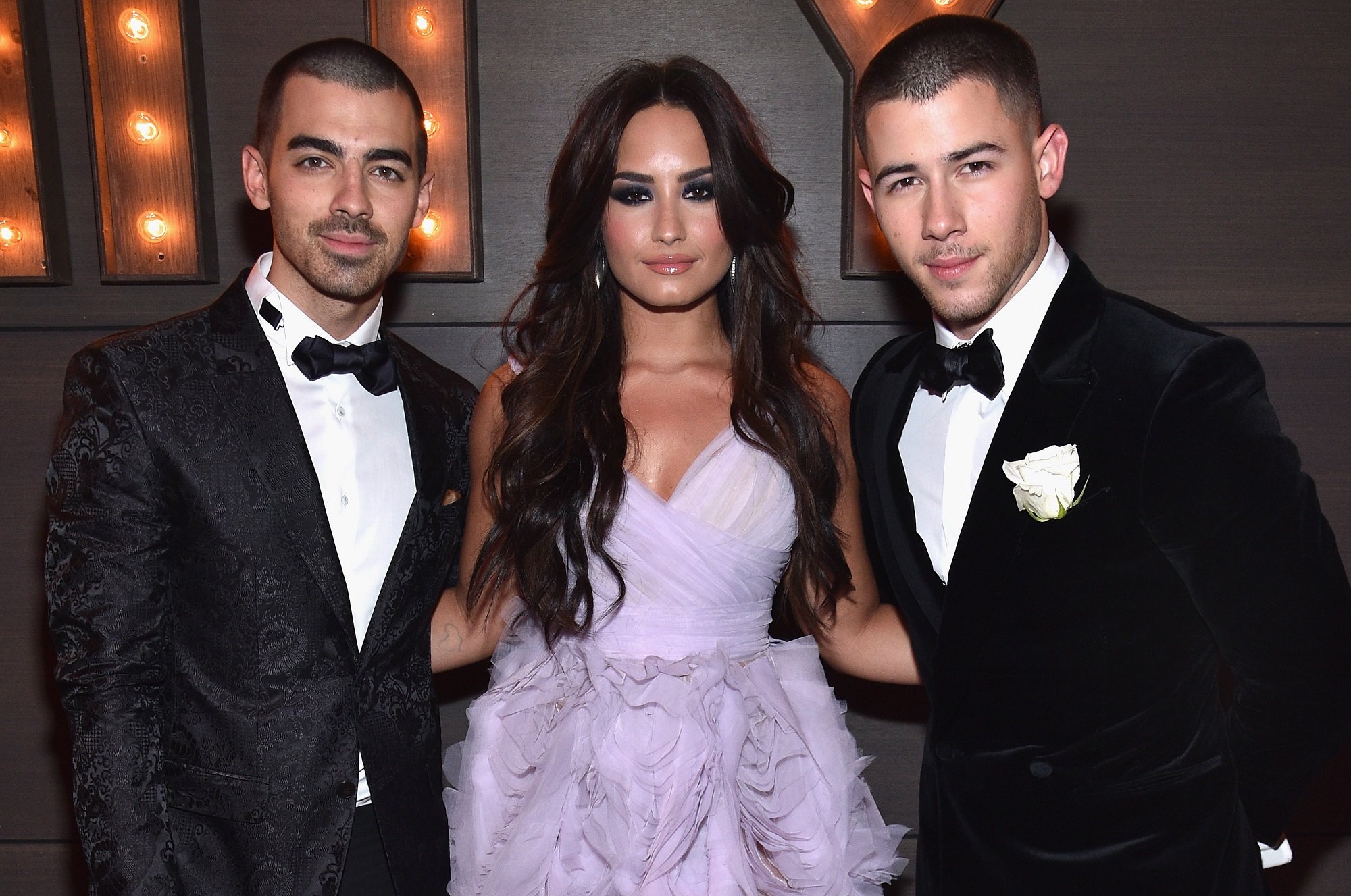 Lovato and Joe were love interests in Camp Rock, which later led to them briefly dating in real life. After their breakup in 2010, everyone stayed friends, but she remained closest to her ex's younger brother, Nick, leading to fan speculation that she was now dating him. Years later, she doesn't keep in touch with either. Here's a look at all of the songs that Lovato wrote about Nick and Joe.
'Gonna Get Caught'
Even before they officially dated, Lovato was writing songs about Joe. "Gonna Get Caught" was a track on her first album, 2008's Don't Forget. And though it was not released as a single, this track, which, like most on the album, was co-written by Lovato and the Jonas Brothers, has received attention in recent years.
On The Late Show with Stephen Colbert, Lovato said she was "a little burned at a tender age of 15" by Joe. She explains that while writing the song, Joe said of the romantic storyline, "'maybe it has a happy ending.' I was like, 'No, I think he gets caught, and everybody sees he's a heartbreaker,'" seemingly reflecting her own feelings about Joe back on him.
'Catch Me'
"Catch Me" is a song from Lovato's second studio album, 2009's Here We Go Again. Though it was not released as a single, it managed to chart briefly, staying at No. 89 for just one week. This is the only song on the album — and in all of her discography — that Lovato received a sole songwriting credit for. She told the New York Times that it was "written by myself in my room."
Though it's unconfirmed that "Catch Me" is about Joe, Lovato wrote it on her own, which means it's very personal. And though it also came before they were a couple, Lovato said in her 2017 documentary Simply Complicated that she "fell in love with him" while filming Camp Rock back in 2007. "Did you have a crush on him the whole time?" she's asked. Her reply? "Oh yeah!"
'Ruin the Friendship'
For her fifth album, Confident, Lovato reunited with Nick (then a solo artist) on the Future Now Tour. With her next album, 2017's Tell Me You Love Me, Lovato wrote the song "Ruin the Friendship," about wanting to take a platonic relationship to the next level. Lovatics picked out specific references that relate to Nick, such as his affinity for cigars.
"I was frustrated with a certain situation," Lovato told Vice. "And I was like, 'You know what, I'm just going to write about it.' After sharing the song with Nick, he called it "incredible," but seemingly didn't reciprocate her feelings. "They had their reasons," she added.
'Only Forever'
The Tell Me You Love Me track that follows "Ruin the Friendship" is titled "Only Forever." It also wasn't a single, and, like the song before it, features little hints about Nick, such as the lyrics, "I've been thinking 'bout the future/And I've been thinking 'bout the now," referring to the name of their tour.
"This is a song about wanting the person you want to explore a new relationship with to make that first move or take that next step. It's almost a sequel to 'Ruin the Friendship,'" she said in a Q&A, as reported by Billboard. Still, Lovato has never officially admitted that the songs are about Nick.
'I Love Me' 
Finally, "I Love Me" is Lovato's latest single, released in March 2020. The song peaked at No. 18 on the Billboard Hot 100, remaining on the chart for ten weeks. While the song is not directly about the Jonas Brothers, the music video does feature a reference to them.
In the video, Lovato walks by memories from her past, including three brown-haired men in shiny suits, similar to those often worn by the Jonas'. She looks back at them and smiles. On her Instagram, Lovato wrote about the video, "It was important for me to add special easter eggs that represent certain times and chapters in my life."