Demi Lovato Says There's a 'Heaviness' to Their New Music
Demi Lovato spends a lot of time in the spotlight for their music, relationships, and acting career. But the former Disney Channel star, who announced they are non-binary and use they/them pronouns in 2021, keeps much of their personal life private — choosing to reveal more in their lyrics than on their Instagram.
In 2022, Lovato debuted a new song — a collaboration with more a rock sound than their usual fare. The artist explains the root of the "heaviness" in the upcoming work.
Demi Lovato's music career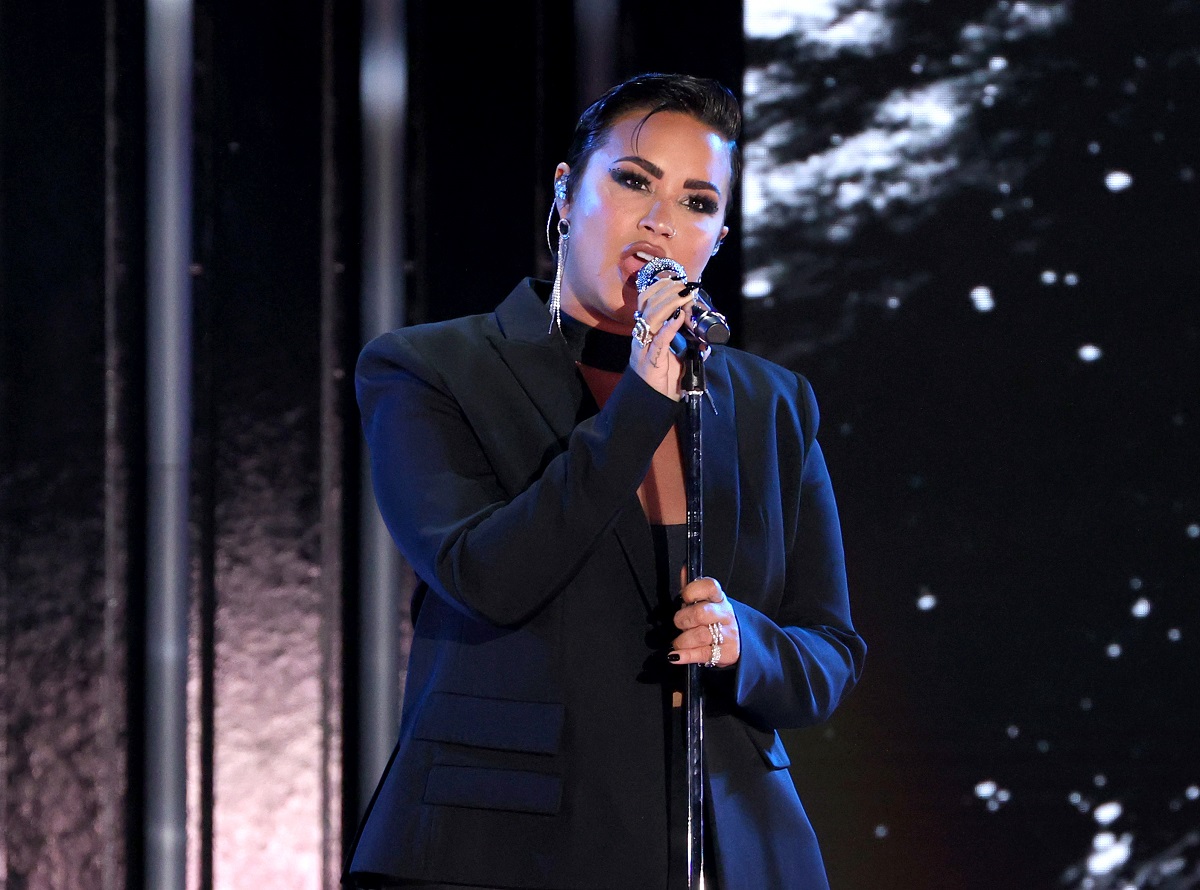 Like other teen Disney stars, Lovato simultaneously worked on TV/movie projects for the House of Mouse and recorded music via the company's record label. The artist had an edge to them that their contemporaries, Selena Gomez and Miley Cyrus, didn't embody quite as well, as exemplified on hits such as "Here We Go Again."
But like most who grow up in the spotlight, Lovato evolved. They pivoted to more of a pop sound with albums such as Demi and Tell Me You Love Me. Their 2021 release, Dancing with the Devil…the Art of Starting Over, brought with it some folk and R&B, along with more power ballads — Lovato's specialty.
Lovato worked with Winnetka Bowling League on 'Fiimy'
Demi Lovato and Matthew Koma of Winnetka Bowling League sat down for an interview with Rolling Stone in February 2022. They worked together on the single "Fiimy," which stands for "F— it, I miss you."
After Lovato heard a snippet of the song, they messaged Koma, who asked them to collaborate. "We finished the lyrics over text, and it was one of those things where it wasn't forced, and just organically came to be," Koma explained, calling the experience "surreal."
Rolling Stone also asked Lovato about their upcoming releases. Responding to a question about their "rocky, emo early days," Lovato replied their new music has some "heaviness" in terms of sound. "It's a new era reminiscent of my first era," they finished. Later, they added, "I'm not changing with the new music. I'm just going back to my roots!"
Lovato drew upon their own life for 'Fiimy'
While Lovato doesn't share any more details about what the new music consists of, they did reveal how they put themselves into "Fiimy." The artist explains the parts they wrote were "definitely inspired by real life." "We did this one early last year, so some time has passed," they added. "Today, I'm feeling good being alone — but I definitely had my sad moment, for sure."
In early 2021, Lovato was somewhat newly single. They began dating actor Max Ehrich in March 2020, moving in together amid the beginning of the coronavirus (COVID-19) pandemic. The pair got engaged in July before breaking off their engagement a couple of months later.
"Those were true lyrics coming from my heart from where I was in that moment," Lovato continued. "I never neglect the past and how I felt in the past. I just wear my lyrics like a badge of honor like, 'Yeah, this is what I've been through.'"
RELATED: Demi Lovato Is No Longer' California Sober'—What Does That Mean?