Demi Lovato Says She's 'Not Friends' With Selena Gomez Now
Demi Lovato set the record straight, that she's not friends with Selena Gomez anymore. She says she will always have love for her though.
Fans have wondered for some time if Demi Lovato and Selena Gomez are still friends and, despite Gomez praising her former BFF for her Grammys performance this year, Lovato is making it very clear — they aren't friends anymore.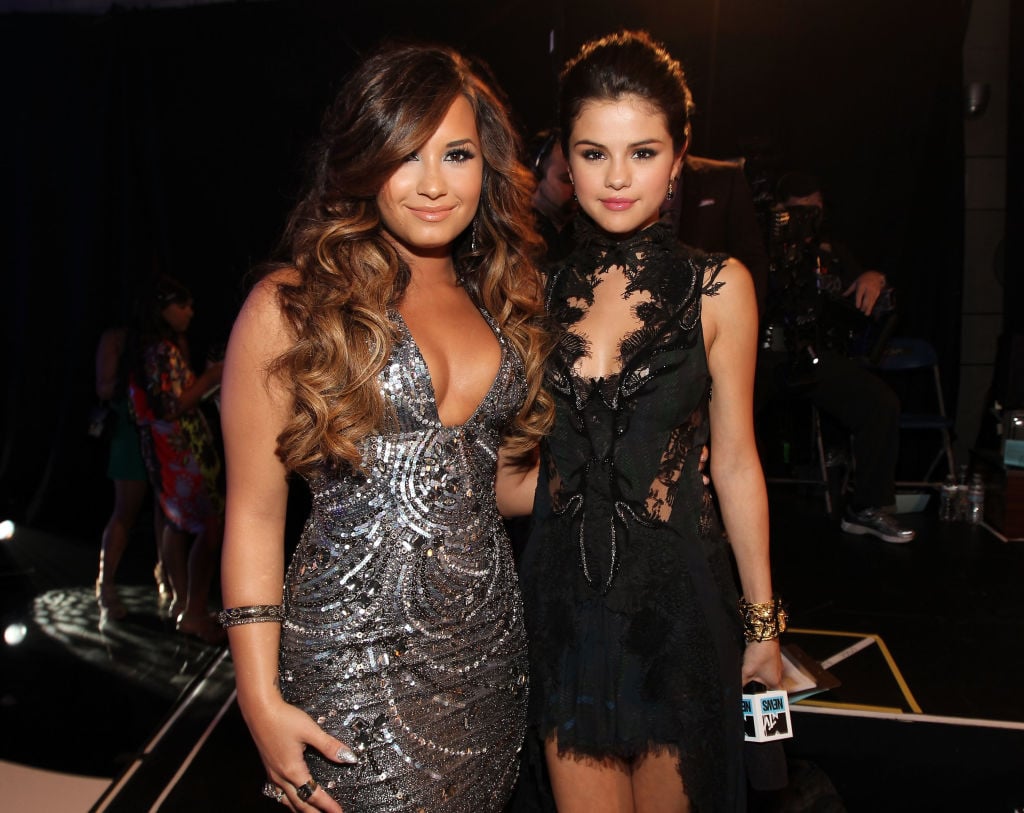 Lovato and Gomez used to be close
Back in the day, Lovato and Gomez were the best of friends and then their relationship had its share of ups and downs. The two seemed forever bound by their shared Barney & Friends experience and their Disney days, but their friendship suffered before they reconnected again and seemed on pretty solid ground.
In 2013 Lovato had shared how she and Gomez "grew apart" but were in a better place. "We've been through a lot together, we've had periods of times we here we grew apart and we just didn't really talk," she told MTV at the time.
She continued, "Now we are in a place where I think we realized that life is so short and that when you have people in your life that love you so much then, you should just always be around them. She's going to be a big sister, and I want to be around for that. Everything about her, she has a great soul, she's talented, she's beautiful, and she will always be really, really close to my heart."
Gomez praised Lovato's Grammy performance
When Gomez heaped on the praise for Lovato's emotional Grammys performance, it appeared they were closer than ever. Appearances can be deceiving, however.
After Lovato's Grammy performance of "Anyone," which she had recorded before she was hospitalized for an overdose, Gomez posted her support in an Instagram Story, writing, "I wish there were words to describe how beautiful, inspirational, and DESERVED this moment was. Demi, I'm so happy for you. Thank you for your courage and bravery."
Lovato confirmed they aren't friends
Lovato's admission in a May 2020 interview with Harper's Bazaar that she and Gomez are no longer friends came as a bit of a surprise.
Despite Gomez's praise for the Grammys performance, Lovato explained that they aren't friends and started to address the Grammys compliment but stopped herself, according to the interviewer. "When you grow up with somebody, you're always going to have love for them. But I'm not friends with her, so it felt…," she said.
The singer added, "I will always have love for her, and I wish everybody nothing but the best."
Lovato shared the status of her other famous friendships
Lovato was also asked about some of her other famous friends and confirmed with a head shake that she's not in touch with the Jonas Brothers anymore.
She and Miley Cyrus, however, are friends. "I talk to Miley," Lovato noted. "She's awesome, and I love her to death and always will, always have. But I think she's kind of the only one from that era that I still stay in touch with."
The singer also shed a bit of light on her friendship with singer Ariana Grande, as the two have their manager in common, Scooter Braun.
"I love the fact that Ariana and I have such a supportive friendship because it's hard to find," she noted. "Two women who are in a competitive industry — the whole world seems to want to pit women against each other, so it would be so easy to do that."