How Did Demi Lovato's Parents React to Her 2018 Overdose?
Singer Demi Lovato's 2018 overdose left her fans and tabloids reeling. After taking some time, the artist reentered the spotlight in 2020. And now, she's sharing exactly what happened, with some help from those closest to her. Learn about Demi Lovato's parents and how they responded to her overdose.
Demi Lovato's parents are Eddie and Dianna De La Garza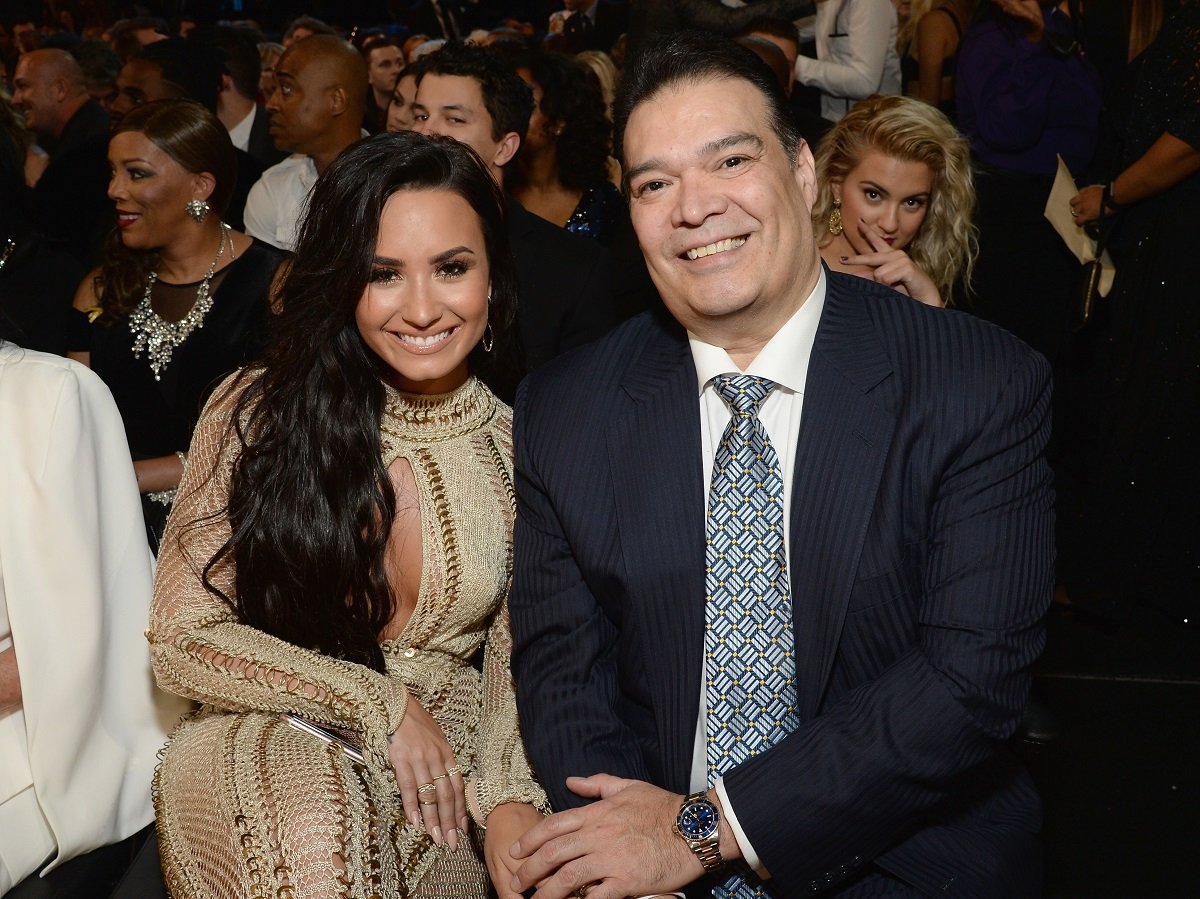 Her mother, Dianna, raised Lovato. She brought Lovato and her older sister, Dallas Lovato, to Dallas, Texas. There, Lovato began performing. She starred in the PBS children's series Barney & Friends, alongside future Disney Channel star Selena Gomez. They moved to Los Angeles in the mid-'00s for her career.
Lovato's parents divorced when she was a toddler, and her mother married Eddie De La Garza. Together, the couple has another daughter, Madison De La Garza, Lovato's half-sister. Lovato once called Eddie "the greatest dad a girl could ever hope for" (via JustJared). She even brought him to the Grammys in 2017.
Her biological father, Patrick, died in 2013
Though raised by Eddie, Lovato's biological father was Patrick Lovato. The singer grew up relatively estranged from her dad. In 2009, she told the New York Daily News she "had to cut off all connection" with him after a reunion years prior, saying, "It was hurting me too much." She also wrote a couple of songs about him.
Patrick died in 2013. "There's an overwhelming sense of peace knowing my dad is no longer battling his demons anymore and that makes me so happy," Lovato wrote on Twitter. She later referenced his nickname for her in her post announcing her engagement to Max Ehrich and wrote about him on Father's Day 2020.
Lovato's 2018 overdose
RELATED: Demi Lovato Says Her New Album Will 'Set the Record Straight' on Her 2018 Overdose
Related post url: 
Like her biological father, Lovato's dealt with issues surrounding drugs and alcohol for years. She first went to rehab in 2010, which she's spoken about openly in the decade since. In her 2017 documentary, Simply Complicated, the artist revealed she'd relapsed at one time, something she kept quiet publicly.
In June 2018, Lovato released a new single, "Sober," in which she once again admitted to using substances again. On July 24, 2018, the singer was hospitalized following an overdose of oxycodone laced with fentanyl. She then left the public eye for several months and again spent time in rehab recuperating.
Demi Lovato's parents in 'Dancing With the Devil'
More than two years after her overdose, Lovato's career is on the rise again. As she did with Simply Complicated before, she's opening up via documentary — this time, a four-part event, titled Demi Lovato: Dancing with the Devil. And her parents are among those featured speaking about her overdose.
The docu-series showcases the time leading up to Lovato's overdose. "Demi's good at making you believe she's OK," Eddie said. It also reveals her family and friends' reactions after she was hospitalized. "I said, 'What do you mean she's going to make it?'" said Eddie. "We're watching all of her blood come out of her body into a machine," added Dianna.