Demi Moore Reveals Why She Was Estranged From Her Three Daughters in Upcoming Book
Actress Demi Moore worked several years on her memoir, which is being released this month. The well-known celebrity details her life from childhood through her rise to stardom in her book "Inside Out," including details on the highly-publicized struggles she's had over the past decade. Those tough times included being shunned by her three daughters from her marriage to Bruce Willis. In her book, she reveals why her kids needed to distance themselves from her for a while.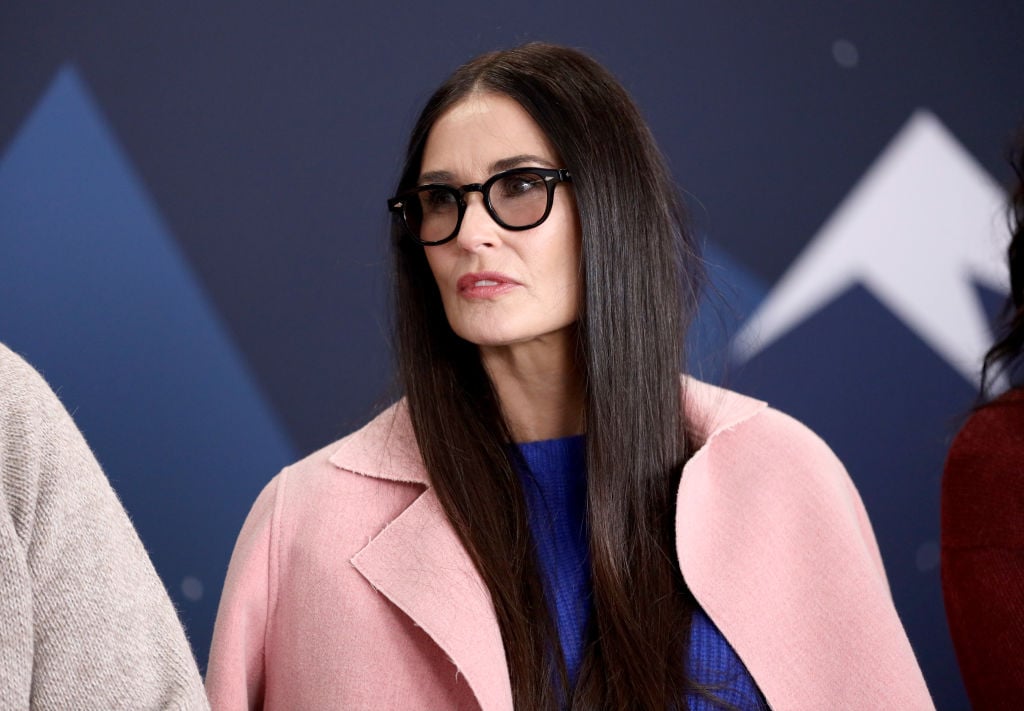 Marriage to Willis
Moore wed Willis in 1987, when he was already considered a Hollywood celeb with his role on Moonlighting and upcoming blockbuster film franchise Die Hard. It was the second time at the alter for Moore, who had previously been married to musician Freddy Moore. Soon, Moore became a rising star as well, landing parts in box offices hits such as Ghost, A Few Good Men, and Indecent Proposal.
The couple had three daughters while they were married – Rumer in 1988, Scout in 1991, and Tallulah in 1994. The New York Times reports that in her upcoming memoir, Moore shares that Willis wasn't thrilled with her career taking her away from the family so frequently, even telling her at one point he may not want to be married.
The couple separated in 1998 and divorced in 2000, though the two have remained very close since their split, according to Heavy. Willis went on to marry former model Emma Heming in 2009 and the couple has two children. Moore wed actor Ashton Kutcher, who was 15 years her junior, in 2005. The couple separated in 2011 and divorced two years later.
Troubled times
Moore dealt with substance abuse, body image issues, and alcoholism over the years, all which she documents in the book. One 2012 incident that made headlines entailed a 911 call due to Moore having a seizure after smoking synthetic cannabis and inhaling nitrous oxide at a party she attended with daughter Rumer.
"Part of my life was clearly unraveling," she said in The New York Times interview. "I had no career. No relationship." The actress reveals in the memoir that her health was being affected, where she experienced autoimmune and digestive problems. "Something was going on, including my organs slowly shutting down," Moore said, adding "the root was a major heavy viral load."
Moore's daughters distanced themselves from her during her time of tumult due to her alcohol and substance abuse, cutting off contact with their mom. At the time, Moore had signed on to write a book for Harper that focused on the mothers and daughters in her family, as reported by The New York Times. Due to the rift and Moore's addiction battles, she chose to start her personal memoir instead.
Recovery and reconciliation
The actress slowly started on the road to recovery, going to a rehab program for trauma, codependency and substance abuse. She also worked with a doctor specializing in integrative medicine for her health issues and began the reconciliation process with her daughters. Her memoir became a priority, which she completed with the help of co-author Ariel Levy.
Her daughters reviewed the manuscript and were given permission to request edits, though none of them did. The book brought up some painful memories for Moore's kids. "It's challenging because she's making this amazing effort to put out the most vulnerable moments of her life," Scout said, according to NYT. "It just happens that it also coincides with some of the most challenging and traumatic times of mine."
Scout went on to share how proud she is of her mother for "doing the internal work that she didn't have the time to do, for a long time, because she was just in survival mode." Oldest daughter Rumer also commented that she now understands that parents are allowed to make mistakes. "We grow up thinking that our parents are these immovable gods of Olympus," Rumer said. "Obviously, as we grow older, we start to realize how much our parents are just people."
Today, Moore's relationship with her daughters is in a much better place. She recently posted a loving birthday message to Rumer last month on Instagram. "Happy Birthday Baby Ru! Before you I didn't really know what love was!" Moore wrote. "You continue to light the pathway of loving and I am honored to be on this ride with you my angel! Thank you for being a beautiful teacher and a magnificent being. I love you beyond measure!" Rumer returned the loving sentiment, posting in response, "I love you so much mama, honored to be yours."
Fans can read more on Moore when her book goes on sale September 24.