'Demon Slayer': Did Season 2 Just Tease Missions With 2 More Hashira?
'Demon Slayer' already sent its main characters on missions with the Flame and Sound Hashira, but did the latest episode tease storylines with 2 more members of the group?
Demon Slayer Season 2 has focused on the Sound Hashira throughout its Entertainment District Arc, but the anime's most recent episode highlights several other members of the group. Tengen Uzui pays homage to the fallen Rengoku in "Gathering." He also singles out two more of the Hashira. Could they be the next Demon Slayers that Tanjiro and his friends work with?
[Warning: This article contains spoilers for episode 8 of Demon Slayer's Entertainment District Arc.]
Tengen Uzui praises the other Hashira in 'Demon Slayer's latest episode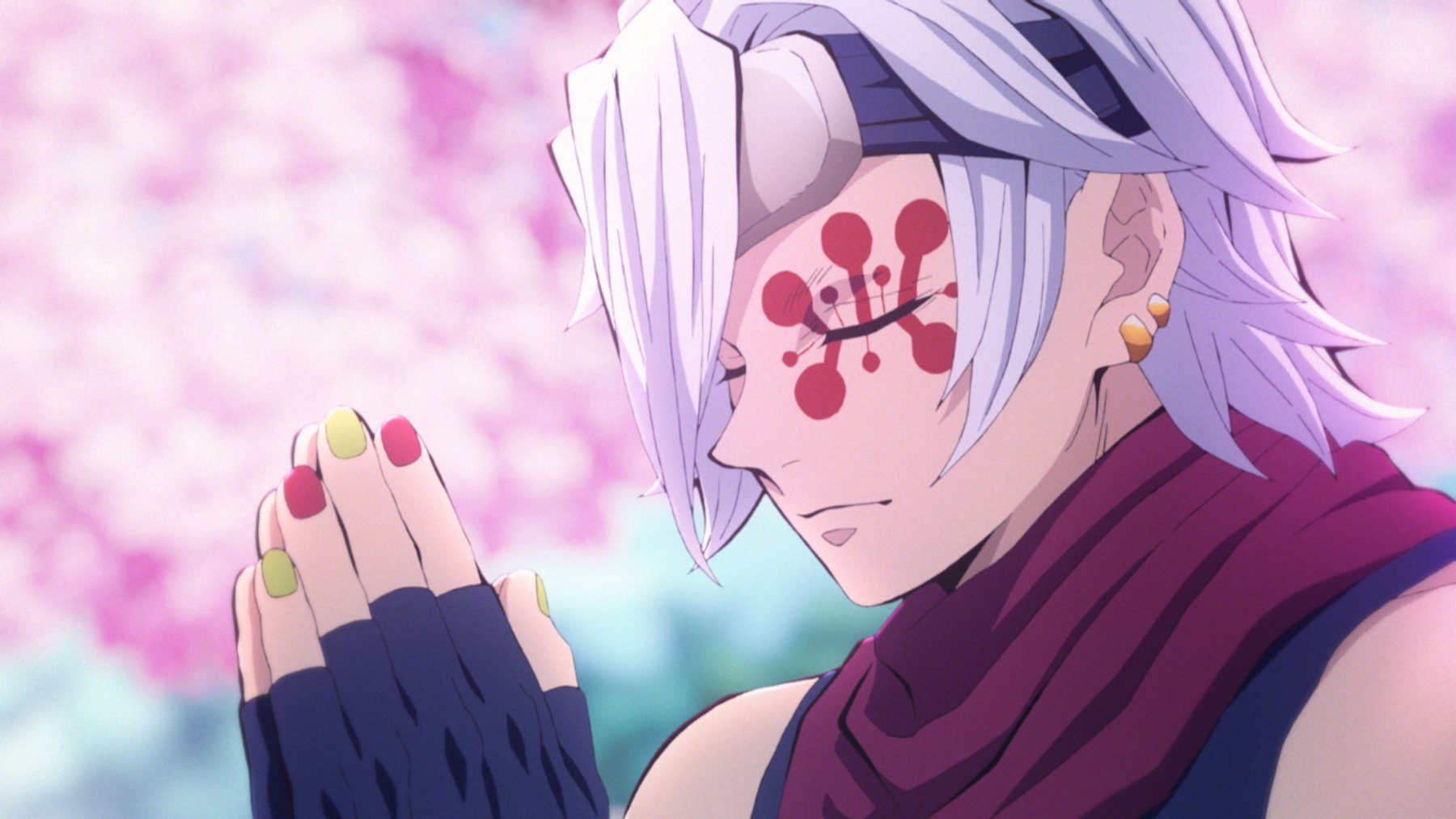 Tengen Uzui's fight with Upper Moon 6 demons Gyutaro and Daki kicked off in earnest this week, but all the action didn't stop the demons from taunting the Sound Hashira. And Gyutaro's jealousy shines through as he accuses Tengen of being "chosen." His opponent isn't really having it.
The Demon Slayer rejects the notion that he's anything special, comparing himself to his fellow Hashira. And although his thoughts mostly wander to Rengoku, he also pictures two other members of the group: the Mist Hashira, Muichiro Tokito, and the Stone Hashira, Gyomei Himejima.
It's an interesting choice to feature these two, specifically, in his thoughts. Could Demon Slayer Season 2 be teasing a greater storyline for these characters in the next arc?
Will the Mist or Stone Hashira make an appearance next?
So far, Demon Slayer has seen Tanjiro, Zenitsu, and Inosuke training under both the Flame and Sound Hashira. Could the anime shift its focus to another high-ranking member of the Demon Slayer Corps once the Entertainment District Arc is through?
Accompanying the Hashira on their missions has certainly become a pattern for Tanjiro and his friends. And the brief allusion to the Mist and Stone Hashira could mean he'll be seeing them next. Both characters were introduced during season 1's Rehabilitation Training Arc. Unfortunately, viewers didn't get to spend much time with them.
The individual assignments with the Hashira are allowing fans to get to know them in further depth. It would make sense if more missions were on the horizon — especially if the anime's leads intend on joining the group eventually.
Will 'Demon Slayer's main characters join the Hashira?
If Tanjiro and his companions continue to work under different Hashira, will they eventually join the elite group of Demon Slayers themselves?
Inosuke goes out of his way to explain the organization's rankings during the Entertainment District Arc. That exposition suggests he and the others are working their way up. But they're far from a Hashira skill level currently.
Of course, with more guidance and training, it seems likely Demon Slayer's main trio will eventually ascend to the same level as Rengoku and Tengen. And working alongside characters just as powerful will help them grow faster. If Tengen's praise is warranted, Tanjiro and his friends can learn a lot from Muichiro and Gyomei.
New episodes of Demon Slayer drop every Sunday on Crunchyroll, Funimation, and Hulu.