Derek Hough Channels John Travolta, Patrick Swayze in 'Step Into the Movies'
Derek Hough is one of the most talented male dancers of his generation. His career began in the ballroom and flourished on ABC's Dancing with the Stars. Hough has become a force to be reckoned with in terms of originality and talent in his choreography. However, there have been no moments more interesting than when Hough attempts to recreate some of the most unforgettable dances in movie history. Alongside his sister Julianne Hough also a former DWTS pro, the Emmy-winning choreographer channeled John Travolta, Patrick Swayze, and other iconic dancers in a new television special dedicated to the best moves on the big screen titled Step Into the Movies.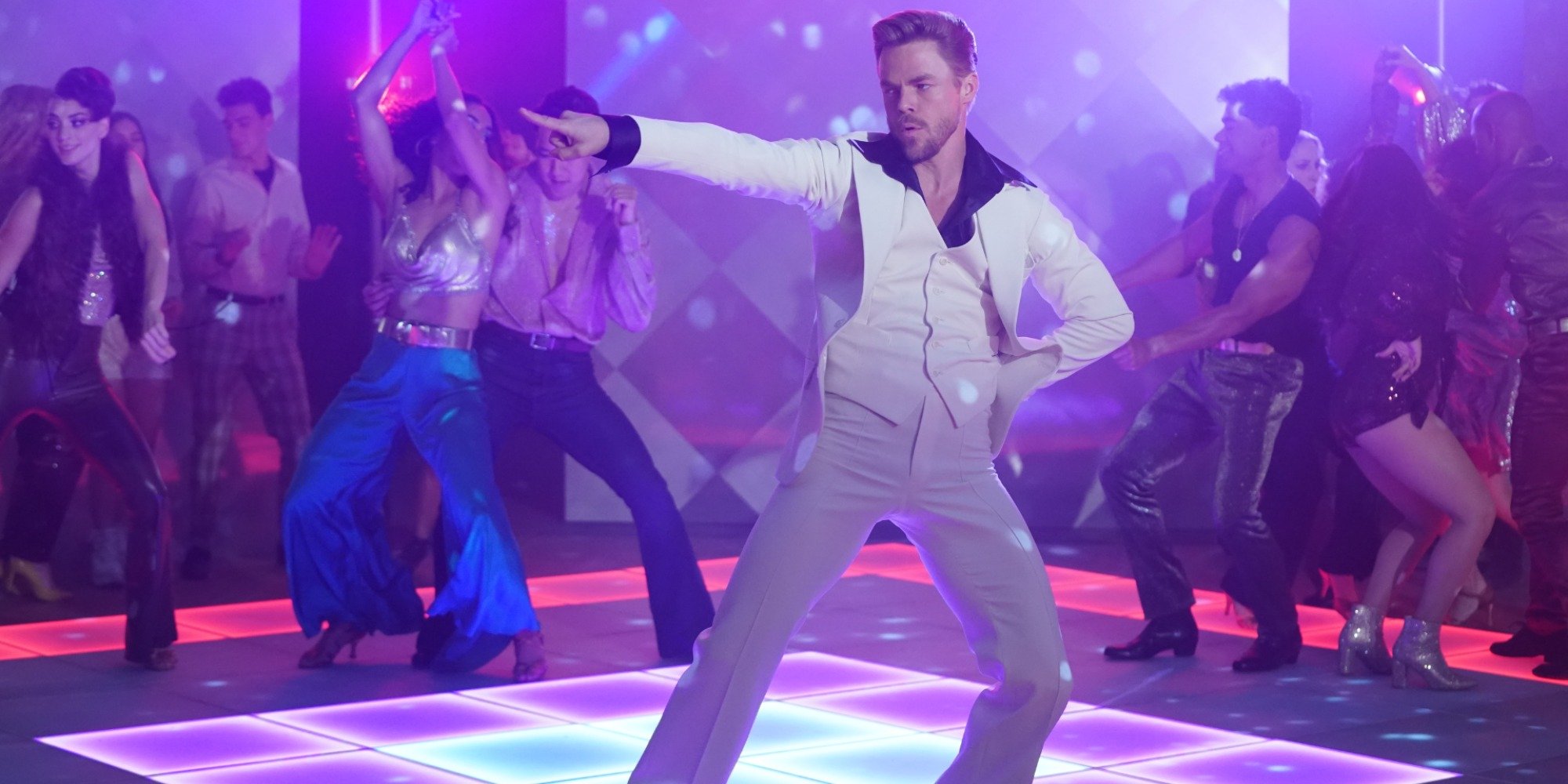 The Houghs danced with a star-studded list of guest stars
Step Into The Movies with Derek and Julianne Hough was a one-hour special inspired by some of the most iconic dance moments on film.
The series rounded out its star-studded cast with illustrious guest stars including Kevin Bacon, Charli D'Amelio, Ariana DeBose, Jenna Dewan, Harry Shum Jr., Baz Luhrmann, Tate McRae, Rob Marshall, Kenny Ortega, Amber Riley, and John Stamos.
Riley won a mirrorball alongside Hough during season 17 of the series which aired in 2013.
The dance special paid homage to dance performances from Moulin Rouge!, Singin' in the Rain, Footloose, Beauty and the Beast, Chicago, Dirty Dancing, Saturday Night Fever, and La La Land.
Derek Hough channeled John Travolta and Patrick Swayze for two memorable cinematic moments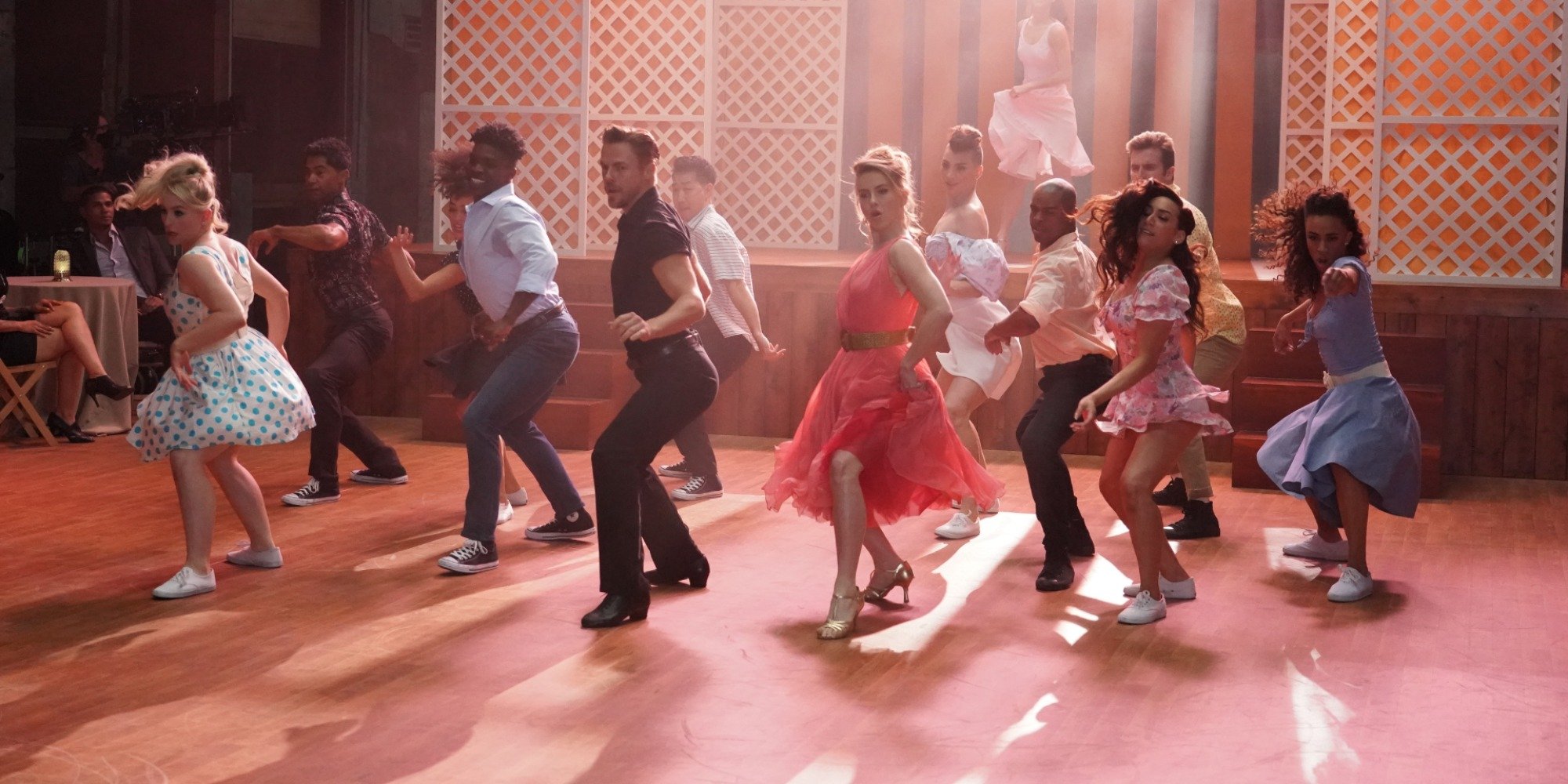 Hough paid homage to John Travolta's iconic moves as Tony Manero in Saturday Night Fever. The 1977 film contained some of the most iconic choreography of all time and helped bring the disco craze to a worldwide audience.
Saturday Night Fever's costuming is as well-known as its dancing. Travolta's white suit paired with a black dress shirt and Cuban-heeled boots is synonymous with the film's finale.
Hough combined all of the best-known aspects of Travolta's dance talent throughout the film for the special.
The dancer also channeled Patrick Swayze in the role of Dirty Dancing's Johnny Castle. He performed alongside Charli D'Amelio and sister Julianne as they performed the film's finale "Time of My Life."
Hough previously danced to the tune during season 21 of Dancing with the Stars alongside Bindi Irwin.
He also partnered with Dirty Dancing star Jennifer Grey during season 11, where they p[reformed to another song from the film.
Both women won their seasons and glittery mirrorball trophies alongside Hough.
Fan reaction to Hough's homage to Travolta and Swayze was intense
Viewers of the special took to Instagram to share their reactions to the recreations of some of the film world's most memorable moments.
"It was truly so beautiful. Everyone was so talented! This was AMAZING," wrote one follower.
"This one was by far the best. You all mailed it. Loved it," penned a second fan.
"Amazing show!! Thank you all who worked on this! We need more television like this," exclaimed a third Instagram user.
"This made me cry. It was THAT GOOD!!!!" noted the fourth follower.
RELATED: Will Derek Hough's New Gig Conflict With 'Dancing with the Stars' Return?