All the Hints Dolly Parton Has Dropped About Having an Affair
Dolly Parton and her husband have been married for decades. Despite this, she is coy when people ask about affairs. Here's what she's said.
Dolly Parton is no stranger to rumors of affairs. Though she got married when she was 20 years old, people often speculate about her relationships with co-stars and collaborators. Her husband, Carl Thomas Dean's spotlight aversion only serves to fuel rumors, as some fans don't believe he's real. Parton herself is often secretive about the rumors, only adding to the speculation. Here's what she's had to say about any potential affairs.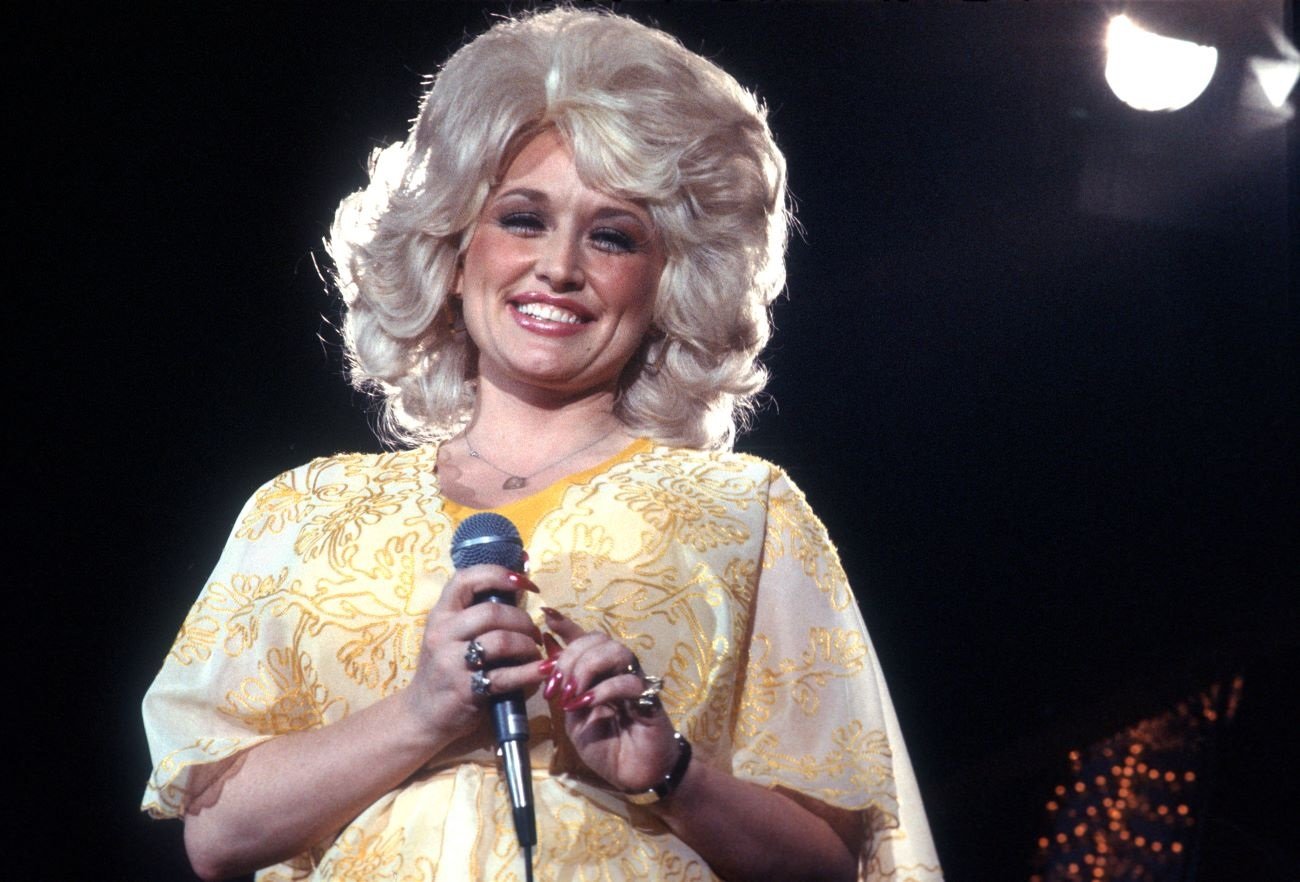 Dolly Parton said she wouldn't tell Carl Thomas Dean if she had an affair
When Parton faced heavy speculation about affairs early in her career, she tended to dodge rumors. Often, she said that she wouldn't confirm or deny whether or not she'd stepped out on her husband. She did share that she wouldn't have told him if she had, though. She believed he wouldn't want to know.
"He wouldn't want to know," she said, per the book Dolly on Dolly: Interviews and Encounters With Dolly Parton. "I think I would keep it from him. He would be more apt to tell than me. He knows I ain't goin' nowhere. No matter who I met or what kind of an affair I might ever have, ain't nobody in this world could take Carl's place. There ain't no way in this world I'd ever lose this man."
The country singer was coy about her relationship with Porter Wagoner
Parton's big break happened when she booked a role on The Porter Wagoner Show. Though both were married and Porter Wagoner was 20 years her senior, many believed that the two were romantically involved. Parton admitted that the two fought constantly, but at the time, she did not want to say whether or not they were having an affair. 
"Whether it's a love affair or not, you're all in, in the relationship," she wrote in the book Dolly Parton, Songteller: My Life in Lyrics. "Whether it's sexual or whether it's just passionate, you are connected. It's a love-hate relationship. It is a marriage, of a sort."
Parton added that the drama of a possible relationship helped sell records.
"If people think that you are 'doing it,' that helps sell the duets," she wrote. "So who's going to admit whether it's true or not?"
Dolly Parton said her off-camera dynamic with Burt Reynolds was 'sweeter than a love affair'
In 1982, Parton starred in The Best Little Whorehouse in Texas. Though the film was shot during one of the worst periods of her life, Parton still flirted with controversy in her comments about co-star Burt Reynolds. In an interview, she said that their off-screen relationship was "sweeter than a love affair." When asked what she meant, she dodged.
"I ain't saying yea or nay," she said. "Just sweeter than a love affair."
She did deny that she snuck off to Florida for a romantic vacation with Reynolds, explaining that multiple cast members went too.
She said she's had an affair of the heart
Parton has come closest to admitting to an extramarital relationship was when she described her "affair of the heart." She became very close with her bandleader, Gregg Perry, while touring. 
"Gregg and I became very close … I had never spent so much time with such a well-educated and knowledgeable man … I let myself get completely wrapped up in him."
After Perry chose to leave Parton's band, she said she was "crushed." At the time of the split, she was already dealing with health issues, which worsened with heartbreak. 
"I can handle the business — the bigger they are the better I like dealing with them — but when it gets into business where I'm very attached to the people, it's hard. I was going through a period of time that the nerves and the tension and the stress were actually what got me sick. So then it was like, which came first, the chicken or the egg?"
Parton said that with the aid of her family, friends, husband, and prayer, she was able to navigate her way through this dark period.
Dolly Parton said she is loyal to Carl Thomas Dean
Despite all her talk, Parton is in a happy relationship with Dean. According to her, they both flirt but return to each other at the end of the day.
"He's not jealous and I'm not jealous of him. He knows I flirt. He flirts too," the Mirror reports that she said. "Yes, it's an open relationship, but not sexually and I would kill him if I thought he was doing that. He would shoot me too. At the end of the day we love each other madly."