All the Details of Kourtney Kardashian and Travis Barker's Engagement and That Massive Ring
Kourtney Kardashian and Travis Barker are engaged. After less than a year of dating, Barker popped the question and Kardashian said yes. Here's everything we know.
Another Kardashian wedding is on the way. And no, it's not Kylie Jenner or Khloé Kardashian's. Kourtney Kardashian, the sister most famously known for not wanting to get married, is now engaged to Travis Barker. After a whirlwind romance, the two announced their engagement last night. Here's everything we know about the upcoming nuptials.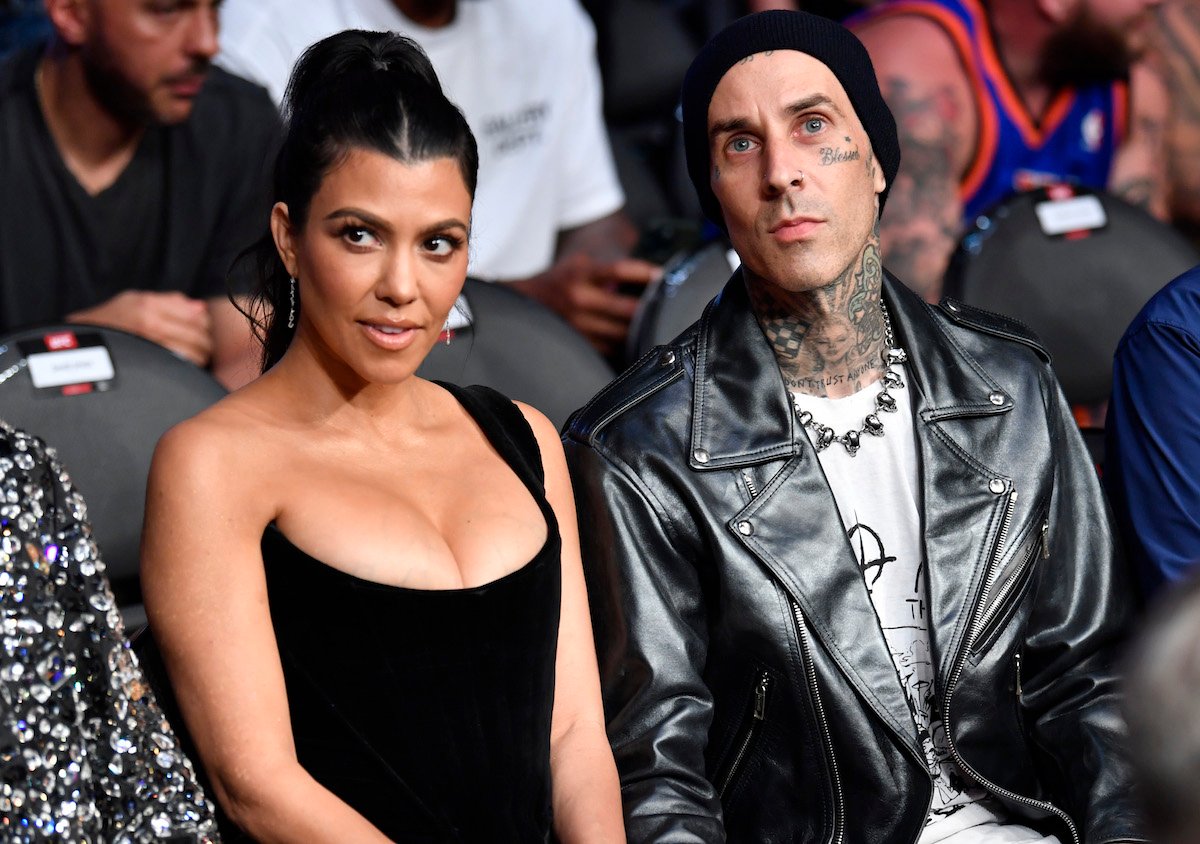 The proposal
After less than one year of dating, Barker got down on one knee. On Oct. 17, the drummer set up an elaborate floral arrangement on the beach to ask Kourtney to be his wife. The arrangement included roses in the shape of a heart and candles dispersed throughout. He led Kourtney to the beach and to the center of the decor before getting down on one knee. Kourtney shared photos of the sweet moment on Instagram.
"Kourtney and Travis are over the moon. Getting engaged was always their natural next step and they are so thrilled," a source told Entertainment Tonight. "The proposal was gorgeous and romantic, and everything Kourtney wanted."
"The proposal took place on the beach at the Rosewood Miramar Beach hotel, where Kourtney and Travis have spent a lot of time together, and is considered to be a very special and sacred place to them," the source continued. "Their families are beyond happy and excited for them too. Their kids are very much looking forward to being an official big happy family."
"Kourtney and Travis really feel like they've found their perfect partner and match," the source said. "They can't wait for this next step in their journey as a couple and to spend the rest of their lives together."
The ring Travis Barker gave Kourtney Kardashian
Kim Kardashian West was the first sister to give fans a peak at Kourtney's new massive ring. She tweeted out a video of Kourtney and Barker kissing and zoomed in on her sister's ring. Barker gave Kourtney a massive oval cut diamond on a simple band. The ring is estimated to be worth $1 million.
How do friends and family feel about Kourtney Kardashian and Travis Barker's engagement?
Kourtney and Barker have only been dating since January. Both stars were previously in very public relationships. When they started dating, some fans were skeptical and reports circulted that Barker's ex-wife and mother of his kids, Shanna Moakler, was not too happy about the union. However, she eventually got on board when her kids, Landon, Alabama, and Atiana de la Hoya, became close to Kourtney.
"As long as she's good to my children, this is the biggest point that I keep saying. And my kids like her," Moakler previously told Entertainment Tonight.
"That's all I care about. My kids are happy. They're happy. I have my own things going on and and and I think it's great," she continued. "I wish them all the best."
Since the engagement, both families seem to be happy for the couple. Kim posted a video of the ring and Landon and Alabama also shared photos celebrating the pair.
"Congratulations @kourtneykardash and @travisbarker I'm so happy for you guys love you guys so much!" Landon wrote in an Instagram Story.
"So happy for you guys I love u both!" Alabama wrote.