'Dexter: New Blood': Will Dexter Finally Go Down as the Bay Harbour Butcher?
Dexter Morgan has been getting away with murder for a long time -- but it looks like that could change in the revival series 'Dexter: New Blood.'
Dexter Morgan successfully got away with murder after making it look like he died during Hurricane Laura and going into hiding in the Dexter series finale. But it seems like he could finally be brought to justice in Dexter: New Blood, the revival of the hit Showtime series.
The show picks up on Dexter's life almost a decade later, finding him in the small town of Iron Lake, New York, under an assumed name. He has a normal life with a job and a girlfriend, police chief Angela Bishop, but a series of events cause his past to resurface.
Are the police (finally) about to capture the real Bay Harbour Butcher?
[Warning: This article contains spoilers for Dexter: New Blood Episode 9.]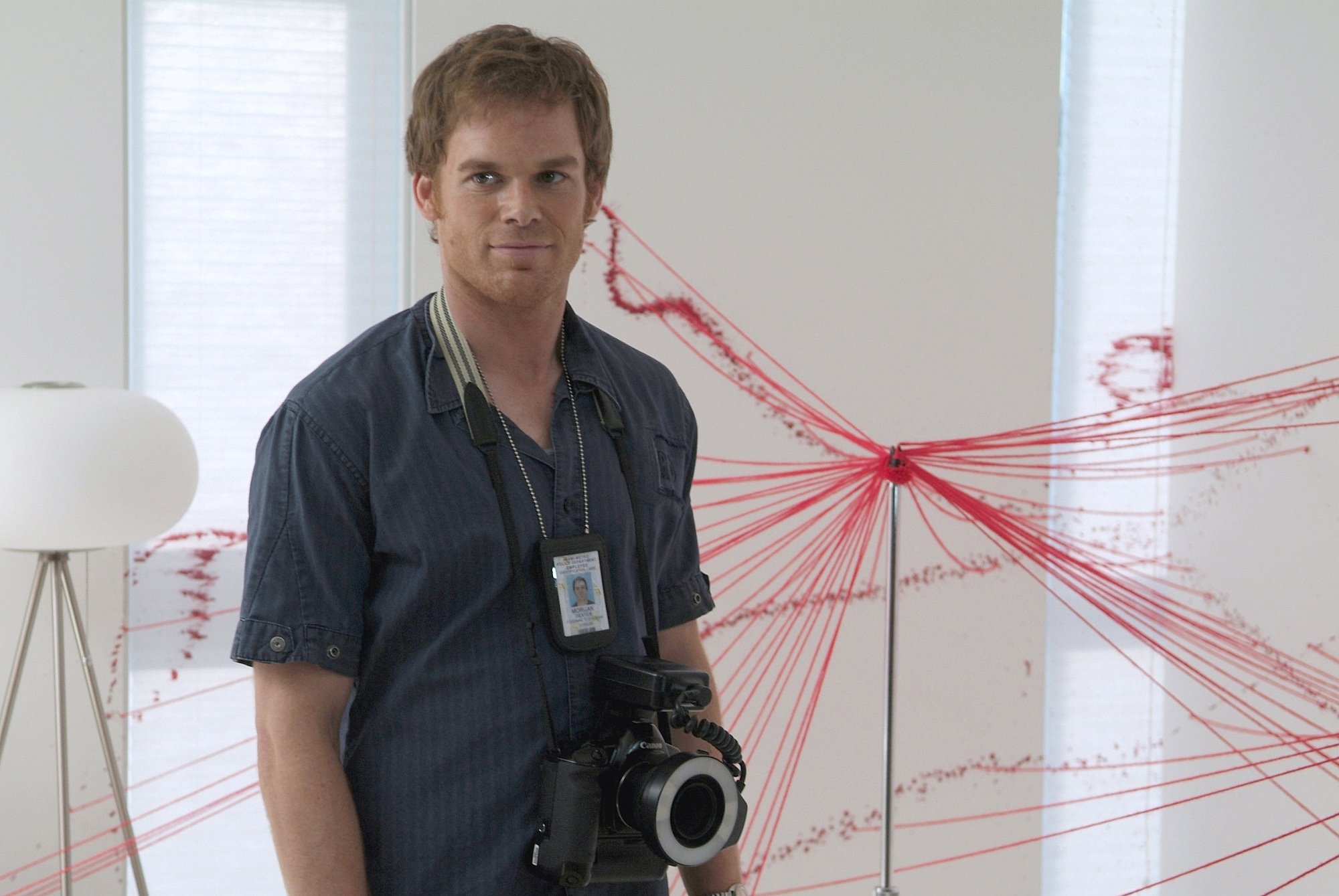 Dexter is under investigation in 'Dexter: New Blood'
As viewers know, Dexter went almost a decade without killing anyone. But he slipped after learning local bad boy Matt Caldwell had killed five without consequences. What he didn't realize at the time was that Matt was the son of Kurt Caldwell, a prominent member of the Iron Lake community who also happened to be a serial killer.
Kurt kidnapped and killed innocent women, which means he also fit Dexter's code. But Kurt was already after Dexter for killing Matt. The cat and mouse game between them finally came to an end in Dexter: New Blood Episode 9, when Dexter murdered Kurt after finding his trophy room. But Kurt had the last laugh, as he'd secretly sent a letter to Angela claiming Dexter had murdered his son.
The note confirms that Dexter is indeed a murderer and likely was the Bay Harbour Butcher — not James Doakes.
Will Dexter be arrested?
The trailer for Dexter: New Blood Episode 10 appears to show Dexter going through the jail processing procedure. The assumption is that Angela arrests him, but the charges are unknown.
While she has made connections between his use of Ketamine and the preferred drug of the Butcher, there's more detective work that needs to be done before she can make an arrest on that front. It seems more likely, in our eyes, that Dexter will at least be arrested for Matt's murder due to all of the evidence Angela has gathered, including the Ketamine, witness accounts, and the screws.
It would be a shocking conclusion to see Dexter finally go down for murder, but he's also been able to get himself out of these kinds of situations time and time again. Whatever happens, showrunner Clyde Phillips has promised the finale will be a good one.
"It's going to be surprising, inevitable and it's going to blow up the Internet," he told TVLine. "It is, I personally think, the best thing I've written. Our director Marcos Siega, who could not be more experienced and a better friend of the show, thinks it's the best thing he's ever directed. I haven't seen it yet, by the way. I only saw it get shot. We're editing Episodes 7 and 8 right now, so I haven't seen 10 yet. I can't wait, to tell you the truth."
Watch the finale on Jan. 9
The Dexter: New Blood finale will air on Showtime at 9 p.m. ET on Sunday, Jan. 9. It's unclear whether there will be more episodes beyond the current 10, but it seems to be a possibility.
"I'm gonna take it one step at a time and let this see the light of day before I consider that question again but um… maybe," Michael C. Hall (Dexter Morgan) told interviewer Jonatan Blomberg when asked about a Dexter: New Blood Season 2.
We guess we'll see.