Deyjah Harris Reveals Her Relationship With T.I. Has Changed After Hymen Controversy
It's been months since T.I.'s controversial hymen comments, but the drama is just now airing on T.I. & Tiny: Friends and Family Hustle.
Deyjah Harris opened up about the harrowing ordeal in the June 15 episode and revealed how "embarrassed" she was by her father's remarks. Harris came to tears as she spoke about the incident and the effect it has had on her relationship with the "Whatever You Like" rapper.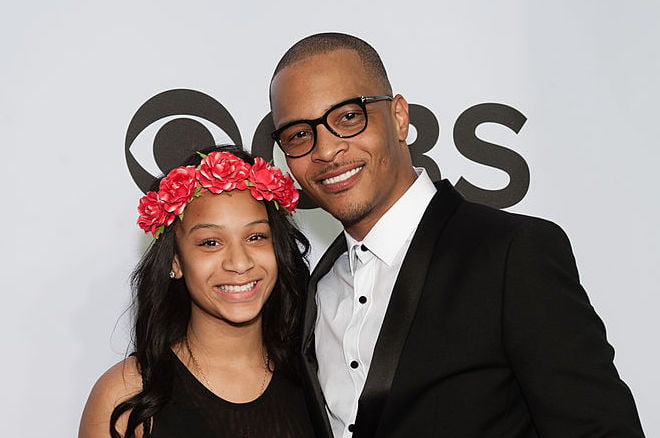 A look back at T.I.'s comments about Deyjah Harris
T.I. was on the Life Hacks podcast in November when he revealed he accompanies Harris, 18, to the gynecologist to ensure she's a virgin and that her hymen is intact.
"We have yearly trips to the gynecologist to check her hymen," T.I. said. "Yes, I go with her."
"Right after the birthday, we celebrate and then usually, like, the day after the party, she's enjoying her gifts, I put a sticky note on the door [that says,] 'Gyno. Tomorrow. 9:30,'" he continued.
Although he suggested Harris was OK with it, critics felt that he was being extremely misogynistic and invading her privacy. Amid the backlash, Harris was caught liking tweets calling her father "possessive" and "controlling" before allegedly unfollowing him on social media.
Deyjah Harris' comments on T.I.'s revelation
In the latest episode of Friends and Family Hustle, T.I.'s wife, Tameka "Tiny" Harris revealed the family had been in Mexico when T.I.'s remarks went viral. In the next scene, Harris was shown sitting down with some of her cousins to talk about how she felt after seeing her personal business on the Internet.
"I'm embarrassed for sure," she admitted. When one of her cousins asked if it was true, Harris said: "Yeah, it's definitely been going on since, probably, 14 or 15." She also said she felt she didn't have a choice but to allow him into her appointments.
Harris noted she didn't think T.I. is a bad parent but admitted the ordeal made her look at him differently. She started to break down as she repeated how "traumatizing" the situation was for her.
T.I. says he apologized to Deyjah Harris
Attempting to straighten things out, T.I. went on Red Table Talk later in November where he said his actions had been "terribly misconstrued and misconceived" and that his comments were made in a "very joking manner."
"From a place of truth, I began to embellish and exaggerate, and I think a lot of people took it extremely literal because if you put any of my reputation — who I am as a father and who I've been — I honestly thought people knew me better than that," he said.
Still, he noted that he had offered an apology to his daughter, whom he shares with recording artist Ms. Niko.
"She did have a problem with me talking about it and I understand that and I am incredibly apologetic to her for that," he said. "Not to any of these other strangers and any of these weirdos who just kind of toss lies around."
Hopefully, things have improved since the latest episode of Friends and Family Hustle was filmed. Fans can watch their relationship and more play out at 8 p.m. ET on Mondays on VH1.