Diane Sawyer Is Being Criticized Over Resurfaced 2003 Britney Spears Interview
The life of pop icon Britney Spears was examined in a new FX documentary. Titled Framing Britney Spears, it covers everything from her Mississippi upbringing and rise to fame to her 2007 breakdown and the conservatorship battle with her dad that led to the creation of the #FreeBritney movement.
One topic that sparked some of the most chatter online is the media's treatment of Spears following her breakup from Justin Timberlake. This includes a 2003 interview between Spears and Diane Sawyer, which some viewers feel was sexist and unfair.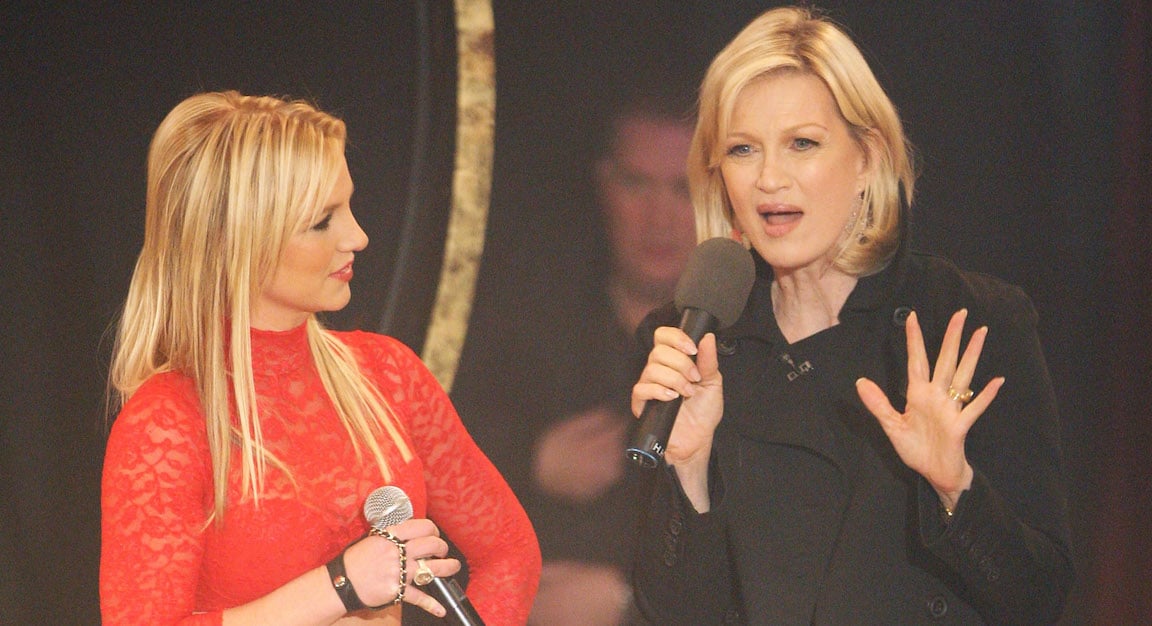 A look back at Britney Spears and Justin Timberlake's relationship
Their relationship dates back to the early '90s when they cast on The Mickey Mouse Club. However, they didn't become romantically involved until years later. According to InStyle, they started dating in 1999 and spent three years together before breaking up in 2002.
Neither of them ever really detailed the reason they broke up, but there were widespread rumors that Spears had cheated with her choreographer Wade Robson. According to Bustle, Timberlake told Barbara Walters he would never say why they broke up due to a promise he'd made with Spears. However, he'd told People he was left heartbroken.
"You get to a point where you're crying yourself to sleep at night," he said (via Entertainment Weekly). "I feel like I'm in the middle of a soap opera. I honestly know what it's like to have a broken heart now."
Timberlake also released the breakup anthem "Cry Me A River" and an accompanying video that made it seem like he'd been cheated on. But Spears countered, telling The Sun that they had simply grown apart.
The new Britney Spears documentary explores the aftermath of her breakup with Justin Timberlake
The documentary discusses the differences in the treatment Spears and Timberlake received after their breakup. While she was widely criticized and slut-shamed, Timberlake only seemed to get bigger.
"People treated her like she was the school slut and he was the school quarterback," claimed former MTV VJ Dave Holmes. "He essentially weaponized the video for one of his singles to incriminate her in the demise of the relationship."
The documentary goes further into the misogyny Spears faced in the media and the attention placed on her sexuality, including a radio interview where Timberlake confessed he "did it" with Spears after years of speculation about her virginity.
In 2003, Diane Sawyer also interviewed Spears and asked questions that assumed she was responsible for their breakup. "He has gone on television and pretty much said you broke his heart," she said. "You did something that caused him so much pain, so much suffering — what did you do?"
Sawyer went on to mention that a lot of moms were angry with Spears, including one who said she would consider shooting Spears if she had the opportunity. As the interview progressed, Spears started crying and asked to stop the interview.
How fans are reacting to the resurfaced Diane Sawyer interview
After the film aired, many viewers took to Twitter to share their thoughts. Lots of people were particularly focused on Sawyer's interview, expressing shock and anger over the questions she asked Spears — especially because the cheating rumors were never confirmed.
"Y'all I just watched the documentary on Hulu about Britney Spears and holy sh*t! The questions she would get asked, the paparazzi, Justin Timberlake being a sleaze bag, her father… like my heart breaks," one tweet read.
"diane sawyer literally played britney spears a video of someone saying they wanted to SHOOT her at 22 years old over unproven cheating claims from Justin Timberlake and used her understandably crying and breaking down for ratings. hell is not hot enough," said another.
"Lots of people should come out and say what they regret. Looking at you, Justin Timberlake, Jay Leno, and Diane Sawyer," added a third person.
So far, neither Sawyer nor Spears has directly commented on the documentary or the criticism. However, a source told Entertainment Tonight that the singer is "aware" of it and has no interest in revisiting certain points in her life.