'Diary of a Future President' Episode 5 Recap — Whistleblower
Inspired by her mother, Elena Cañero-Reed decides that now she's officially a woman, she wants to fight an injustice happening right in her school. Can this middle schooler make a change and take a stand against the "butt" her school is named after. Here's what you might've missed during the "Whistleblower" episode of Diary of a Future President.
This article contains major spoilers from the fifth episode of Diary of a Future President. Read at your own risk!
Now that she has her period, Elena is officially a woman
Elena and her mom are celebrating Elena's womanhood with handfuls of fries and mountains of whipped cream. They start talking about Gabi's new case, when Gabi's boss calls and interrupts them. No matter, though. Elena is fully inspired by his mother and wants to be just like her when she grows up.
Back at school, Elena gets a new assignment about why she's proud to be a "Fighting Swansby." After doing some research, she figures out that her school mascot isn't someone she's proud of at all. He's actually a real butt, who forced women to work without breaks.
Elena decides she wants to do something about it and goes to her principal. Reluctantly, he tells her that if she gets 100 people to sign her petition, he'll consider changing the mascot.
Because it's spirit week, Bobby is looking forward to his tennis match and finally getting his last name spelled corrected on his jacket, (they normally forgot the accent.) Then, the rival school comes to Orange Bay Middle School and starts making fun of Bobby's last time, calling him a worm. They even throw worms in his tennis bag. When Bobby gets home, he rips the tilde off his jacket.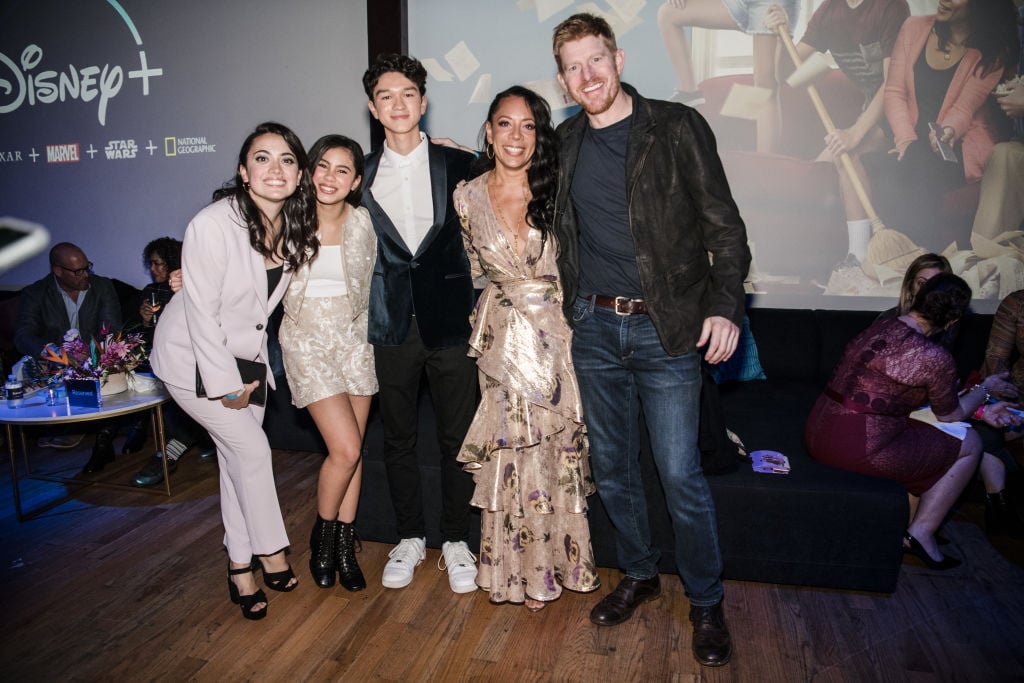 Bobby is struggling with identity issues after being called a worm
Despite a few setbacks from Melissa and Jessica, Elena gets 100 signatures on her petition and brings it back to the principal. He tells her that her request will be addressed at a school board meeting in about three months. That's too long, Elena explains. She wants change right now!
The middle schooler decides to take matters into her own hands. To protest Swansby, she'll throw orange juice at the school mascot during Bobby's tennis match. That'll definitely bring awareness to her cause, right? Even though Sasha disagrees, Elena decides to go through with it, filling a bucket with orange juice.
Bobby starts his tennis match and he's still pretty shaken up about being called a worm. Thankfully, his teammates are super supportive and put the tilde on their own jackets. After seeing that, Bobby finds his confidence and wins the match.
Elena's protest didn't go exactly how she expected
Just as the Swans-babes were about to perform at the tennis match, Elena addressed the crowd with the OJ bucket on her shoulder. She basically told the audience that she was taking a stand against Swansby and instead of throwing the juice on the mascot, he used Jessica as a human shield.
Embarrassed, Jessie ran to the bathroom and Elena followed after her and tried to apologize, saying that she tries to do what's right. She didn't even tell anyone about Jessie not having her period. Just then, Melissa walks in and overhears their conversation. Needless to say, Elena is feeling pretty bad about the whole situation and sits down with her mom to talk about it later that night.
It may take a little longer than she expected, and it may have ended with her getting detention, but Elena Cañero-Reed decides she will continue to fight for what's right, no matter how long it takes. (Hopefully, that won't be too long now — after getting his coffee from Marcus, the principal moved Elena's petition up on the list.)
Diary of a Future President is available exclusively with a subscription to Disney+. To learn more about Disney's streaming platform, visit their website.