'Dickinson' Has a Major 'Little Women' Easter Egg
Apple TV has some bold and ambitious programming as part of its slate. One of those genre-bending TV shows is called Dickinson. Telling the story of one of history's most innovative and creative thinkers, it promises to frame the past in a more modernized light.
Apart from just depicting poet Emily Dickinson, it also highlights several other historical figures from the same time period. One of those historical figures serves as a fairly interesting Little Women Easter Egg for literary fans paying close attention. Let's take a closer look at the poet, the show, and what exactly that Easter Egg is.
Who was Emily Dickinson?
According to the Poetry Foundation, Dickinson was a poet who lived in the 1800s. Her first poetry volume was published in 1890, four years after she passed away.
Dickinson's poems became incredibly popular with a mass audience after she died. They were released in 11 editions over two years' time.
The poet was born in Amherst, Massachusetts in 1830. She swore off many of society's expectations, a true trailblazer for the women of her time. She loathed housework and never married.
She was truly an independent mind and thinker, challenging the traditional role of a housewife and instead focusing on her own literary work. Dickinson died in 1886, after which time her family found her writing.
What is the premise of 'Dickinson?'
RELATED: When Is 'Dickinson' Season 2 Coming Out? Here's What To Know About Apple TV+'s Hit
According to Vulture, Dickinson follows the adventures of the real-life writer. The show isn't fact-based, of course. It's simply a retelling of her life, but with plenty of drama and flair added in.
While the show may not be 100% historically accurate, it stays true to the spirit of Dickinson and her work.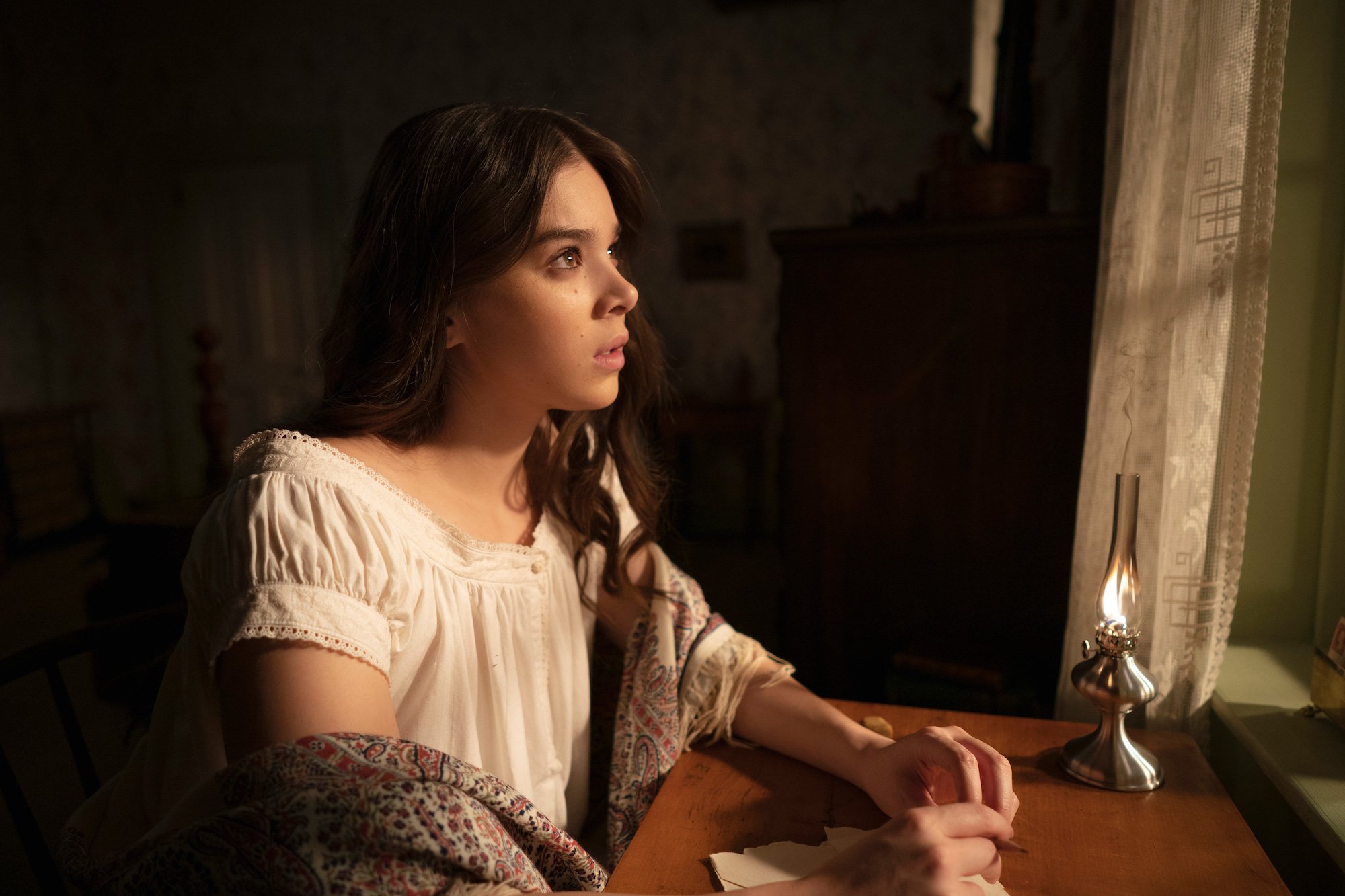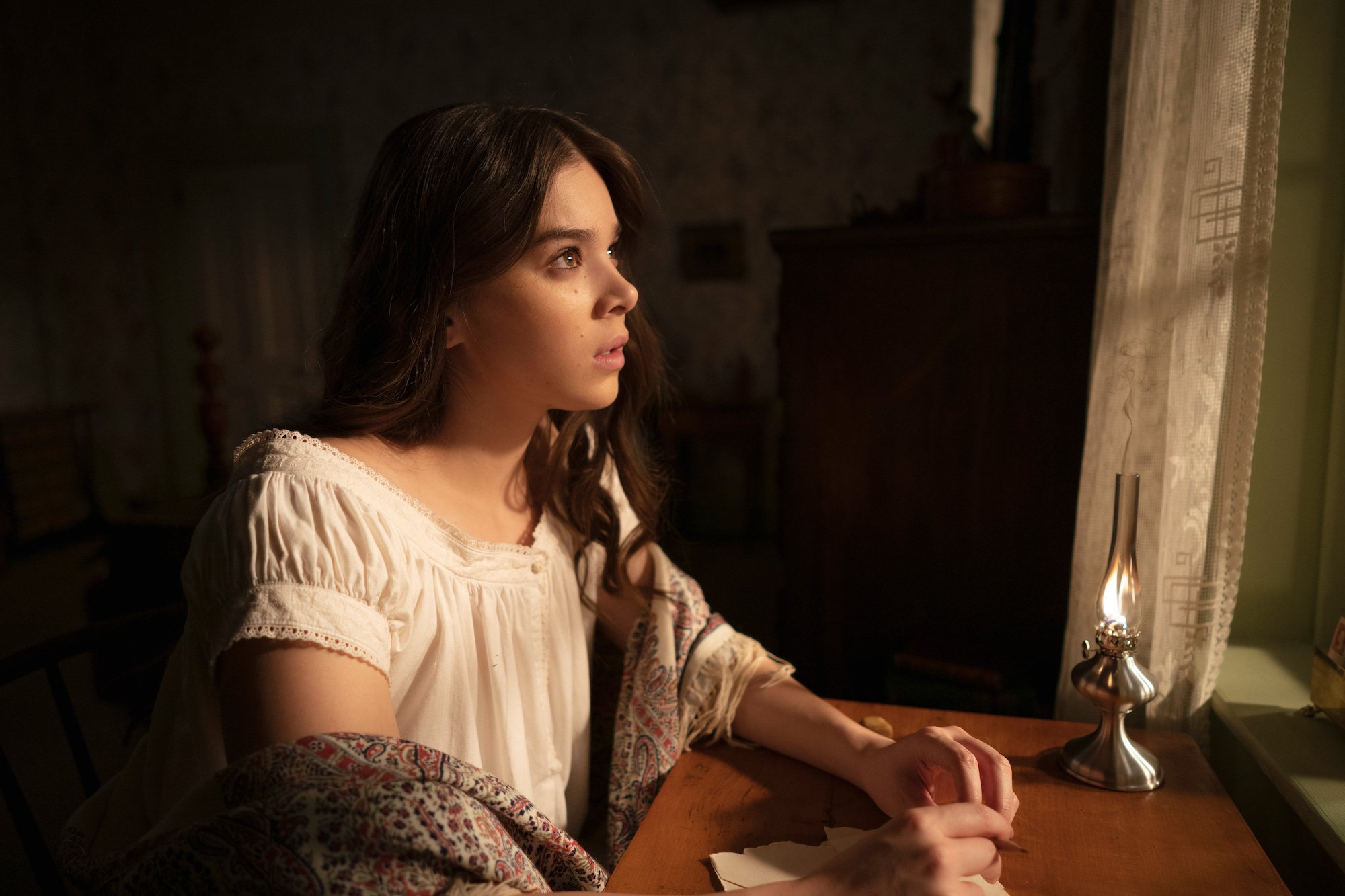 Though it takes place during Dickinson's era, it attempts to view the writer and her work through a more modern, progressive lens. To establish this contemporary feel, the show uses a modern soundtrack. It essentially argues that Dickinson herself had a lot in common with the millennial generation of today.
Cast in the lead role is the uber-talented Hailee Steinfeld, a young actor and recording artist. According to series creator Alena Smith, it was the perfect match:
"I didn't want a Brit because I think our typical idea of period is always a Brit. And Emily Dickinson is an American poet. And there's also something about Hailee that is just so contemporary."
The show has included depictions of other actual people from throughout history.
The episode of 'Dickinson' that features a 'Little Women' Easter Egg
One of the best parts about a show that deals in historical fiction is the ability to showcase the larger-than-life personalities who existed during the show's time period. The show's creators can use real-life people as their characters and, using a bit of poetic license, can change what actually happened to make for an interesting storyline.
According to Screen Rant, that's precisely what one episode of the show does. Along with the show's many other guest-starring roles, fellow author Louisa May Alcott is depicted on the show — the Christmas episode in particular.
Alcott has a progressive way of looking at the world that's on full display as she interacts with Emily. The already well-known author rages against the patriarchy and helps to motivate Emily to go further in her own writing endeavors.
The character is portrayed by Zosia Mamet. If that name sounds familiar, you may be a fan of another female-led show. Mamet played Shoshanna on Lena Dunham's HBO comedy Girls. She's also the daughter of famous playwright and screenwriter David Mamet.
So what's the tie in with Little Women? In real life, Alcott authored that book that later became a hit series starring Michael Landon. In the show, during the Christmas dinner scene, fans can hear Alcott getting inspired to write the premise of Little Women. Ironically, nobody at the table seems too interested in it.