Did 50 Cent Go Too Far With Megan Thee Stallion Meme? Some Fans Think So
Megan Thee Stallion and Tory Lanez trended on July 13 when news broke they were detained by the Los Angeles Police Department. Days later, it was revealed that Megan Thee Stallion was shot and treated for gunshot wounds.
Fans immediately grew concerned and launched a campaign to find the shooter, though some suspected Tory Lanez. However, a sect of folks also began making light of the situation, including 50 Cent.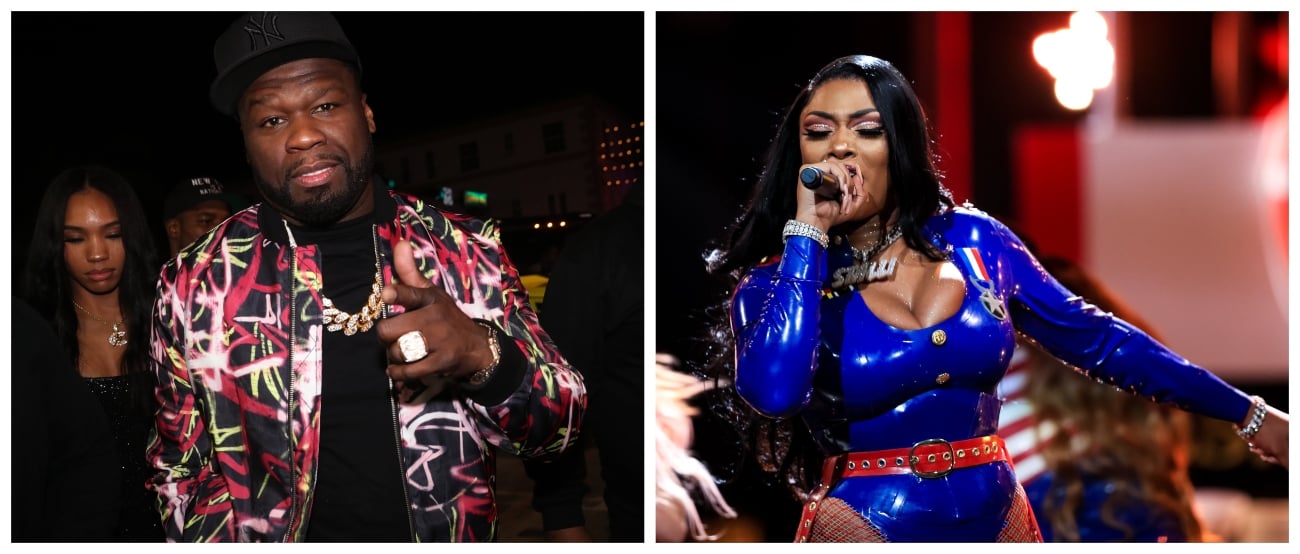 Megan Thee Stallion told fans about shooting
Because there were so many reports floating around about the incident, the rapper hit Instagram to clarify some of the rumors. Initially, it was reported that she suffered a foot injury due to broken glass.
Megan Thee Stallion, Torey Lanez, and another woman allegedly attended a house party with Kylie Jenner on the night of July 11 into the wee hours of July 12.
After the trio left the party together, an argument ensued in the SUV they shared. Police responded to a call about gunshots, arrested Tory Lanez — who was driving the SUV — and Megan and her friend were also detained. Police later issued a statement indicating that the "Hot Girl Summer" rapper was a victim.
But Megan Thee Stallion told fans that she was not arrested at all but taken to the hospital for gunshot wounds.
In an Instagram post, she wrote "I was never arrested. This whole experience was an eye opener and a blessing in disguise. I hate that it took this experience for me to learn how to protect my energy."
She added that someone intentionally tried to harm her.
RELATED: Megan Thee Stallion Was Shot and Fans Want to Know Who Did It
50 Cent posted meme about Megan Thee Stallion, Tory Lanez
When the news first broke about Megan Thee Stallion being shot, many assumed Tory Lanez did it. While fans rallied around her from all corners of the internet, some chose to make fun of the incident.
50 Cent, who's known to troll, decided to post a now-deleted meme using a Boyz n the Hood reference with Torey Lanez and Megan Thee Stallion's likenesses.
Here's a screenshot of it, courtesy of the Onsite! Instagram account:
Some called 50 Cent out for being negative and disrespectful and didn't find the meme funny at all. One person wrote, "He annoys me now…..her getting shot ain't funny 🤡🤡🤡🤡." Another added, "He's so negative and petty…. he should be canceled."
Others cracked jokes about Tory Lanez shooting her in the toe like the famous scene from the movie, Harlem Nights. But Megan Thee Stallion had something to say about all the laughter at her expense.
Megan Thee Stallion responds to those joking about the incident
Though no one involved commented on who committed the crime, Megan Thee Stallion caught wind of the jokes. She issued a statement on Twitter on July 17 about feeling traumatized and unprotected as a Black woman.
"It might be funny to y'all on the internet and just another messy topic for you to talk about but this is my real life and I'm real life hurt and traumatized," she wrote.
Supportive fans chimed in to send her love, and it seems her message may have influenced 50 Cent to remove his post.
Tory Lanez was originally hit with a felony concealed weapon charge. As of July 17, the L.A.P.D. is investigating the incident as an aggravated assault case. They are seeking the public's help for information.
RELATED: Megan Thee Stallion's Best Friend Slams Rumor That She Shot Her, Confirms Fact About the Incident