Angelina Pivarnick Reveals the Real Reason Her 'Jersey Shore' Roommates Were Included in Her Wedding
Angelina Pivarnick's wedding has sparked a lot of speculation amongst Jersey Shore: Family Vacation fans. When Nicole "Snooki" Polizzi spoke out about not wanting to give a speech in the first place, many fans were convinced Pivarnick was forced to include the roommates for the sake of the show.
A former producer said production likely forced Pivarnick to include the cast in her special day, but now the Jersey Shore star is saying that's not the case.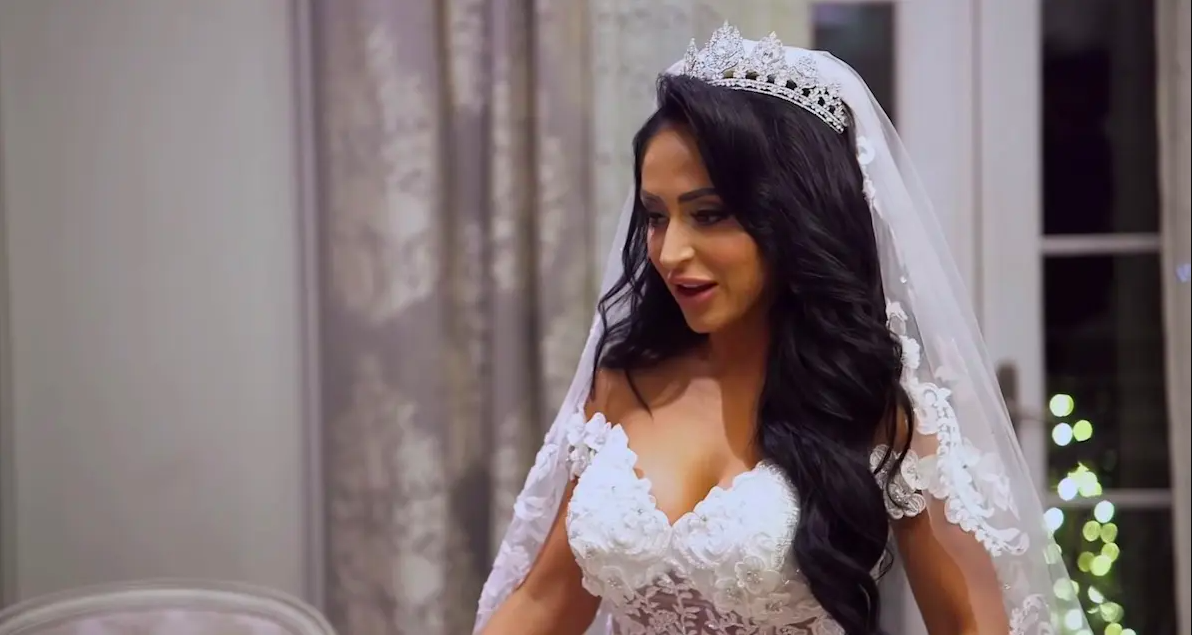 A former producer said Angelina was likely forced to include the cast in her bridal party 
A former story and field producer who worked on Jersey Shore Season 1 hosted an Ask Me Anything on Reddit. While they revealed several behind-the-scenes nuggets, one of the most interesting was what went on in planning Pivarnick's wedding. "Angelina's wedding was paid for by the network, production, and sponsors," the producer explained. "You can bet your life that she had to relinquish any and all control from a filming and production logistics stand point. [For example,] production told her that Jenni, Deena, and Nicole would need to be in her bridal party and that they would need to make speeches at her wedding reception."
The producer also believes Pivarnick was at the root of the drama that ensued at the wedding based on her past behavior. "I'm not trying to be biased, but based on previous experience, I am leaning toward [Angelina] manipulating this for sympathy when she knew it was going to happen," they added.
'Snooki' was happy to be a bridesmaid, but she didn't want to give a speech
Throughout season 3 of Jersey Shore: Family Vacation, Pivarnick's relationships seemed to strengthen with her roommates. They all seemed happy to take part in Pivarnick's special day, which included delivering a wedding toast. Despite what fans saw, Polizzi said she was never comfortable with giving a speech. 
"I literally told producers, 'I'm not going to do a speech because I'm not comfortable doing one; I don't think we should be doing one,'" she explained to The Ashley Reality Roundup. "We were forced to do something we didn't want to do." Allegedly, the former producer was right. Producers had a lot to do with the drama that occurred at Pivarnick's wedding.
Angelina says producers didn't make her do anything 
Pivarnick's wedding drama recently resurfaced when a majority of the cast went to dinner for Mike "The Situation" Sorrentino's birthday. Cortese, Polizzi, and Farley reprised the infamous wedding speech, and many fans were not amused. 
When Deena Cortese was attacked for their mockery of the wedding speech, she explained how upset she was that Pivarnick "continued to play the victim," despite knowing her roommates were receiving death threats. After Pivarnick replied that she has been getting death threats for years, a fan stepped in. 
Then, Pivarnick revealed the truth about making "Snooki," "JWoww," and Cortese bridesmaids — "MTV and 495 [Productions] didn't tell me to do that. I wanted to do that on my own," she tweeted.
At this point, it's hard to say whether Pivarnick wanted the roommates involved or it was a ploy for blowout season 3 finale.