Did Bella Hadid Get Plastic Surgery?
Find out if model Bella Hadid has undergone plastic surgery.
She has one of the most photographed faces around, and she has been scientifically determined to be the most beautiful woman in the world. But does Bella Hadid have plastic surgery to thank for her stunning good looks?
Rumors that she has had work done have dogged her, but she's always denied that it's true. Although not everyone believes her, there's a very good reason she might be telling the truth. The Hadid family has learned about the potential dangers of plastic surgery in a hard way. 
A family full of models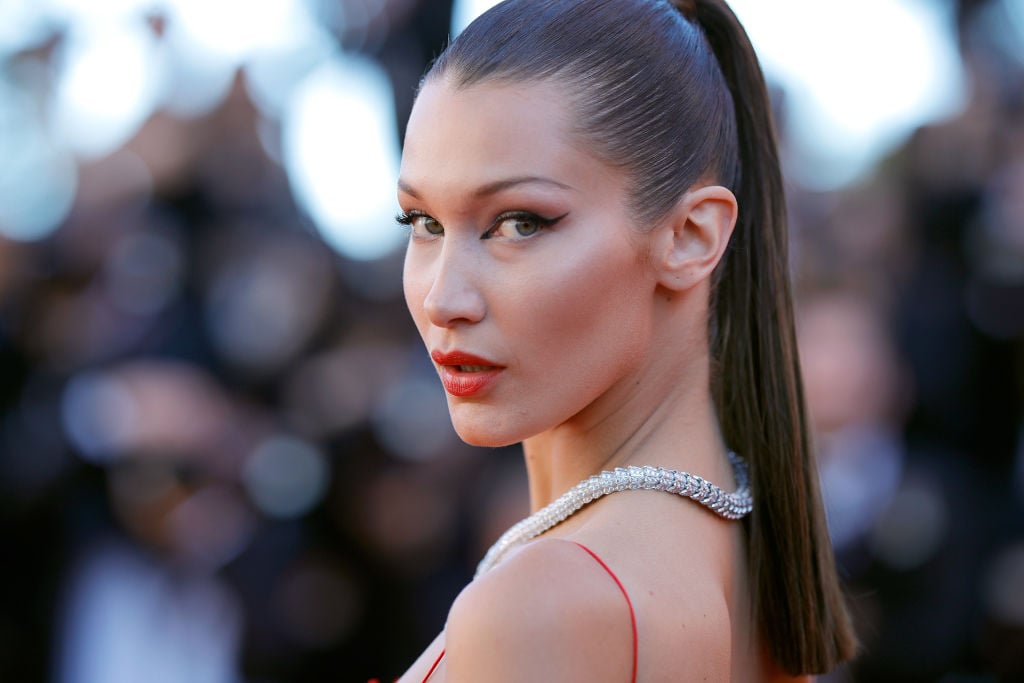 Bella Hadid isn't the only supermodel in the family. Her sister Gigi Hadid went into the modeling business before she did, and recently her little brother Anwar has also joined them on the catwalk. The three are considered the most beautiful siblings in Hollywood.
It might seem surprising to find three supermodel siblings in the same family, but the Hadid kids come by their good looks naturally. Their mother is Yolanda Hadid, who was a model herself before appearing on The Real Housewives of Beverly Hills. It was during this time that she went through an experience that may have convinced her daughters never to go under the plastic surgeon's knife. 
Plastic surgery caused Yolanda Hadid problems
In 2016, while she was on RHOBH, Yolanda discovered that she had silicone in her body that had leaked out of her breast implants. She had the implants removed, but that was just the beginning of her health problems. 
Yolanda was diagnosed with Lyme disease the next year, and she stopped using Botox or fillers as she worked to recover from her illness. Last year she revealed in an Instagram post that she had completely detoxed from all the cosmetic procedures she used to rely on.
"Living in a body free of breast implants, fillers, botox, extensions and all the bullshit I thought I needed in order to keep up with what society conditioned me to believe what a sexy woman should look like until the toxicity of it all almost killed me," she wrote.
Yolanda's acceptance of herself as she is, as well as her fear of what plastic surgery can do to the body, may have influenced Bella Hadid.
Bella Hadid says she's afraid to get work done
Yolanda isn't the only Hadid who has struggled with the effects of Lyme disease. When she was a junior in high school, Bella contracted the tick-borne illness also. Her severe symptoms, including pain and brain fog, forced her to give up her dream of being an Olympic equestrian. She had been a competitive horseback rider before she got sick, but dealing with Lyme made it too hard to continue doing what she loved. 
That experience may be why she's so resistant to having any work done. If the effects of plastic surgery impacted her mother's health, then she may want to be extra cautious. She has always denied having any cosmetic procedures at all.
"People think I got all this surgery or did this or that," she has said. "And you know what? We can do a scan of my face, darling. I'm scared of putting fillers into my lips. I wouldn't want to mess up my face."
Many people speculate about how different Bella's face looks now from when she started modeling. The changes could be simply because she was only 18 when she stepped out in front of the camera, and now she's 23. While some continue to insist that she's had cosmetic work done, Bella might have taken her mother's example to heart, and stayed away from the plastic surgeon's knife.