Did 'Below Deck' Want to Cast Tyler Rowland Long Before Season Six (And Are Tyler and Rhylee Still Dating)?
Deckhand Tyler Rowland got quite the adrenaline rush when he joined the Below Deck crew during mid-season six.
Rowland told the cameras he was an adrenaline junkie but he certainly wasn't looking for the kind he was confronted with pretty close to his first day on the job. As Rowland was getting acclimated to his job, deckhand Ashton Pienaar almost died in a near-drowning accident.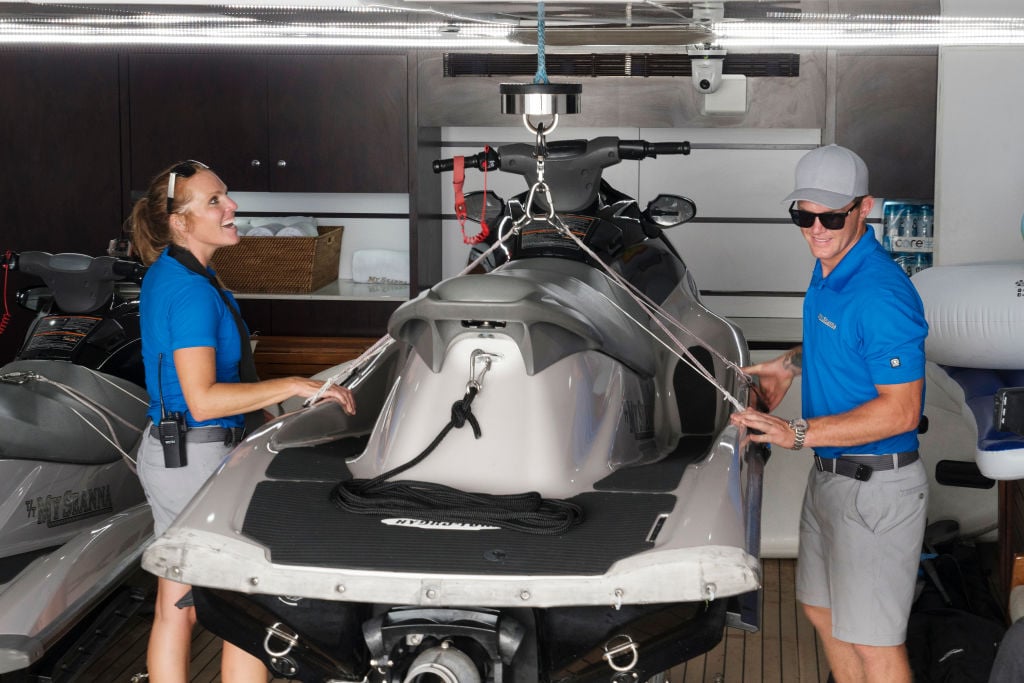 Thankfully Pienaar survived, but it set the tone for what ended up being one of the crazier seasons in the franchise's history. In addition to witnessing the horrific accident, Rowland also made a love connection too. He and deckhand Rhylee Gerber hit it off almost instantly and fans cheered for their relationship. But alas, when Gerber casually suggested the two travel after the season, Rowland got cold feet. So how did Rowland end up on Below Deck, to begin with? And is there hope for these crazy kids to reconnect?
He was actually considered for an earlier season
Rowland said producers considered him for the show long before season six. "It was pretty interesting. A couple of years before, someone reached out to me and they flew me down to the Caribean season," he recalls. "I believe it was like season three? When I got down there, they had a couple of people to choose from for whatever storyline they were trying to get. So they didn't want me. So they flew me back and I totally forgot about it."
But then here comes Tahiti. "I was traveling and surfing and then going out to Mississippi to start my fire fighting job and they asked me if I was available and I said yes," he says. But he needed to know the timeline. "They said, 'Oh can you be in Tahiti in two days?' I was like …' Sure!' So it was super last minute and very random."
He adds producers kept him on the radar, asking him on a regular basis if he was still interested up until season six. "But it never worked out or the timeline never worked because either I had stuff going on or whatever. But then it happened."
He loved being on the show too
Rowland says although he was only on the show for a short amount of time he really bonded with the cast. "I loved it! It was so fun," he gushed. "We all had a blast. I've been doing stuff in front of cameras for a while and I was super comfortable with it."
He says he also completely forgot cameras were filming him to being with too. "It was cooler because there were a bunch of people around all the time."
Plus, "I met all the fellas and I met [Gerber] in the kitchen," he recalls. "Then Ross was like, 'Rhylee is going to show you guy's to your room.' and I was like, 'What?!' Well something is probably gonna happen there!"
And yes, he still thinks Gerber is amazing
Despite the two not traveling together after the show wrapped, Rowland would love to reconnect with his favorite redhead. He says he really enjoys talking to Gerber, which he does almost daily. Plus he often posts playful images and comments about Gerber too.
But he says he is focusing on his career as a firefighter. "I have a pretty good plan for the next five years and it would be tough to adjust it. If there was a girl like Rhylee that wanted to do that or was able to do that, I'd be super excited. I need a partner in crime," he joked.
So could they get back together? It's possible. Rowland may be heading to Florida this winter and knows Gerber may be in Florida too. "We've never been in the same spot. But when we do meet up we always hang out," he adds.