Did Blake Lively Just Dispel the Rumors Of Bad Blood Between Her And 'Gossip Girl' Co-Star Leighton Meester?
There are still very few details available about the upcoming Gossip Girl reboot. But fear not fans — at least we can still talk about the cast of the original. Blake Lively just shared a throwback image of her and co-star Leighton Meester, and it's given us a lot to discuss.
Blake Lively and Leighton Meester starred in 'Gossip Girl'
It's been years since the show went off the air, but we're guessing that your first thought upon seeing either Lively or Meester in anything is to connect them to their Gossip Girl characters. After all, the series was a huge hit on the CW for six seasons, and they were the stars.
Lively portrayed Serena van der Woodsen, a wealthy Upper East Side high school student. Meester was her best friend, Blair Waldorf, and together, alongside a host of male co-stars, they made up a group of the most-talked-about teenagers around, who were cyber-stalked by the one and only Gossip Girl.
Did Lively and Meester really not get along?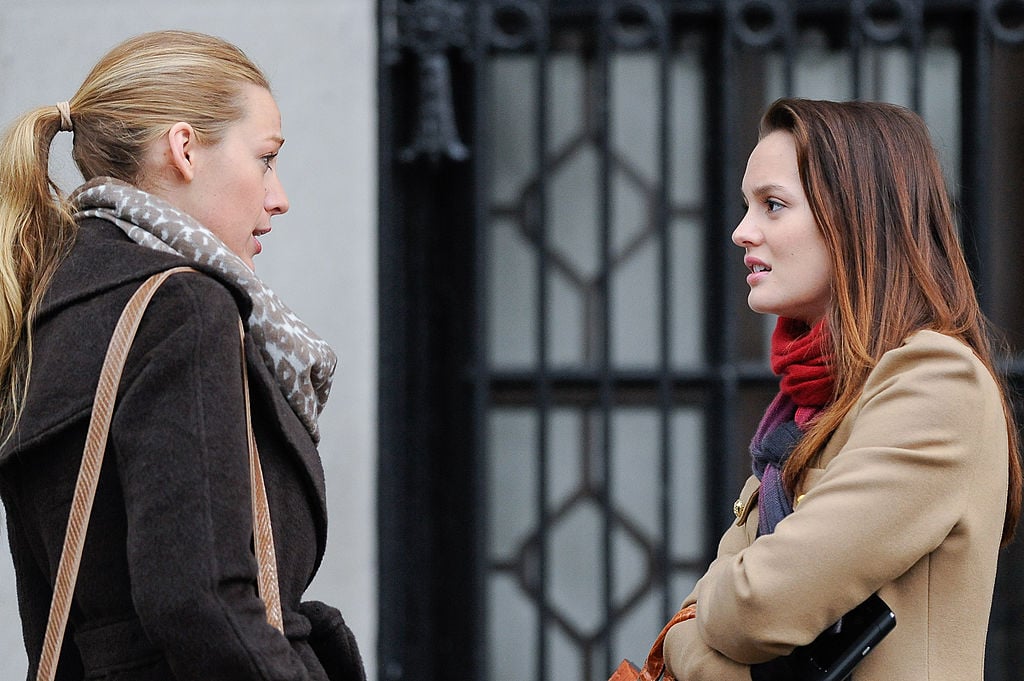 The relationship between Blair and Serena was often contentious. They went back and forth from being best friends who always defend the other to essentially enemies, plotting against one another. But the story behind the scenes wasn't quite so dramatic.
According to writer, there was no bad blood between Lively and Meester, they just didn't have a lot in common. "Blake and Leighton were not friends," he said. "They were friendly, but they were not friends like Serena and Blair. Yet the second they'd be on set together, it's as if they were."
Lively posted this throwback photo during the Emmys
Since they weren't close the way Lively was with her The Sisterhood of the Traveling Pants co-stars, it's not surprising that we haven't ever seen photos of the two hanging out since the Gossip Girl came to an end in 2012. But Lively has now shared a post in which she tags Meester, so we doubt very much that there's anything unpleasant between them.
In honor of the 2019 Emmys Awards, Lively shared a series of throwbacks on Instagram from when she and Meester, at the height of their Gossip Girl fame, presented together. The actresses are seen holding hands while laughing and smiling, and fans of their characters' friendship (likely) rejoiced.
Meester is busy promoting her current series 'Single Parents'
Though Meester didn't share a similar post, that isn't really her style. The actress doesn't post too many throwbacks, instead choosing to focus on her current projects. And this one couldn't be more different from Gossip Girl.
Right now, the second season of her ABC comedy, Single Parents, is about to premiere. In the sitcom, Meester portrays Angie, one of a group of single parents of elementary-age children who are all friends and help one another out where they can.
Here's what Lively is doing these days
While Meester is busy with her network series, Lively has been focused on building her film career. She's had a string of successful roles in films such as Café Society and A Simple Favor. Now, she's promoting her latest flick.
The Rhythm Section stars Lively as Stephanie, a woman whose family died in a plane crash that she believes to have not been an accident. Lively stars alongside Jude Law and Sterling K. Brown in the spy thriller, which opens in Jan. 2020.