Did Camilla Parker Bowles Really Encourage Meghan Markle and Prince Harry's Exit From the Royal Family?
Camilla Parker Bowles reportedly had a hand in Prince Harry and Meghan Markle's exit. The Duke and Duchess of Sussex announced their departure at the beginning of the year and are currently back in Canada staying out of the spotlight. While Harry and Meghan plan their next move, anonymous sources claim that Camilla encouraged Meghan to leave the royal family and "follow her heart."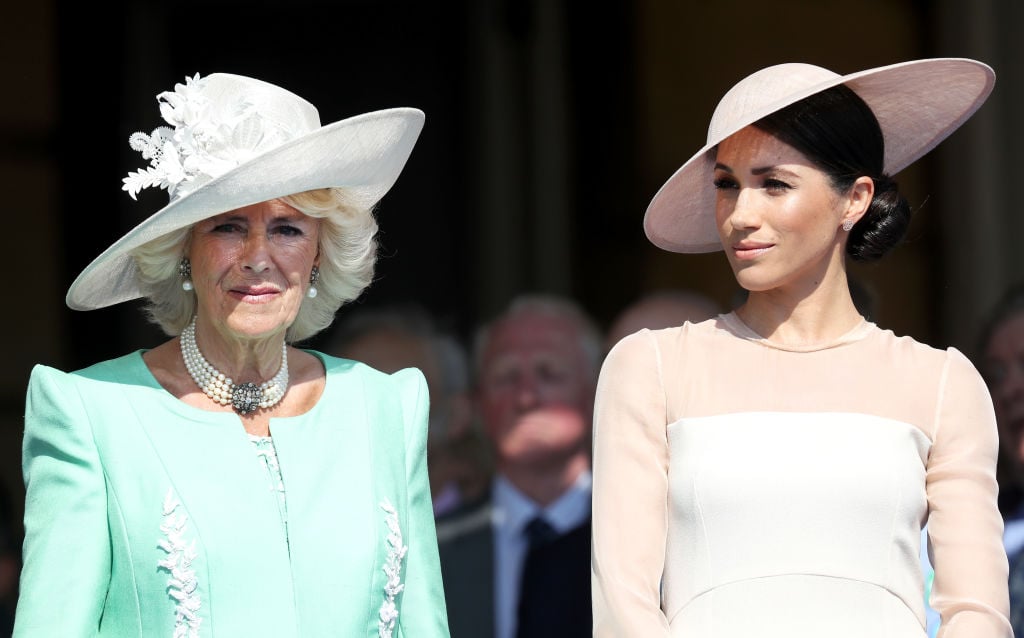 Prince Harry and Meghan Markle leave the royal family
In a stunning move, Harry and Meghan confirmed that they are stepping down as senior members of the royal family at the beginning of January. Taking to Instagram, the Sussexes explained how they no longer want to depend on public funding and will be spending some of their time in North America.
Harry met with other members of the royal family after making the shocking announcement. Following the meetings, Queen Elizabeth released a statement in support of the couple's decision to step down.
Her Majesty also revealed that Harry and Meghan will be giving up their HRH royal titles and will be paying back the money that was used to renovate Frogmore Cottage.
Harry has since flown back to Canada to reunite with Meghan and their son, Archie Harrison. The family is staying in a luxurious home on Vancouver Island and is reportedly looking to purchase a home in the region.
Camilla Parker Bowles advises Meghan Markle
A source claims that Camilla and Meghan share a close relationship behind closed doors. The former Suits star reportedly leans on Camilla, who has experienced a fair share of royal scandals over the years.
"She knew this was in the works and actually told Meghan to follow her heart and leave if she needed to," the insider revealed.
Camilla Parker Bowles has not always had an easy time in the royal family. For years, Camilla engaged in an affair with Prince Charles, who was married to Princess Diana at the time.
Their secret love affair is what really drove Charles and Diana apart. After they got a divorce, Charles and Camilla started dating and eventually tied the knot in 2005.
The Duchess of Cambridge faced a lot of public scrutiny over what happened between Charles and Diana, though she has done a lot to repair her image in recent years. While Camilla and Meghan allegedly grew close, the source claims that Charles was oblivious about what the women were planning.
Was Camilla Parker Bowles acting behind Prince Charles' back?
According to Radar Online, the insider says that Camilla helped Meghan plan Megxit, even though Charles wanted her to guide the couple back into the royal family.
"Charles hoped Camilla would be a calming influence, but he's been blind to her scheming and stirring that's been going behind his back," the source stated.
Prince Charles and Camilla Parker Bowles have not commented on the rumors surrounding Megxit. Camilla was, however, asked if she would miss Harry and Meghan during a recent public event. After a short pause, Camilla responded with a simple, "Course," before walking away.
In light of the response, the insider claims that Camilla loves stirring the pot. She is also really good at playing both sides and has developed into quite the politician.
To make things even more complicated, the source insists that Meghan looks up to Camilla and respects her authority. That said, there is good reason to believe that there is absolutely no truth to the rumors about Camilla's involvement in Megxit.
Camilla Parker Bowles takes a step back from the drama
Despite the reports to the contrary, Camilla was not involved in the talks between Harry, Queen Elizabeth, Charles, and William in the wake Megxit. In fact, Camilla stayed behind while her husband tried to reason with Harry to stay in the royal family.
As previously mentioned, Camilla faced a lot of controversies when she became a member of the royal family, yet she never entertained the idea of leaving.
The notion that Camilla would advise Harry and Meghan to step down goes against everything she has endured over the years. If anything, Camilla would have told them to stay in the royal family and fulfill their duty.
Unless new information comes to light, it is safe to say that Camilla had little to do with Harry and Meghan's decision to step down.
Prince Charles and Camilla Parker Bowles have not said anything about Harry and Meghan's exit from the royal family. Their departure is expected to be set in stone in the spring.