Did Chef Mila from 'Below Deck Med' Get Fired?
The most anticipated Below Deck Mediterranean moment this season has arrived. Chef Mila Kolomeitseva struggled from the minute she started the season and Captain Sandy Yawn finally let her go.
Viewers and the crew were shocked when Kolomeitseva kicked off the season serving meals using pre-packaged ingredients. But when she was captured on camera licking a raw steak and making homophobic comments, viewers were downright horrified.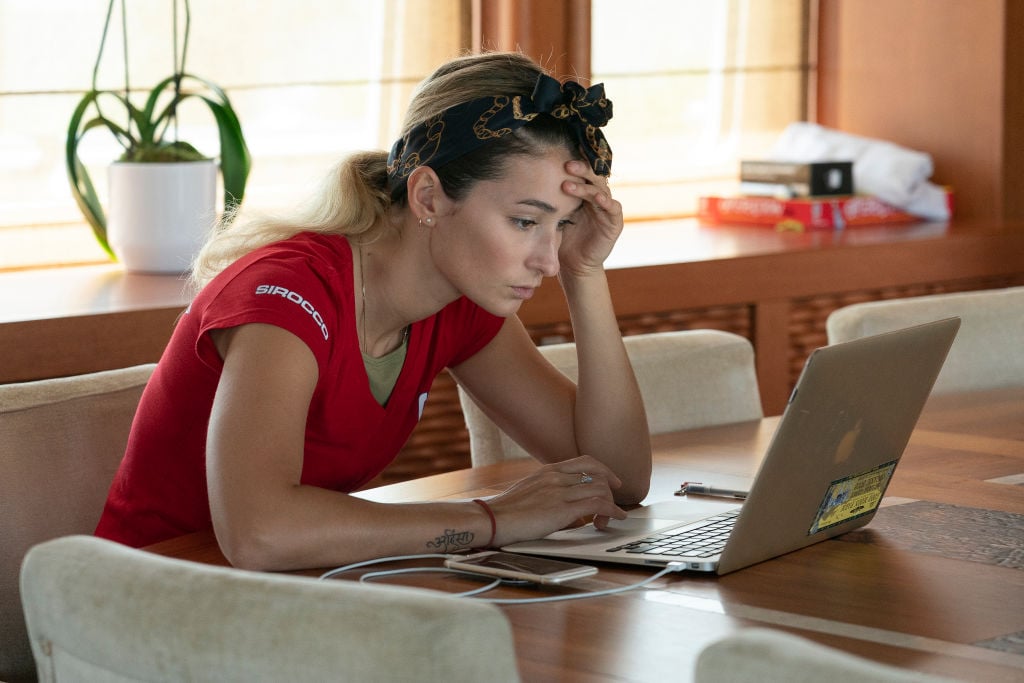 Yawn tried to make the position work for Kolomeitseva. She offered support via third stew Anastasia Surmava, but ultimately the writing was on the wall. Kolomeitseva was fired.
Kolomeitseva is the second crew member to be fired on Below Deck Med
Unlike Below Deck, Below Deck Med hasn't had the same number of crew members who have been fired. A crew member has been fired nearly every season of Below Deck. Even though Below Deck has logged more seasons than Below Deck Med, crew members seemed to have more staying power on the franchise.
Until now, the only other Below Deck Med crew member to be fired was Danny Zureikat. Zureikat spent most of his time irritating his fellow crew members and snuggling with the guests. Captain Mark Howard gave him many chances to change his approach but he was ultimately fired.
Even though Kolomeitseva is the first employee Yawn fired on Below Deck Med, a few other crew members came close. Chief stew Hannah Ferrier and bosun Conrad Empson were both on Yawn's radar last year after their romance deterred their focus. Also, Chef Adam Glick was on thin ice during his first season after he deliberately added onions to a guest's meal. The guest specified on his preference sheet that he did not like onions.
Swift but classy
Although viewers seemed impatient that Kolomeitseva wasn't fired immediately, Yawn took her time before she made her decision. But after trying to make it work, she gently let Kolomeitseva go. Although Yawn gave Kolomeitseva plenty of chances to improve her game she only waited for two charters before lowering the boom.
Yawn took to Twitter after the moment aired. "Making tough choices is part of the job, but I know this crew can take on challenge!" she tweeted. After Yawn fired Kolomeitseva, she asked Surmava to take over as chef for at least one charter.
Deckhand Travis Michalzik also had cooking experience so he was asked to support Surmava in the kitchen. That meant both the exterior and interior teams were down one person for the charter. Colin Macy-O'Toole tweeted, "Fun fact: Travis' crew food was dankkkkk!"
The search begins
Yawn mentions during the episode she is going to have to find another chef. Fans are convinced fan favorite Chef Ben Robinson will return. However, cast members insist Robinson will not be coming in to save the day.
Finding a new chef mid-season is no easy feat, especially for television. Yawn addressed questions on Twitter about the process.  "It's not easy to find replacement crew in a busy charter season," Yawn wrote in response to a question about hiring the crew. "Add to the fact that they also need to be screened & pass security clearances for filming can make it more difficult. You can't just pull anyone off the dock to work on a yacht & film."
And while a brand new chef to Below Deck Med is quite possible, what about this chef for a replacement? When Yawn was answering questions on Twitter Chef Matt Burns chimed in. Looked like he was ready to join the crew.