Did Eddie Murphy Really Date Whitney Houston?
If reports are to be believed, Eddie Murphy dated Whitney Houston in the mid-1980s when their respective careers were just starting to take off. While no one would have pegged these two as lovers, various sources have maintained that they were once deeply enamored with each other.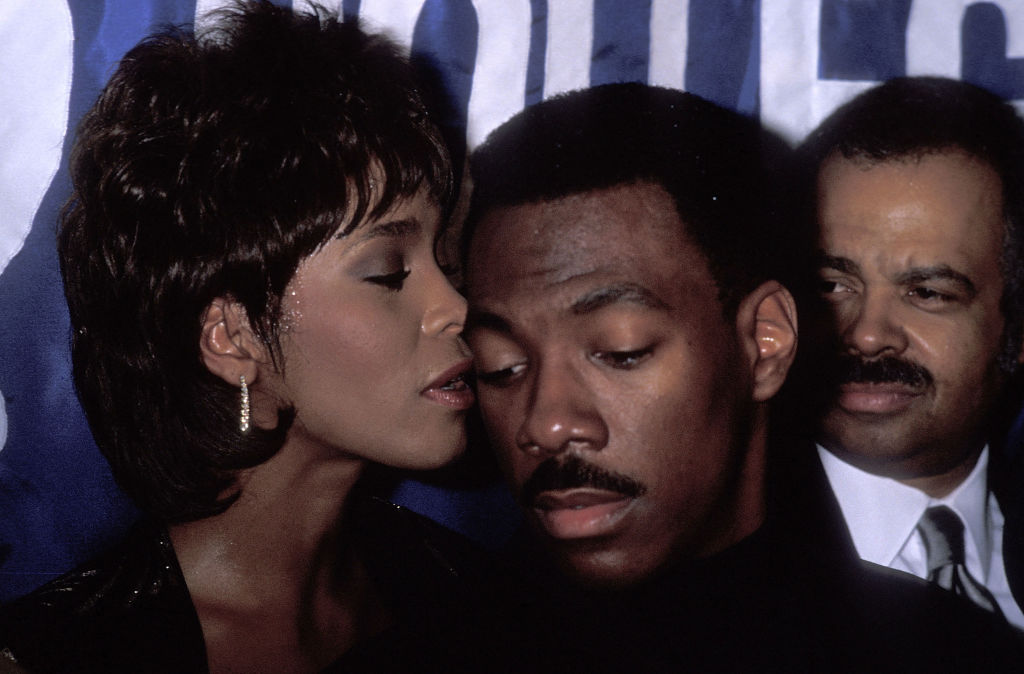 For the most part, both stars kept quiet about their rumored fling, which makes things even murkier. So, were they or weren't they? Below, we're diving into the alleged relationship between Murphy and Houston.
Inside Murphy and Houston's relationship
There are rampant rumors that the entertainers sparked a romance as they grew to fame in the 1980s. Murphy gained national attention in the early '80s through his role on Saturday Night Live, while Houston found success following the release of her debut, self-titled album, which came out in 1985.
A source once told People, "I watched them once at a party. Eddie came in, cameras were flashing and they just looked at each other and talked and laughed like they were the only two people in the room."
Houston's own mentor, Clive Davis, later confirmed the rumored romance in his 2013 tell-all memoir, The Soundtrack of My Life, noting that Houston allegedly dated Murphy "until she married Bobby Brown" in 1992.
But the Coming to America actor totally denied the rumors in a 2012 interview with Extra.
"I was never dating Whitney," Murphy declared. "She was a friend of mine. I may have gone to dinner with her a few times, but it was never like we were dating — we were never boyfriend and girlfriend."
"We were very friendly acquaintances," he continued. "She was a beautiful person. I hear a lot of people talking about her sense of humor, and she really did have a great sense of humor, she was a funny girl."
Houston's mother, Cissy, backed Murphy's claims in her 2013 book, Remembering Whitney, insisting that the entertainers were only friends.
Murphy and Houston moved on
Houston married R&B star Bobby Brown in 1992, about three years after they met at the 1989 Soul Train Awards. They were together for more than a decade before Houston filed for divorce in 2006. Access Online reports that it was finalized the following year. She never remarried before her untimely death in 2012.
As for Murphy? He went on to date model Nicole Murphy. They started seeing each other in the '80s and got married in 1993. The marriage lasted until 2006 when Nicole filed for divorce, citing irreconcilable differences.
Murphy has since moved on with Australian actress, Paige Butcher. They started dating in 2012 and got engaged in 2018. As of writing, the details surrounding their upcoming wedding are limited. But we'll keep you posted if anything changes.