Did 'Friends' Have Any Feuds Between Cast Mates?
For the most part, classic TV shows in history with memorable cast chemistry usually meant cast mates adoring one another in real life. Some examples are the opposite, though it makes it challenging to watch those shows now knowing a cast member had tiffs with their fellow peers.
The stars of Friends are one example where feuds could have been common considering their ages and circumstances at the time. Being on one of the hottest shows in the country and demanding pay raises over time could have easily caused discord.
Since the cast worked together to ensure their own pay raises, they stayed very close and enjoyed their company. Saying they're all close now, though, is up for a little analysis.
How did 'Friends' ensure cast chemistry?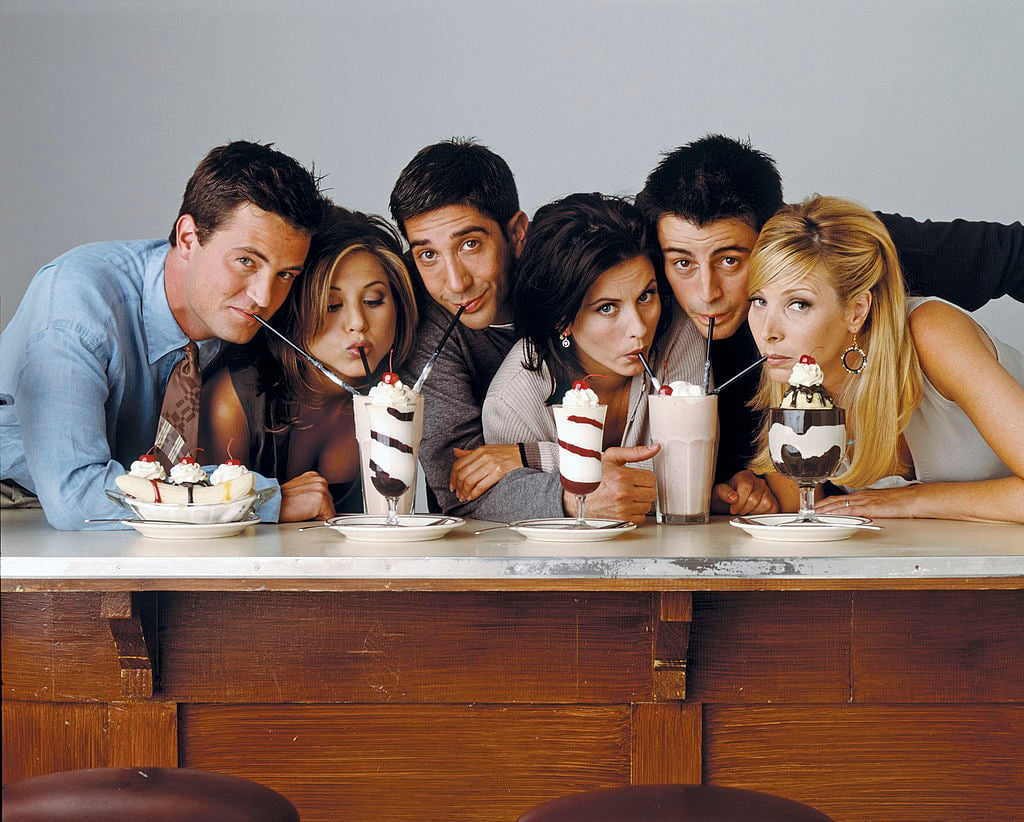 Those of you familiar with the legendary TV director James Burrows will know he directed many Friends episodes and wanted to ensure the cast had the most believable chemistry possible. Lisa Kudrow revealed during a tribute to Burrows on NBC that he put the women cast members together in one room to see how they'd get along.
When doing so, the girls started playing poker together and began to truly bond as a bit of a social test. After a while, they started going to lunch and becoming close personally as well as on-set.
They did the same with the guys as well, making the interactions you see in every episode appear real. Yes, these truly were friends who didn't just act professional on-stage, then go home to their own lives.
No doubt this close-knit friendship among the cast helped when they negotiated to ensure they'd make $1 million per episode in the final stretches of the series.
'Friends' female cast members are close — but what about the guys?
Even before the show ended, Kudrow, Jennifer Aniston, and Courteney Cox said they dreaded having the show end. They'd created such a close pact, they were afraid they wouldn't see one another again once everything came to a close.
Thanks to existing in the internet era, they've always kept in touch over the last 15 years. Maybe they don't see one another in person every day, yet we're always hearing about the three getting together for lunch as often as possible. Sometimes it just means two out of the three.
What about reuniting with Matt LeBlanc, Matthew Perry and David Schwimmer? From all appearances, the women haven't been seen too often with the guys in public. There was a recent pic of Aniston, Cox, and LeBlanc together at a restaurant.
Other than that, it doesn't seem the women are completely simpatico being with the guys nearly as often. At least we can defuse any rumors of the cast ever having a feud. Regardless, Aniston, Cox, and Kudrow clearly understand one another and what they've gone through.
They may differ on a 'Friends' reunion
All the talk about a Friends reunion keeps going on ad infinitum, outside of the producers saying it just wouldn't work. We all know Aniston, Kudrow, and Cox would be on board for such a thing. From the male cast perspective, it's a different story as we've heard several times.
LeBlanc has said he wouldn't be too crazy about a reunion because it would deal with the guys getting older. He joked once they'd have to do a story about Joey going to get a colonoscopy, making it far beyond the 20-something/30-something characters we all grew up watching.
Many fans wouldn't mind such a thing, though. You can also call this a sign the guys realize they haven't aged as well as the women have. If there's any divide between the cast it's this, perhaps why the women seem to lunch together more often.
Let's just hope we'll see the six of them together again somewhere soon to give everyone assurance the cast won't slowly drift apart as time progresses.