Did 'Game Of Thrones' Stars Kit Harington And Emilia Clarke Ever Date?
It is easy to see why many Game of Thrones fans shipped Kit Harington and Emilia Clarke. Not only were their characters, Jon Snow and Daenerys Targaryen, two of the most popular on the show, but the actors also had a close friendship both on and off the set. Their bond has naturally led to speculation about a potential romance, but did Harington and Clarke ever date in real life?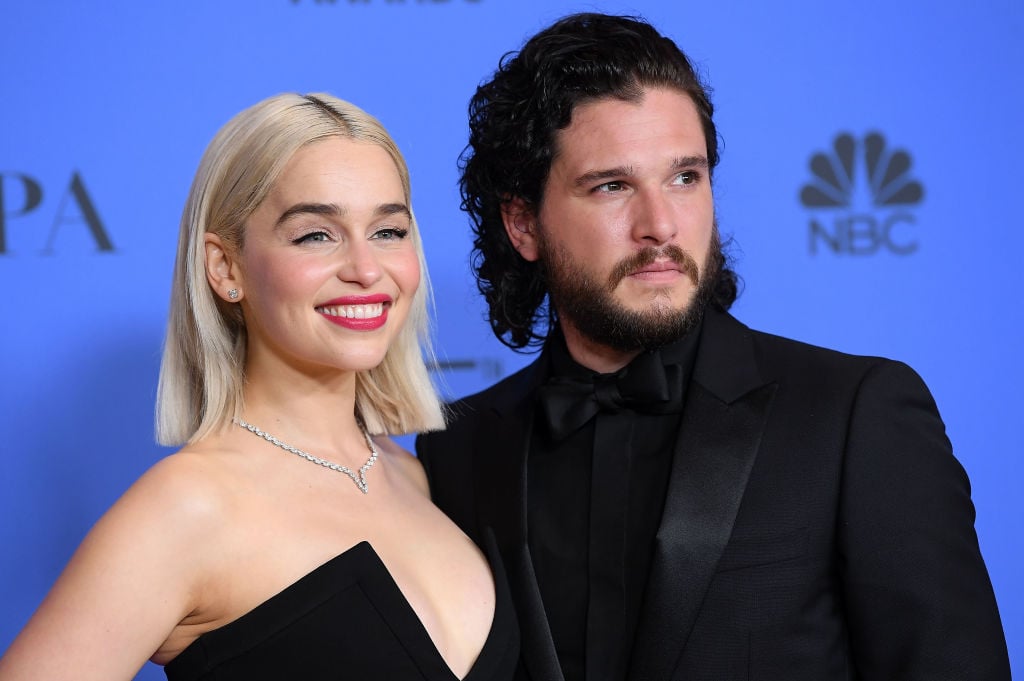 Kit Harington and Emilia Clarke share a close bond
Jon may have plunged a dagger into Daenerys' heart in the series finale of Game of Thrones, but Harington's friendship with Clarke has remained strong. Back in April, Harington opened up about the first time he met Clarke and admitted that he thought she was absolutely gorgeous. Their first encounter with each other happened in the first season of Game of Thrones, back when Rich Madden was still playing Robb Stark.
"I had been talking to Rich Madden [Robb Stark] at the bar and he went, 'I've just met the new Daenerys. She's gorgeous.' And I was like, 'Really? I haven't met her yet.' And then she came in and I saw her and was like, 'Wow.' She takes your breath away when she walks into a room, Emilia," Kit Harington shared.
According to Entertainment Weekly, Harington added that he and Clarke quickly became friends following their first meeting, especially after the actress won him over with her "wicked" humor. Because their characters did not share any scenes on the show, the two were hardly ever on set together until the final two seasons. They would, however, meet up during table reads and spent plenty of time on the road promoting the series.
In fact, Harington revealed that their friendship really blossomed outside of the show and that they bonded over their shared experiences.
Emilia Clarke and Rose Leslie are good friends
Clarke also shares a close bond with Harington's wife and former on-screen lover, Rose Leslie, who portrayed Ygritte on Game of Thrones. Harington revealed that Clarke and Leslie have been close friends for a number of years and the trio often goes out for drinks. Their outings, however, get a little tricky once fans notice one of them from the show.
Because they are close friends outside of the series, it was awkward when Jon and Daenerys hooking up on the show. In a recent interview, Clarke revealed that she and Harington both broke out in laughter during their first intimate scene.
Kit Harington didn't help the situation when he pretended to be disgusted after kissing Clarke in front of the cameras. He also admitted that it was weird kissing his good friend, even if it was for a TV show. Harington also revealed that the whole thing made for some awkward dinner talk, especially whenever Clarke was invited over.
Fans ship Kit Harington and Emilia Clarke for good reason
While they are just good friends outside of the show, Harington and Clarke gave fans plenty of reasons to root for a romance in real life. In fact, Harington frequently popped up on Clarke's Instagram page, and the pair have taken some adorable selfies over the years.
They also posed together for a steamy Rolling Stone cover that included them kissing. The photo did not make it into the magazine, but photographers featured it on social media, which only fueled the romance rumors even more.
So, did Kit Harington and Emilia Clarke ever date?
Despite all of the rumors and undeniable chemistry, Clarke and Harington never actually dated in real life. In fact, Clarke opened up about the rumors in an interview in 2017. The actress shut down the romance talk and assured fans that it could not have been further from the truth.
Turns out, the two really are just good friends and would not have it any other way. For his part, Harington has not addressed the romance rumors, though it is probably a safe bet that he shares similar sentiments.
Harington and Leslie tied the knot in the summer of 2018. Leslie starred on Game of Thrones for several seasons before her character was killed off.
Like Kit Harington, Leslie is also a familiar face on Clarke's Instagram page and the two have been friends for six years and counting. It is unclear what Leslie thinks about all of the romance rumors, but it is good to know that they are all close friends in real life.
Fans can stream the final season of Game of Thrones on HBO.