Did George Foreman Actually Invent the 'George Foreman Grill'?
Depending on the generation that somebody grew up during, George Foreman is either a legendary boxer or the pitchman for a grill that nearly everybody has in their kitchen. For over two decades, Foreman has been selling people his Lean, Mean, Fat-Reducing Grilling Machine and all of its offshoots to the point where many presume that Foreman invented the grill himself.
The true story of the George Foreman Grill, however, is a group effort and a story of what happens when an idea marries a perfect marketing approach.
George Foreman in the ring
George Foreman had a long and successful boxing career that lasted nearly 30 years. Breaking onto the scene with his decisive gold medal performance at the 1968 Olympics, Foreman became one of the biggest names in boxing. As a heavyweight, the sheer power that he put behind his punches made him a deadly opponent for whoever stepped in the ring with him at first, but there was one boxer who stood even greater: Muhammad Ali.
The legendary Rumble in the Jungle, which was fought in Kinshasa, Zaire in 1974, Foreman had a 40-0 record including 37 knockouts at the ripe young age of 25 and Ali was coming back from a three-year ban after refusing to enter the military draft. Ali handed Foreman his first loss with a knockout in the eighth round. The fight still looms as one of the greatest bouts of all time. Foreman took a year off and won his next five fights in a row before losing to Jimmy Young in a 12th round decision in 1977.
While still one of the best boxers in the world, Foreman shocked the world and retired after his loss to Young and would not step back in the ring until a decade later. Pushing 40, Foreman wasted no time to tell the world he was back, winning his first 23 fights before losing to heavyweight champion Evander Holyfield. In 1994, Foreman made history as the oldest heavyweight champion in history at 45 years old. He retired three years later with a 76-5 record overall.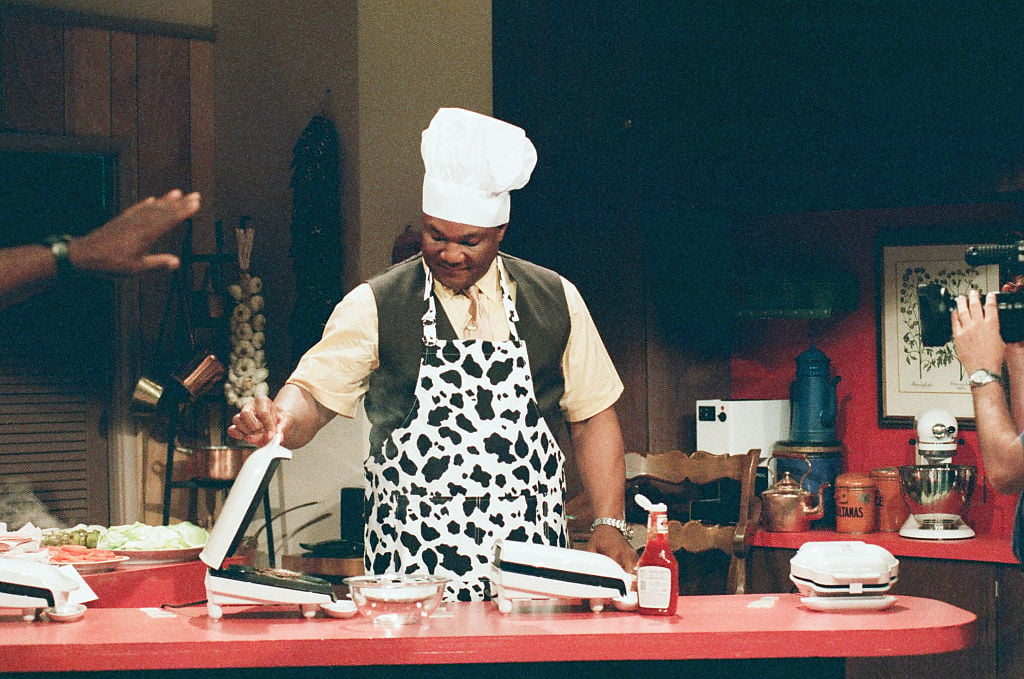 George Foreman's life after boxing
Foreman made a decent fortune as a boxer, but he was also in a time of financial hardship when he decided to come back. However, in 1999, his life would change forever with a decision that proved more lucrative than all of his fights put together. Foreman put his name on a line of grills that cooked from both the top and the bottom and allowed the fat to drip into a nearby pan.
The Lean, Mean, Fat-Reducing Grilling Machine became a mainstay on late-night advertising and commercials across television. As a result, it became a hot commodity, and while Foreman won $5M in his prime as a heavyweight fighter, he made substantially more with the grill, with a profit of $138M. Now, he is believed to be worth over $300M. 
With this type of lucrative money coming at him, some might expect that the grill was Foreman's idea. However, he was just a pitchman.
Who invented the George Foreman Grill?
The idea and invention of the Foreman grill came about in 1994. Not designed with the boxer in mind, a man named Michael Boehm designed the grill to minimize cooking time and maximize nutrition. The result was the tilted design with the two-sided cooking that the grill is known for. Upon perfecting the design, Boehm began to focus on marketing.
This was when the idea to bring Foreman on board came to him, although Foreman did not initially seem too thrilled.
"They [potential buyers] initially seemed indifferent, even skeptical," Boehm said to Entrepreneur.com. "That was true of just about everyone I showed it to," Boehm said. All of the 13 brands he went to looked at it and said, 'You can't cook on an angle.' It wasn't until Foreman's wife got involved that it was taken more seriously. Boehm went on to say, "It's like anything new, something people haven't seen before. If it's so great, people say, it would have already been invented."
Thankfully for both Boehm and Foreman, that did not end up being the case. Foreman accepted, the grill hit the market, and now both men are very rich because of the gamble they took over 20 years ago.