Did Heath Ledger Really Improvise The Hospital Scene From 'The Dark Knight'?
The hospital scene will always stand out for fans of both Heath Ledger and fans of "The Dark Knight". It is an iconic scene, and the rumor mill churns out frequent rumors of it being completely improvised by Ledger. We have to ask, "Is this a rumor mill that is fact or fiction?" Here is the truth on whether the scene was complete improvisation or something more.
Just one shot to get it right
According to Screenrant, director Christopher Nolan was only given one chance to blow up an actual building for The Dark Knight's filming. In the scene, as it played out on film, Joker walks out as bombs explode. When the anticipated bombs do not go off as expected, Joker is, at first, confused, then startled by the final big explosion. 
Was it pure movie magic or something much more impressive? 
This scene is a bit of magic and planning
Although there is a chance that Ledger makes the scene more spectacular just by being so much fun to watch during the pause, it was a planned event from start to finish. His reactions were perfect and exactly what we would expect if we the ones wearing the Joker Face. 
The truth behind the scene is that the building was going to be destroyed either way. It was Nolan's foresight that had him convince the owner to let him blow it up instead. 
The cast had one shot to bring down an actual building that was filled with explosives. The hope was that movie magic would be created in that short amount of time, so nothing at all could be left to chance. 
Every pause, every step was carefully planned out by the special effects team. 
It isn't just smoke and mirrors.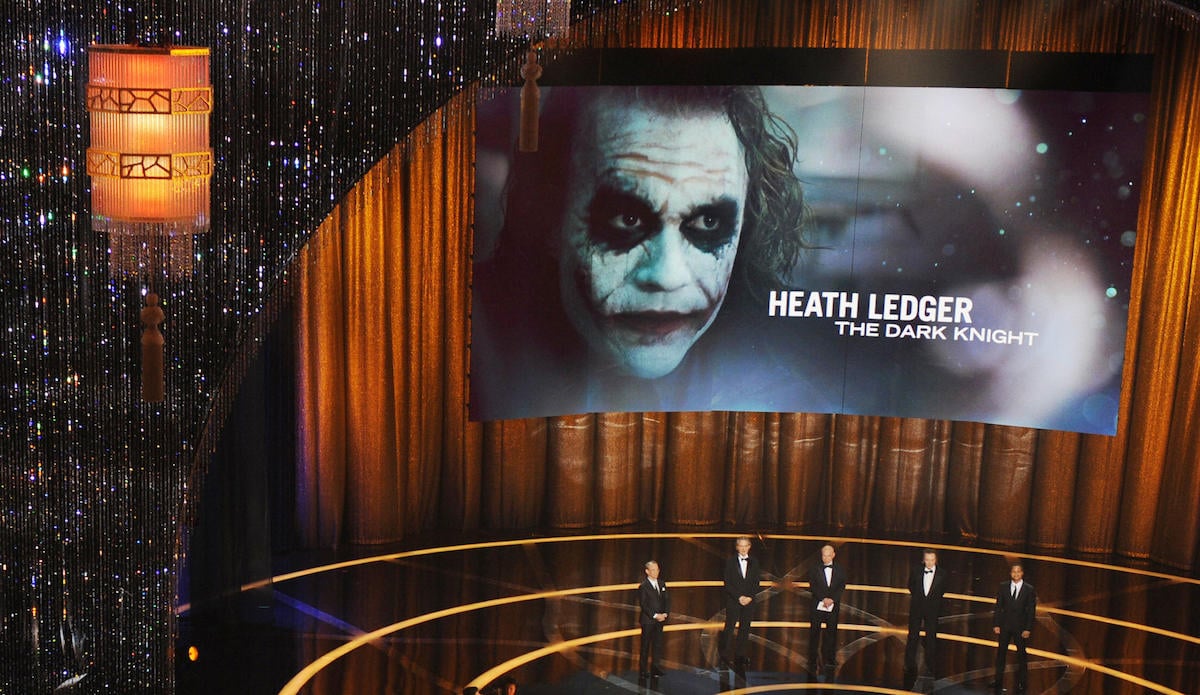 What do you get when you combine movie magic with pyrotechnics and an old building? Things go boom! 
The problem is, safety had to take precedence over the spectacular view of a building being blown up, which posed a special kind of challenge to all who were on the set. Every part of it was thought out, from the small explosions going off behind Ledger to the final scene when he jumps on the bus. It was rehearsed, it was walked through, it was viewed on computer models. 
It was history in the making for all involved with this movie. You can see behind the scenes on the Dark Knights home release in the special feature section. There is an "Inside Look" at what really went into making this iconic scene perfect. 
Creative flair came easy to Ledger
Although the hospital explosion may have been rehearsed and done in the safest way possible, that doesn't mean that you don't see plenty of Ledger's personality throughout the movie. You can see his improvisation in the jail clapping scene. You can also see it in the variety of ways that the Joker spoke throughout the movie. 
Surprisingly, Ledger at first denied interest in being in the film, it seems safe to say that everyone, especially Nolan, was delighted that he was. 
In an interview with Ledger, you can hear him talk about how he and Nolan, "He had something up his sleeves, and it happened to be what Chris was looking for…We shared ideas and they were the same."
Although Heath Ledger passed away suddenly in 2008, his role as Joker will never be forgotten. Fans and fellow actors will always be left wishing for more from one of the film industry's most iconic characters.