Did Jax Taylor from 'Vanderpump Rules' Treat James Kennedy's Girlfriend Unfairly During the Reunion?
If there is one thing that triggers Jax Taylor from Vanderpump Rules, it is James Kennedy. While Taylor seemed annoyed that Kennedy was even in the reunion group, he had a more powerful reaction toward the end of the first installment episode.
The two have been in the grips of a contentious relationship since Kennedy joined the cast. For one season Taylor and Kennedy seemed to try to make their friendship work, even going for cocktails and having fun during group trips. But those days seem to be long gone, especially during this season.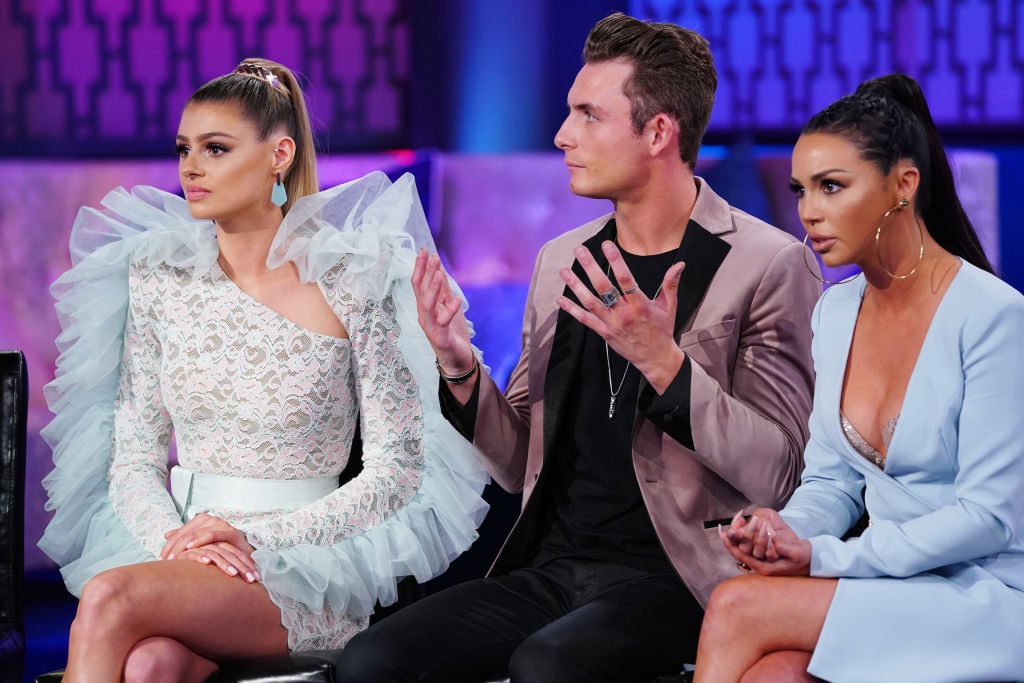 Taylor warned Twitter followers that the reunion would be explosive and he was spot on. What got him so upset during the reunion that Andy Cohen had to physically restrain him? Plus did he unfairly lash out at Kennedy's girlfriend Raquel Leviss?
Stand by your man
Wearing runway couture, Leviss appeared next to Kennedy where she revealed she secured a job at SUR. The cast, especially Katie Maloney looked less than thrilled. But as Leviss tried to answer questions, especially when she referred to herself as a 'beauty queen' the cast started to get catty.
Kennedy snapped back at Taylor saying, "She is [a beauty queen] is yours?" Taylor and Kennedy sniped back and forth exchanging nasty remarks about each other's girlfriends. Each telling Cohen that the other is belittling one another's girlfriends.
Although Ariana Madix and Tom Sandoval try to keep the conversation on track, it quickly escalates. Once Leviss says Lala Kent used her father's passing as an excuse to lash out at someone, the conversation becomes more emotional.
But it was reckoning day for James Kennedy
Kent and Taylor's fathers passed away, leaving both cast members dealing with extreme grief. Cohen brings up a (now deleted) tweet Kennedy wrote. "And Jax?! He is a just a sad man after his daddy died – brother make peace with your dead father please that's goes for Lala also."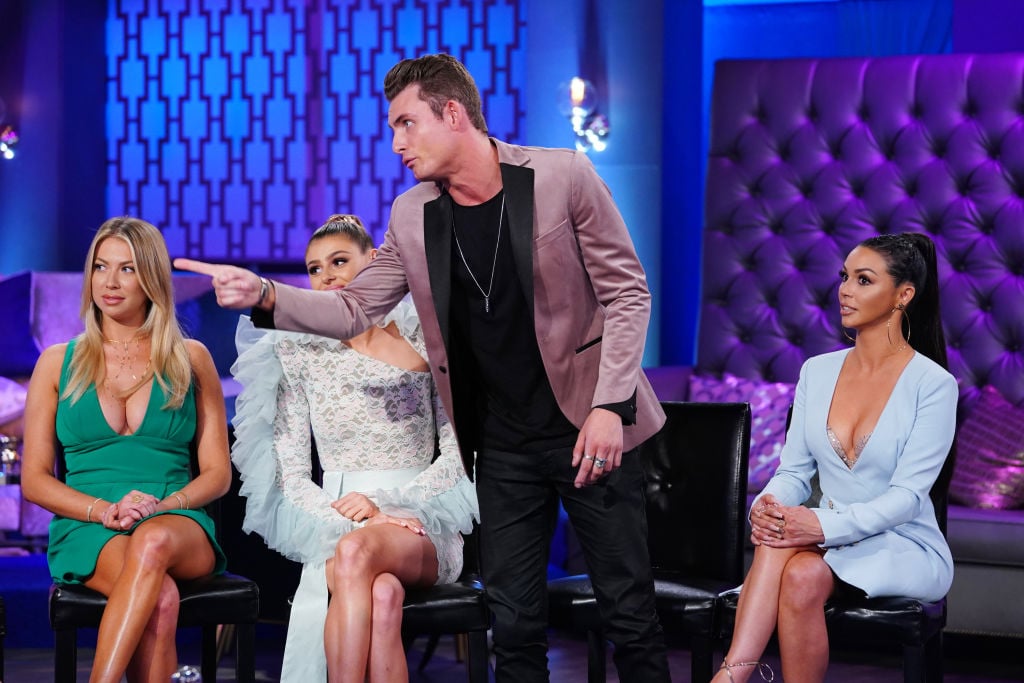 Kennedy says he wrote the tweet in response to Taylor creating a fake account under Leviss' name. The Twitter contained homophobic comments, Kennedy asserted. While Taylor was denying it, Madix confirmed it was linked to Taylor's phone number.
But suddenly Taylor asks, "You wanna talk about my dad?" and leaps from his seat. He and Kennedy meet in the middle of the room, while Cohen stands between the angry cast members and walks Taylor back to his seat. As Taylor walks back he starts calling Leviss a "bitch" and Kennedy comes back with "hillbilly" comments about Brittany Cartwright. Kristen Doute pipes in, saying that Leviss is dumb too.
Does Taylor regret his comments?
Taylor took some heat on Twitter about calling out Leviss on the reunion. "Listen, I may have flew off the handle but I only see that little prick when we film," Taylor wrote in response to a comment. "He went after my dad and that is uncalled for so I reacted, watch the whole reunion before you come at me. I apologized to his gf later that was wrong it was not directed towards her." He added, " I later went back and apologized for saying that to her, she was just in my shooting range and that was wrong. Again you all are firing away before you watch the whole thing."
He also explained why he is so reactive when it comes to his father. "I only lash out when you talk about them, as I feel anyone would. What type of human speaks on someone's father who recently passed, tv show aside.. seriously."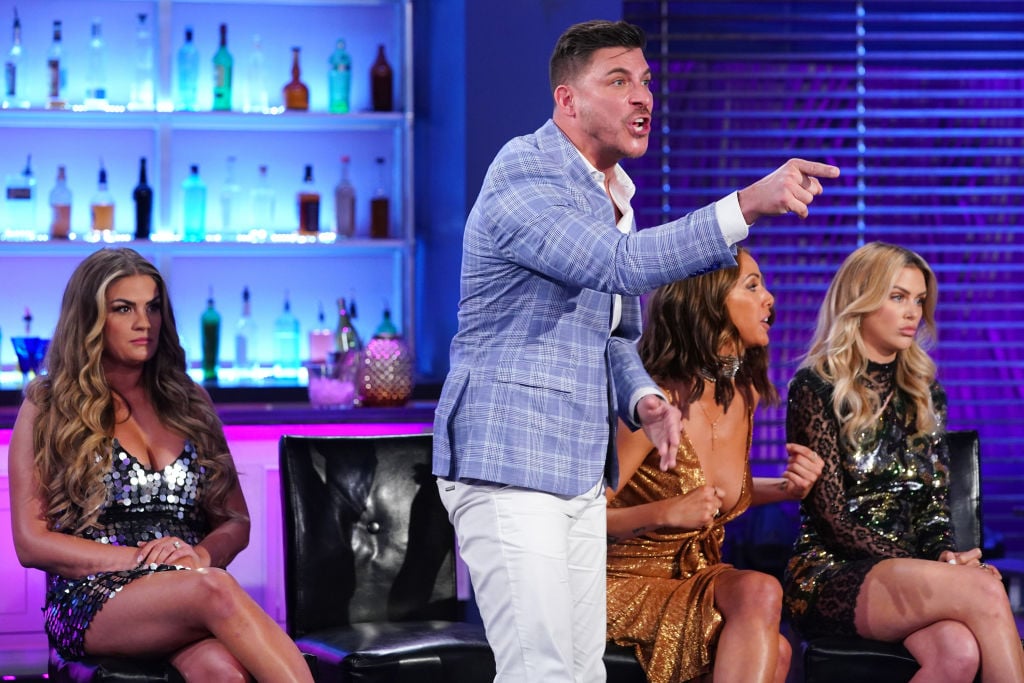 Then Taylor added, "Talk to me after you have lost a parent, and some one says something like that or maybe you have and you can look the other way, I can not and will not," he commented. "I will always always go after anyone who says something about my father."
Check out The Cheat Sheet on Facebook!