Did Justin Bieber's Team Remove This Choreographer's Cover of 'Yummy' From YouTube?
Justin Bieber released his newest song "Yummy" earlier in January 2020. While Bieber has collaborated on other artists' work, "Yummy" is Bieber's first solo single to be released in many years. Unfortunately, the rollout for the single has been surrounded by controversy.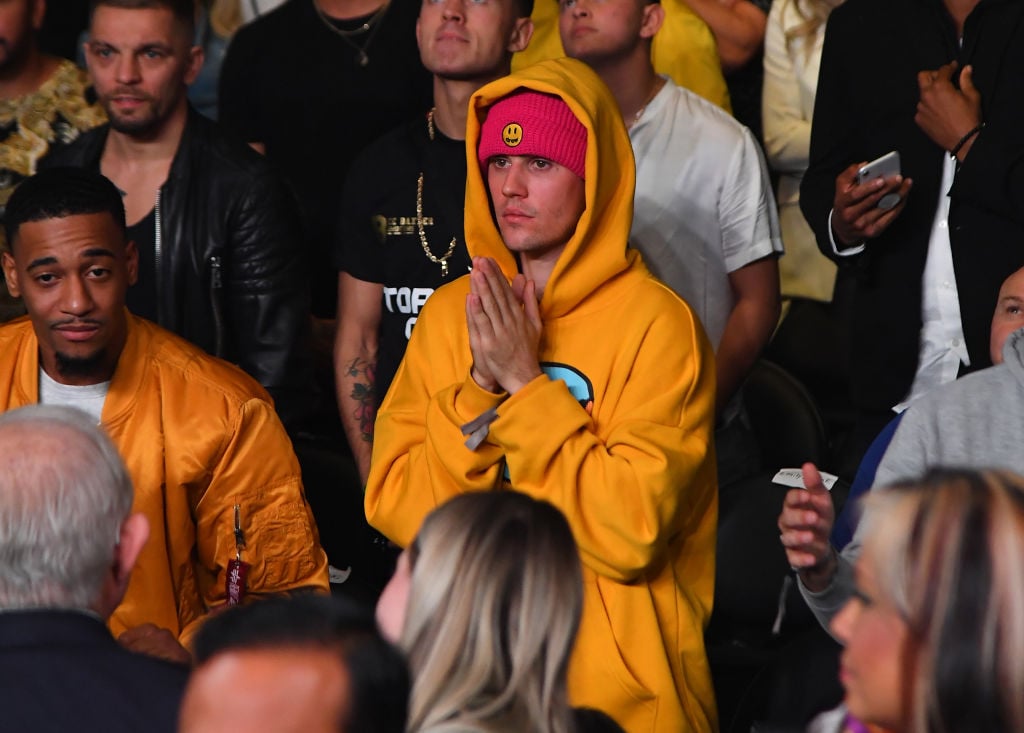 Justin Bieber's song 'Yummy' received excessive promotion
Upon its release, "Yummy" received mixed reviews. Critics of the song faulted the lyrics of "Yummy" and claimed Bieber's team were obvious in wanting the song to go viral online.
"Shamelessly engineered for the truncated attention span of TikTok (he joined the service just for the occasion), it's a bloodless shell of an R&B song crippled by asinine lyrics and a tired, syncopated backdrop. The song plateaus as soon as it starts, never inching past the toddler-like repetition of 'yummy-yum' in its chorus," wrote Eric Torres in Pitchfork.
The promotion of the song was also surrounded with controversy, as Bieber and his team went through excessive methods in an effort for the song to reach No.1 on the Billboard Hot 100 chart. On an Instagram live, Bieber asked fans to stream and buy "Yummy" while his manager Scooter Braun encouraged mass buying the song in a now-deleted tweet.
Bieber also shared and then deleted a fan's Instagram story containing a slide show of "How to Get 'Yummy' to #1." The slideshow instructed fans to create playlists with "Yummy" on repeat and to stream the playlists while sleeping.
These actions led to Bieber and his team being called out for sales and streaming manipulation in order to get the song to No.1. Despite these efforts, the song only debuted at No.2 on the Billboard Hot 100 chart.
YouTube removed Parris Goebel's cover of 'Yummy'
Goebel is a choreographer, dancer, and actress. She has choreographed routines for Bieber, Ciara, Jennifer Lopez, Nicki Minaj, and more. Goebel released her own choreography video set to "Yummy" on YouTube featuring a group of over 30 dancers.
YouTube deleted the video, prompting Goebel to write in a now-deleted post on Instagram, "Not everyone's going to like what you do. If you can't handle a group of women thriving in their greatness then you don't deserve us."
Goebel also liked a series of tweets on Twitter shading Bieber and his team for removing the video because of how successful it was. One liked tweet of Goebel's read, "Parris Goebel's Version Of Yummy Is Way Better Yet Justin's Insecure A** Got It Removed."
Based on the tweets Goebel liked and the choreographer's Instagram post, people assumed that Bieber's team had YouTube remove the video.
"I understand why JB and his team getting pressed by Parris Goebel's version of Yummy. People are more excited to watch her dance crew rather than the original one," wrote a Twitter user.
"If Justin and his team really took down parris goebel's iconic video that she made about yummy then YIKES lol bye," another wrote.
The dance cover of Justin Bieber's song 'Yummy' returned
The matter surrounding Goebel's dance cover of Bieber's "Yummy" was resolved. The video returned to YouTube, and Goebel removed the liked tweets from her Twitter profile. Goebel deleted her Instagram post seemingly shading Bieber and his team. She then thanked Bieber in a new post.
"YUMMY… WE'RE BACK Thank you @justinbieber," she wrote on Instagram.
Fans of Bieber were quick to defend him and deny his involvement in the controversy. His fans pointed out that both Braun and Bieber promoted Goebel's video, and that Goebel thanked Bieber for his assistance in putting it back on YouTube.
"Of course jumping on the hate train without facts. Justin, Scooter, & Hailey all promoted, posted and praised this video, Justin posted the beginning of the video as a teaser before the song even came out. He did not do this," tweeted one fan.
"Not true, Justin had nothing to do with it. YouTube took it day bc of copyrights and Justin's team helped put it back up and she even thanked him… y'all just keep making up lies," a Twitter user wrote.
"parris goebel dragged tf out of justin for something he didn't do only for her video to be put back on and deleting and unliking all the shady tweets," a fan tweeted.